Amnesty report unveils the dark side of coal mining in India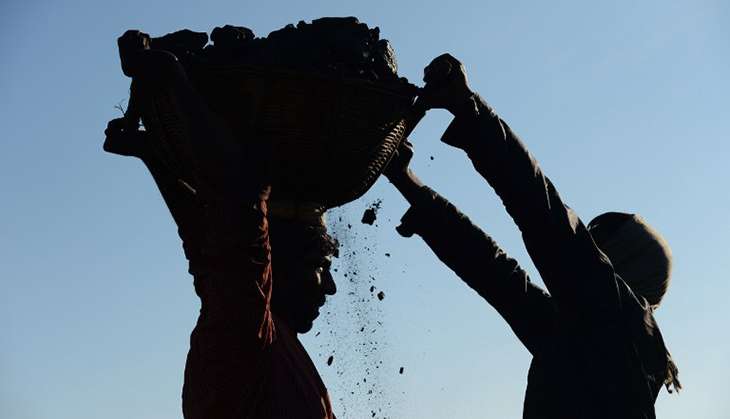 Price of development
Houses of 1000s of families razed without any prior notice
Families given land that is unfit for cultivation and can be taken away anyday
Who is doing this?
Latest Amnesty report mentions three coal mines under CIL
With private players, the casualties will surely be more
More in the story
Laws that are being flouted
What do the activists and victims have to say
Nirupa Bai remembers the day her house was razed down. She owned six acres of land at Barkuta Village in Chhattisgarh's Korba district. On 9 February 2014, her home was demolished as part of Coal India Limited's expansion without adequate notice.
She'll never forget how her wails fell on deaf ears as wall after the wall was reduced to rubble by large cranes, without giving her any time to move her belongings out.
Within moments, gunny bags full of freshly harvested grain lay strewn over the rubble, soaking in the rain as she, her mother, sister and four sons watched helplessly.
As a replacement, they were allotted half an acre of uncultivable land near the mine area and no job.
"There is no ground water to farm and fly ash that hangs in the air. It is hell on earth. We can't breathe. We do wage labour now nearby," she tells Catch, at New Delhi's Constitution Club on Wednesday where Amnesty India released its report: When Land is Lost, Do We Eat Coal?.
The report is on the human rights and environmental violations made by Coal India (CIL) in Jharkhand, Odisha and Chhattisgarh.
Amnesty's report comes just ahead of the Monsoon Session of Parliament when the Centre is expected to withdraw its Land Bill giving states the levy to form their own land acquisition laws that can override consent clauses and the need to do a social impact assessment with fair impunity.
The violations
India is the third-largest producer and consumer of coal in the world. Two-thirds of our electricity is derived from coal. The Indian government has plans to nearly double the annual coal production by 2020 to meet growing energy requirements.
About 70% of India's coal is located in the three central and eastern states, where more than 26 million or nearly a quarter of India's Adivasi population live.
The Amnesty report, based on extensive ground research conducted between January 2014 and June 2016, examines how CIL's land acquisition has breached Indian domestic laws and India's obligations under international human rights law.
The three coal mines profiled in the report are -
South Eastern Coalfields Limited's (SECL) Kusmunda mine in Chhattisgarh
Central Coalfields Limited's (CCL) Tetariakhar mine in Jharkhand
Mahanadi Coalfields Limited's (MCL) Basundhara-West mine in Odisha
According to Amnesty, 9,250 families have been affected by these mines.
Flouting laws
Essentially the report flags the following violations:
The Coal Bearing Areas Act, 1957

According to the Act, once the government declares its "intention to acquire" land under Section 4 in the official government gazette, there is no requirement to consult affected communities, or seek the free, prior and informed consent of indigenous people, as stipulated by international law.

There is no requirement for authorities to pay compensation before taking possession of land or conduct human rights impact assessment prior to the acquisition.

All rights of people to buy and sell land during this period are suspended.

Social activist Brijesh Srivas from Korba tells Catch, "Section 4 was passed in 2009 on my 0.6 acres of land. I'm stuck now. CIL will neither pay me compensation nor can I sell it for my daughter's wedding."

What becomes more problematic is that the rehabilitation that is provided to these displaced families is often given on the mine area that CIL can expand into at any given time.

The communities aren't given any pattas (documents) to the resettled land, only permission to stay, which can be withdrawn during the next expansion.

Environmental (Protection Act) 1986

As part of the environment clearance process, state-level pollution control authorities are required to set up public consultations with affected communities to give them an opportunity to voice their concerns.

The Environment Impact Assessment notification, 2006 (amended in 2009) requires the concerned pollution control authority to advertise the hearing widely, conduct social impact assessments and make documents available to the public.

No such hearing has ever happened, finds Amnesty.

Panchayat (Extension to scheduled areas) Act, 1996

The PESA Act requires that panchayats or gram sabhas be consulted before any land is acquired in scheduled areas for development projects, and also before the resettlement or rehabilitation of people affected by such projects.

The implementation of the Act has however been exceedingly poor, finds the Amnesty report.

Rights over traditional lands, Forest Rights Act 2006

According to a 2009 order issued by the MoEF, for industrial projects to receive forest clearances from the ministry, state governments have to obtain the consent of the gram by a quorum of at least 50%, and these have to be recorded on video.

India is also party to several international human rights treaties - including the UN Declaration on the Rights of Indigenous Peoples, International Covenant on Civil and Political Rights (ICCPR), International Covenant on Economic, Social and Cultural Rights (ICESCR), and Convention on Elimination of Racial Discrimination (CERD), whose treaty monitoring bodies have recognised the rights of indigenous people to land, consultation and free, prior and informed consent in decisions that affect them.

These laws also require India to refrain from forced evictions.
Why the report matters
India has seen one of the largest development-induced displacement in the last half a century. Studies suggest that numbers could be as high as 50 million.
According to Sudha Bharadwaj, a human rights lawyer and activist based in Chhattisgarh, who spoke at the report launch, there are two dangerous trends emerging out of this.
Also Read: Coal scam investigations marked by corruption: Anonymous complaint from within CBI
With the passage of the mining and coal bills in March 2015, coal mines and other mineral mines will be auctioned to the highest bidder.
"If a public sector company such as Coal India Ltd is flouting what is legally embedded in the constitution, what systems and processes will the private sector abide by?" she asked.
Bharadwaj also mentioned that earlier, land acquisition meant little compensation but more permanent jobs in the offing. Now the trend has been reversed.
"While the compensation has improved marginally, there is a growing trend of contractualising labour," she told Catch.
These impermanent jobs mean that workers can be fired with no prior notice. They have no scope of expressing dissent, for forming a workers union, for falling ill or for having an on-the-job accident with no safety systems in place.
As Nirupa Bai says, "I understand that we need coal for everything to live in this time and age. Let them mine the coal. Not our respect. Respect the displaced. Give us a life. That's all I want."
Edited by Jhinuk Sen
Also Read:India willing to cut dependence on coal if given clean-technology and funds