All party meet on Kashmir: all fury and confusion signifying nothing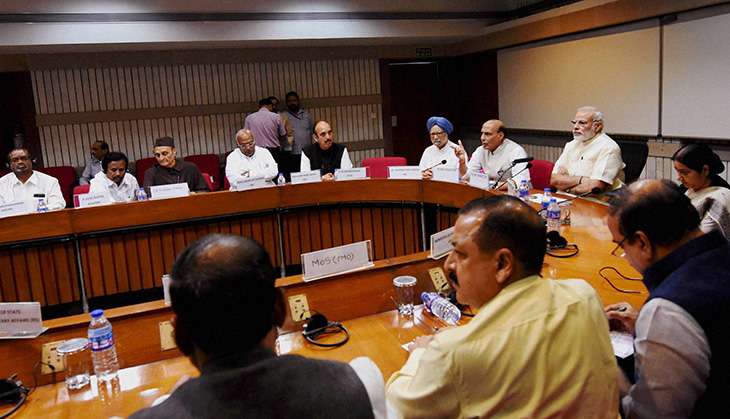 Forced by the Opposition to break his silence on the unrest in Kashmir, Narendra Modi Friday convened an all party meeting to discuss ways to handle the crisis, which has left over 50 people dead and several thousand injured.
Disappointingly, however, nothing concrete resulted from the four-hour meeting. Instead of focusing on addressing the grave situation at hand, the prime minister and his party men kept to the usual national security rhetoric of Pakistan bashing.
Modi essentially reiterated what his regime has been saying all along: that Kashmiri people believe in the Indian democracy and it's only cross-border terrorism that is responsible for the ongoing unrest in the valley. To prof up his argument, he pointed out that a large number of people had voted in the recent by-election of Chief Minister Mehbooba Mufti.
The prime minister said, "There cannot be any compromise on national security but we have to win the confidence of the people in Jammu and Kashmir." Only, he failed to offer anything substantial that could help "win the confidence of Kashmiris".
Also Read: Kashmir: why Hurriyat may not agree to talks even if Modi govt does
Instead, the prime minister suggested holding talks with the "stakeholders", including separatists, and involving the "misguided youth" in developmental activities. Bafflingly, he even suggested gathering information from expats from Pakistan Occupied Kashmir "on the pitiable condition in the region", and spoke about "atrocities being committed in Balochistan".
How this could help "win the confidence of Kashmiris", currently curfewed and battling bullets and pellets is anybody's guess. Can exposing the pitiable conditions in PoK or the atrocities in Balochistan help assuage the anger of Kashmiris whose dear ones have been killed by bullets or blinded by pellet guns?
Since 8 July, when the protests broke out after the killing of militant leader Burhan Wani, more than 50 people have been killed and over 5,000 injured; of the wounded, over 100 people, including children, have been blinded by pellets fired by the police and the CRPF.
Yet, instead of finding ways to alleviate such suffering, the prime minister kept mouthing the "Kashmir is an integral part of India" rhetoric.
Nothing to offer
Rajnath Singh went a step further towards absurd. Speaking to the media after the meeting, the home minister advised Kashmiris living outside the state to reach out to people back home and tell them about the "progress" India is making. Doesn't this government realise that Kashmiris are not out on the streets, braving bullets, for "development"?

Then again, it was apparent Rajnath had nothing substantive to say. Nor did Finance Minister Arun Jaitley, who was with Rajnath at the press conference to speak about the details of the meeting. Both had only short replies to offer to queries from the media. The only useful piece of information that came out of the press meet was that an expert committee would be constituted to look for alternatives to pellet gun. However, no details were given on who would be in the committee and when it would submit its report.

At Friday's meeting, the Opposition parties demanded immediate confidence building measures - removing AFSPA from civilian areas and discontinuing use of pellet guns - to calm the street in Kashmir. Former Prime Minister Manmohan Singh, who was the first to speak, said the "Centre must show that it's a caring government".

Also Read: Kashmir: Invoking Vajpayee won't cut it anymore, Mr Modi. You must act

The Opposition recommended that an all party delegation be sent to Kashmir to reach out to all stakeholders, including separatists, but the government said it would consider this only once the situation normalises. When it assured the Opposition that it will consider all their suggestions, Leader of the Opposition in the Rajya Sabha Ghulam Nabi Azad said, "We will be satisfied only when the ground situation improves and the government takes steps."

Speaking to the media after the meeting, Congress leader Mani Shankar Aiyar said, "Let's hope the government makes a dynamic move and takes Kashmiri opinion into confidence to create an atmosphere where concerns of the people are taken care of."

Earlier in the day, Lok Sabha unanimously passed a resolution appealing "all sections of the society in J&K and India to work for the early restoration of normalcy and harmony", and resolved "to restore the confidence among the people in general and youth in particular".

Reading from the resolution, Speaker Sumitra Mahajan said, "This house expresses its serious concern over the prolonged turbulence, violence and curfew in the Kashmir Valley, and conveys its deep sense of anguish and concern over the loss of lives and critical injuries caused by the deteriorating situation."

Also Read: Nope. They just won't! No FIR filed against a DSP despite court orders, contempt proceedings