A Rohingya refugee's Ramzan: How to go without when you have nothing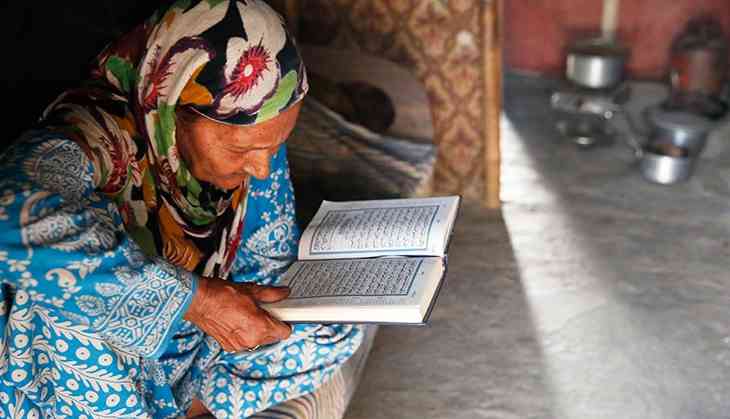 Rajma Begum reads Quran (Sehar Qazi/Catch News)
Even as metro construction in South Delhi grinds slowly on, a small community, crammed into a tiny camp on the periphery of the large concrete pillars, goes quietly about its day. The dusty camp, home to some 1,000 Rohingya refugees, is characterised by rows of dingy, tarpaulin-covered huts, scattered piles of garbage, and an unbearable stench from the sewage canal neighbouring the camp. These elements, especially the sewage and the garbage, combine to draw hordes of flies, and, as temperatures in Delhi soar, so does the suffocating atmosphere inside these huts.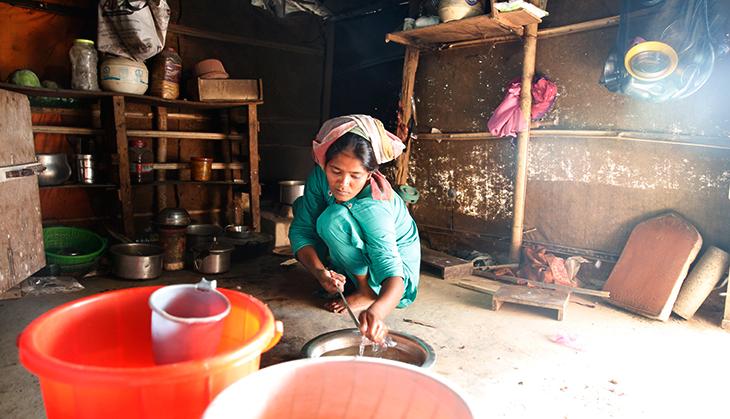 Dilnawaz, 25, is observing a fast while also preparing food for the Iftar. (Sehar Qazi/Catch News)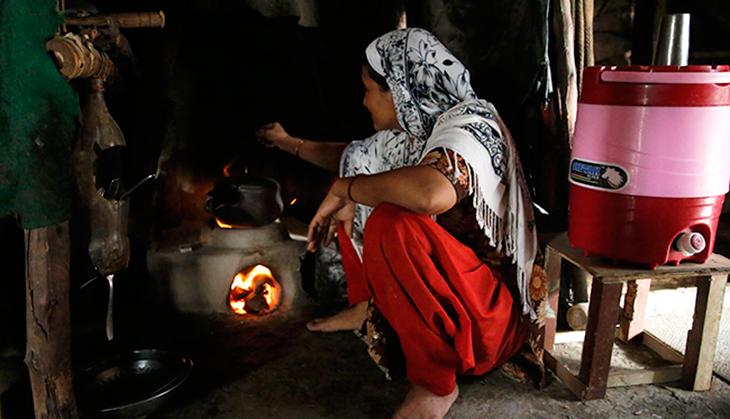 Nargis, 29, prepares food for Iftar (Sehar Qazi/Catch News)
The Rohingya crisis

In a world wracked with refugee crises, the Rohingyas have been called the world's most persecuted people. Historically residing in Buddhist-dominated Myanmar, the largely-Muslim community have been stripped of their citizenship in 1982, effectively rendering them stateless. A brutal crackdown by Myanmar's security forces, including mass killings and gang rapes of Rohingyas, have seen the Rohingyas flee to any country willing to take them. About 14,000 Rohingyas live in India, with 1,000 of them in Delhi.

In Delhi, United Nations High Commissioner for Refugees-issued refugee cards save the Rohingyas from deportation. However, it does precious little to improve their lives. These refugees are not given even the most basic of amenities, such as healthcare and education.

In cramped and unhygienic jhuggis, these refugees face hunger, disease and uncertainty about their future. They drink unsanitary water from the hand pumps, have no toilets and no electricity. Their children don't go school, but are forced instead to work to support their families.

Deprivation, which is practically the norm here, is even more extreme these days though, as the Rohingyas are currently observing the holy month of Ramzan.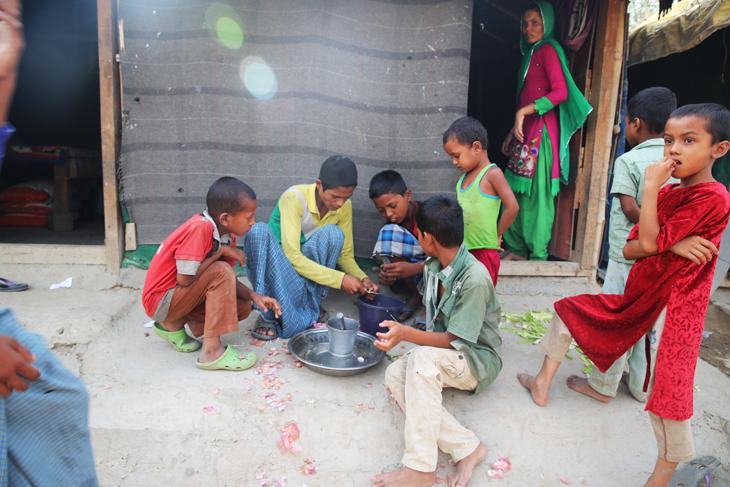 Children preparing for iftar (Sehar Qazi/Catch News)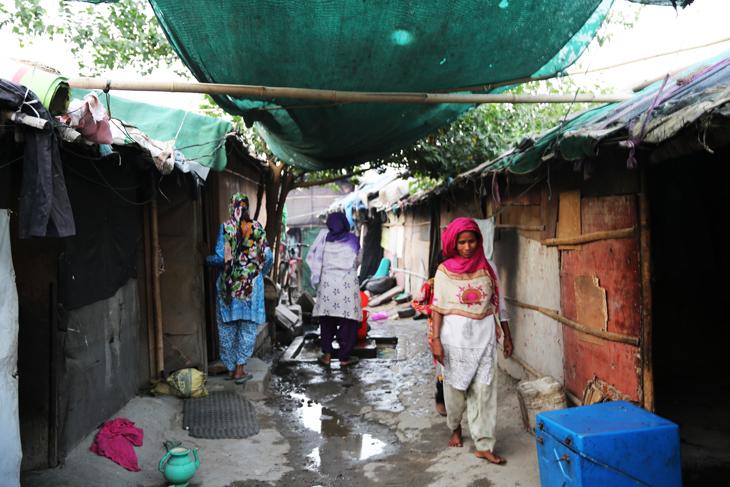 The Rohingya refugee camp in South Delhi (Sehar Qazi/Catch News)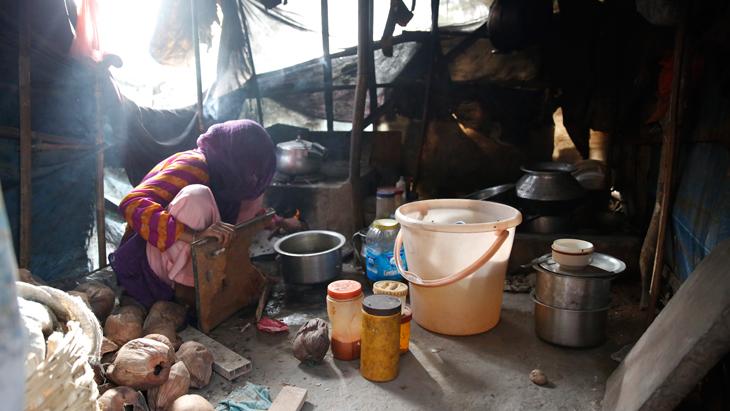 19-year old Mehmooda prepares food for Iftar for her family (Sehar Qazi/Catch News)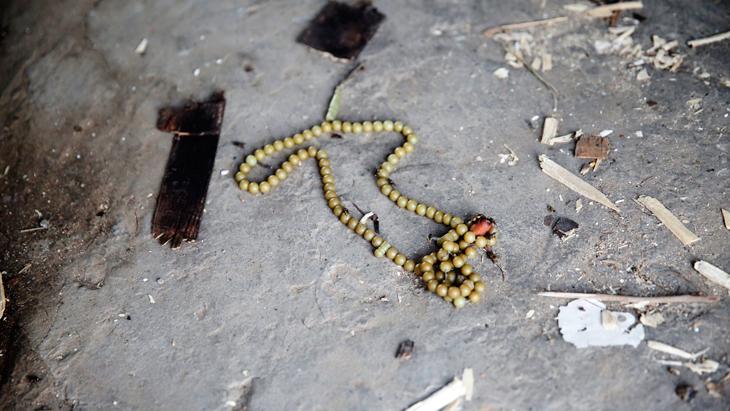 Sehar Qazi/Catch News
Fasting while poor

During the month of Ramzan, when the dinner tables of middle class and affluent Muslims overflow with a rich spread of food and drink, this group of Muslims are, as always, even short of the basic food to fill their fasting bellies. But despite the harsh conditions they have been reduced to, the faithful stay true to the tenets of Islam.

In 2003, Abdul Rahman fled from Myanmar with his wife and two children. Sitting on on a battered chair outside his jhuggi, beads of sweat drip down his naked torso towards his cotton dhoti. Rahman's wife pours water inside the jhuggi to cool the room. With no electricity to run fans, and little ventilation, if at all, it is their sole respite from the heat.

As he complains about the Delhi heat, he casts his mind back to the temperate climate of his homeland where none of the four seasons were as extreme. "I have been fasting since my childhood, so I can't skip fasting. I can tolerate anything to fulfill the commandments of Allah". says Rahman in a low monotone.

He's just one of many willing to put themselves through this extreme sacrifice despite their prevailing hardships. 35-year-old Hafiz Mohammad Noor is another. It has been 20 days since he began his fast. Clad in a faded white kurta dampened by sweat, he goes about preparing food for the Iftar with the help of some children from the community. It has been almost five years since Hafiz fled religious persecution in his home country. He speaks slowly in broken Hindi that he has learned in these intervening years. "Our living conditions won't change our faith. It's obligatory and we will follow it," Hafiz says solemnly.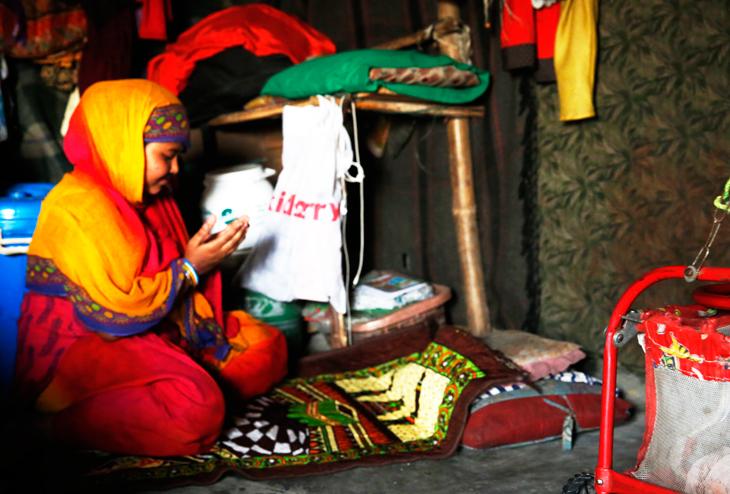 Jameela Begam,20, offering the Asr (afternoon) prayers. (Sehar Qazi/Catch News)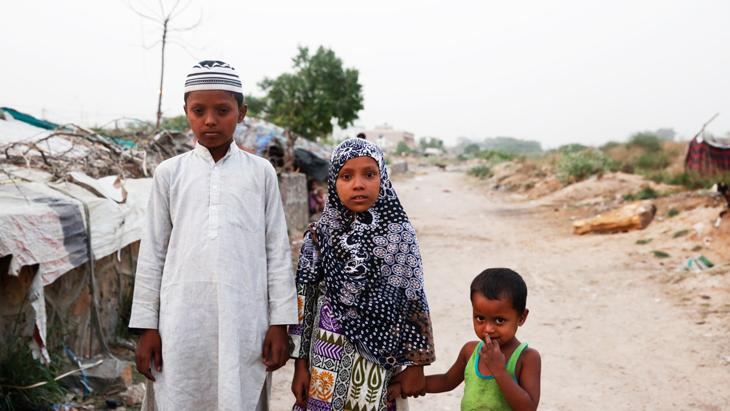 Sameer,8 with his sisters Raziya and Minara. Sameer reads and memorises the Quran daily. (Sehar Qazi/Catch News)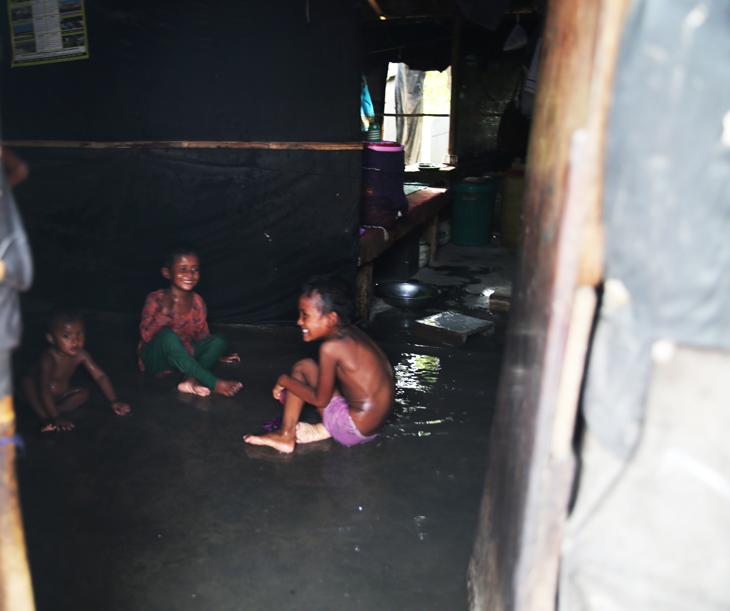 Children play in the water poured inside their huts to beat the heat. (Sehar Qazi/Catch News)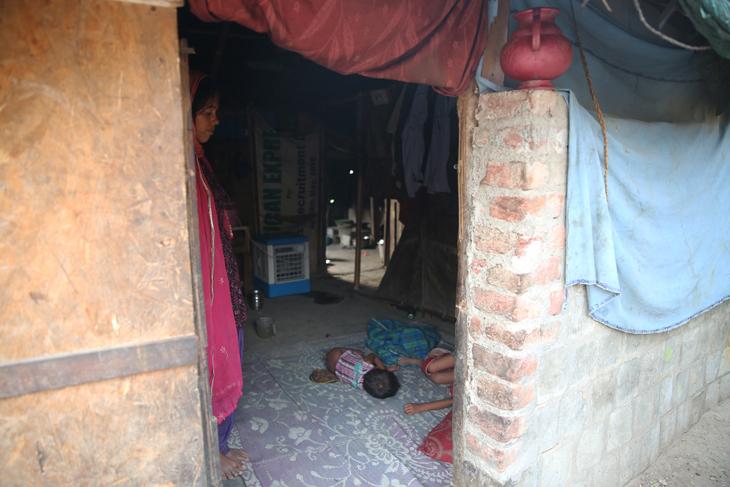 Hasina, is trying to put her children to sleep. (Sehar Qazi/Catch News)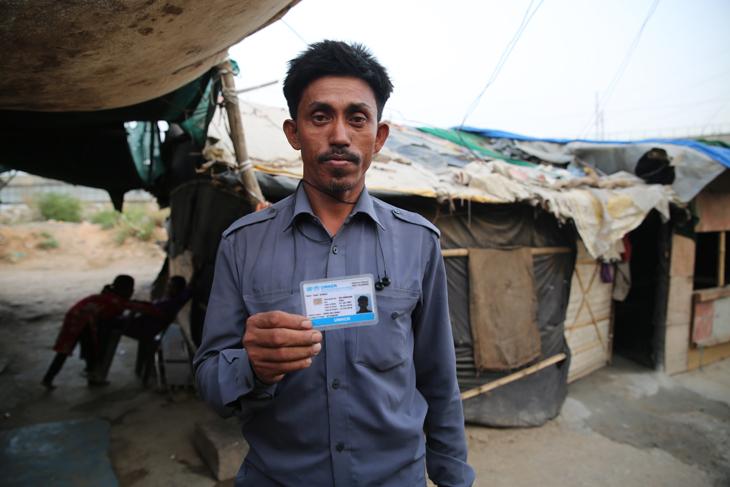 Asif, 35 shows his UNHCR card (Sehar Qazi/Catch News)
Preparing for Iftar

Dilnawaz, 25, is observing a fast while also preparing food for the Iftar. One has to bend slightly to entering her jhuggi. It is dark, and mostly empty. A small mat lies in one of the corners, while most of the room is barely visible, lost in the darkness that prevails.

A small door at one end of the room leads to an even smaller room, which is seemingly the kitchen. Here, Dilnawaz busies herself, washing utensils and chopping vegetables, while her naked baby roams around the tiny room unsupervised. As she blows into the wood-fired chulha, the smoke covers her face like a veil. "I wake up at 2:30 AM, pray and eat," Dilnawaz says curtly, clearly irritated by our intrusion.

Hasina, meanwhile, is trying to put her children to sleep. She has just returned from her work as a rag-picker, and wants to rest for a while before preparing food for Iftar. Her husband, Asif, supports their family by driving an autorickshaw. Hasina has been fasting since day one. From morning till afternoon, she sorts through scrap, all without drinking and eating. "I do feel thirsty but I can't stop fasting, warna Allah naraz hoga (otherwise Allah will get angry)."

With the huts poorly lit and ventilated, the food is largely prepared out in the open. Men, women, and children all take part in the process. The heat from the cooking ensures no one is spared from sweating. "Sometimes," Hafiz tells us, "people send us food during Ramzan, and we serve that at Iftar to those who have been fasting."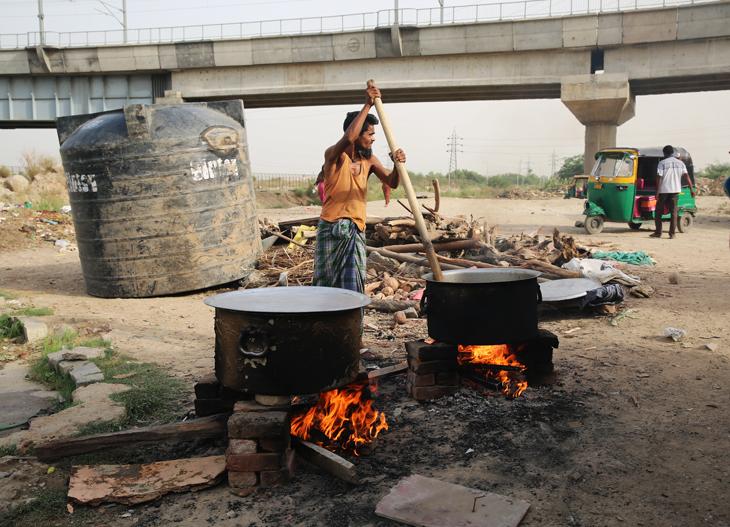 Qasim, the cook preparing for Iftar. (Sehar Qazi/Catch News)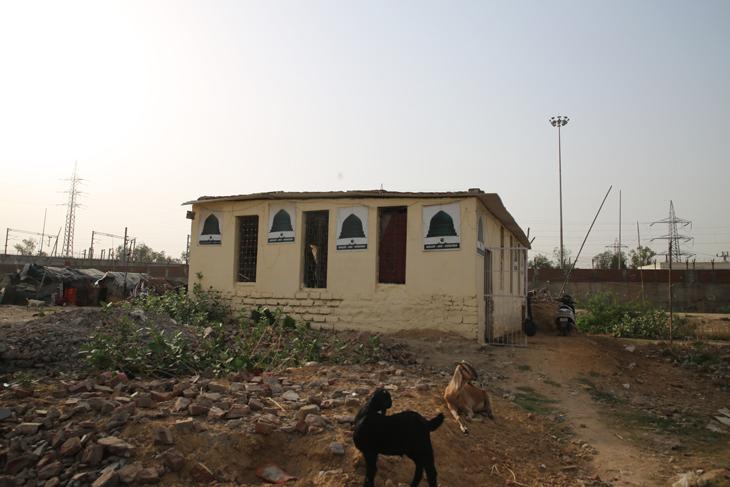 A mosque where the refugees come to pray (Sehar Qazi/Catch News)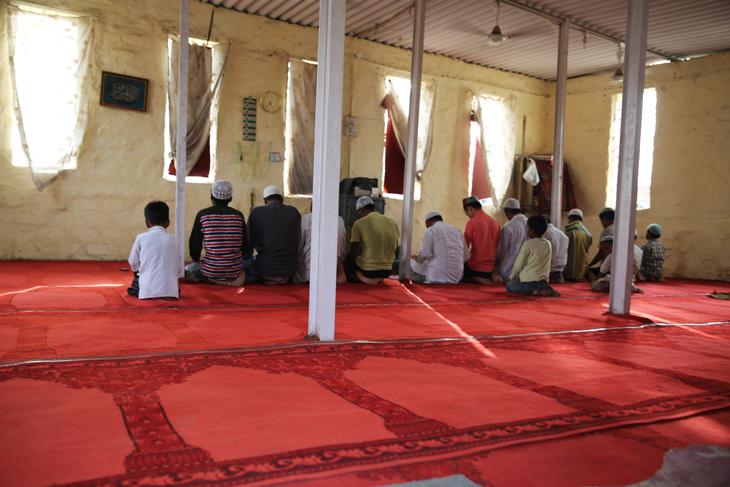 Asr (afternoon) prayers at the mosque. (Sehar Qazi/Catch News)
Iftar Time
As the time for Iftar approaches, the camp's residents collect around a rickety cycle rickshaw. The rickshaw's owner, Qasim, a Rohingya himself, sells chunks of ice to the gathered crowd. With no electricity to run fridges or water coolers, this ice is their only source of cool water for their parched throats.

Once the food has been prepared, the first to be fed are the children. A horn is sounded, and the children come running to collect the disposable plates filled with food. Meanwhile, those who are fasting gather together to break their fast. They spend the final few minutes of their fast deep in prayer. Some can be seen sobbing quietly. As the time to break their fast finally arrives, they each take a sip of water and break their fast.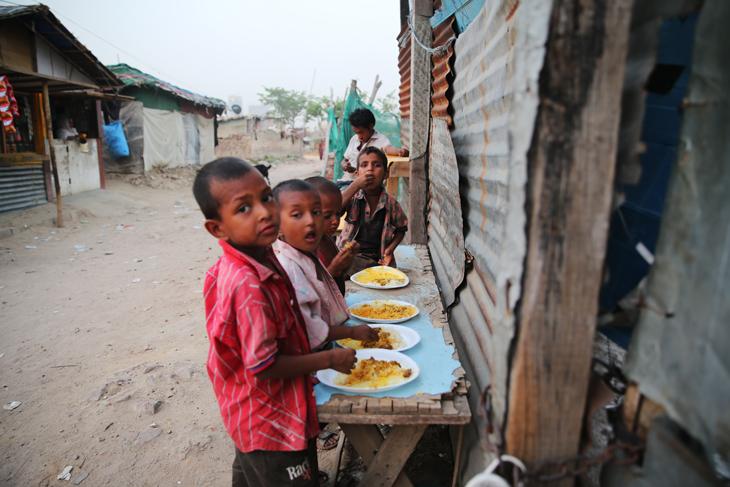 Children, who are not fasting, are given food before Iftar. (Sehar Qazi/Catch News)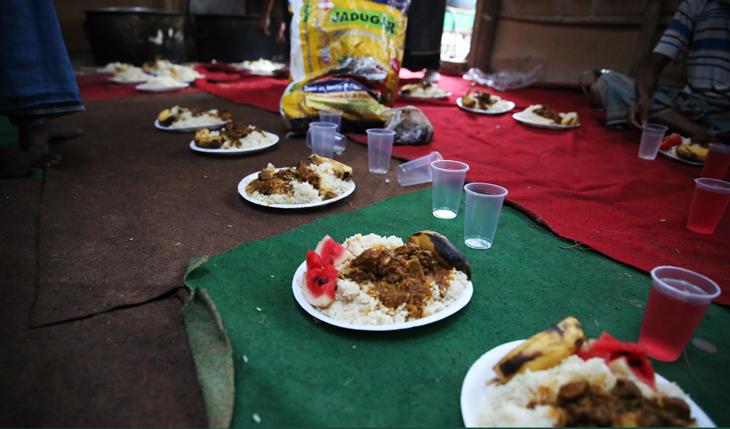 Iftar time (Sehar Qazi/Catch News)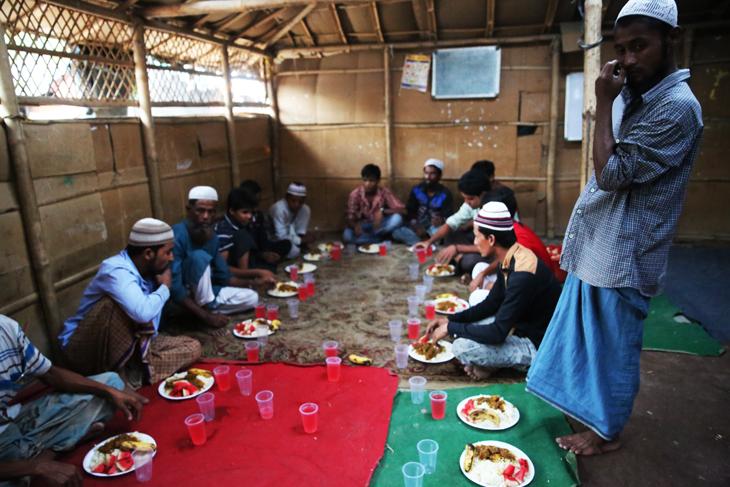 Ending the fast in congregation (Sehar Qazi/Catch News)