A 75-year-old archaeologist catches artefact smugglers sitting on his computer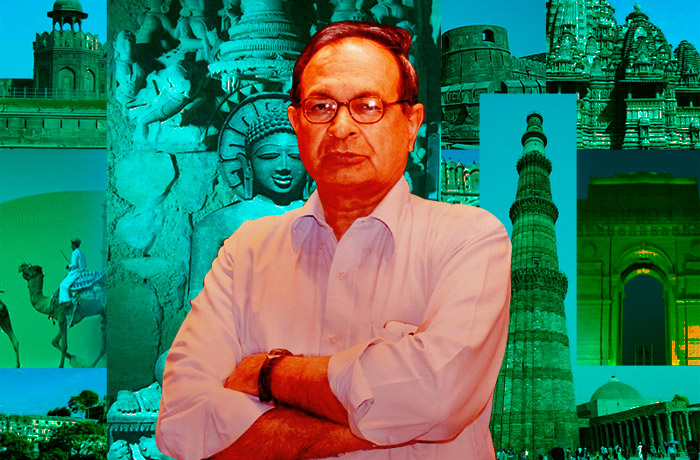 Indian antiques
Indian artefacts are stolen, smuggled and sold abroad for millions of dollars
Prof Kirit Mankodi, a retired archaeologist from Pune, traces stolen artefacts
He also provides details of existing artefacts to prevent their sale in case they get stolen
More in the story
What drove Mankodi to start this work?
How many artefacts has he succeeded in tracing?
Mankodi\'s mantra for preventing the smuggling of artefacts
Sitting at a computer in his drawing room, this 75-year-old is busy surfing through various news reports across the globe. While he brushes away most of them, the ones with reference to any archaeological monuments immediately catch his attention. Similarly, magazines on arts and sculptures are on top of his daily reading list.
His eyes glitter, if a familiar sculpture is spotted. And then he begins a meticulous investigation about the sculpture, which ends only when the details about its origin and ownership are shared with Indian and international investigation agencies.
Meet Prof Kirit Mankodi, a retired archaeology teacher, now protector of India's rich heritage. Mankodi has been working to trace stolen sculptures from India for over a decade now. After his retirement as professor of archaeology at Deccan College, Pune, in 2005, Prof Mankodi took it upon himself to trace treasures stolen from India and sold abroad.
Mankodi has been working to trace sculptures stolen from India for over a decade now
"India has the richest archaelogical heritage, which can't be matched by any other country. Thousands of valuable sculptures have been stolen from the country over the ages. I think, as an archaeologist, it's my duty to trace them and facilitate their retrieval," Mankodi says.
Also read: 2,500 year old temple lost in floods excavated; dates back to Mauryan Empire!
The hunt
He embarked upon this "mission" when 2 sculptures were stolen from an ancient temple in Rajasthan in 2009. One of the sculptures was later advertised in an art magazine for sale. "It was a major blow for me, since I was actively involved in the excavation of the temple at Atru in Rajasthan. And the sculptures were stolen from right under my nose! I couldn't have remained silent, so I began tracing it," Mankodi recalls.
It turned out that the sculpture was advertised for sale in an art magazine by a London based businessman. When he came across the advertisement, Mankodi alerted the authorities at the Archaeological Survey of India, who passed on the information to Interpol and the US Department of Homeland Security. "They raided the London showroom, only to find that the sculpture has been moved from there. It was later traced in New York. The government of India has now initiated the process to retrieve the sculpture," Mankodi said.
Mankodi has also traced 2 sculptures stolen from the Atru temple in Rajasthan. "The sculptures of two amorous couples, known in Indian art as Mithunas, were stolen from the ruins we had excavated at Atru. The first theft was on 23 April, 2009 while the second sculpture was stolen 5 months later. Surprisingly, the sculpture was advertised in the Hong Kong based art journal Arts of Asia in March 2010 issue on page 61. A London based businessman had advertised it. The sculptures were valued at US $2 million each. I immediately alerted the ASI authorities and the Indian High Commission in London was also alerted," Mankodi said.
"Both sculptures were recovered with the help of the US Department of Homeland Security and Interpol and handed over to the government of India in January 2014," Mankodi narrates. "It is a matter of immense satisfaction that I could trace and retrieve the sculptures stolen from the temple since I was part of the excavation team," he adds.
Also read: Nalanda University to be examined after being given 'world heritage' tag
What needs to be done?
He feels that there is need for a centralised documentation system for sculptures, paintings and manuscripts of archaeological importance. "This should also include information on stolen objects, such as where it was stolen from, the dimensions and the FIR about the theft. This would alert prospective buyers," he suggests.
After Mankodi began publishing the details about stolen sculptures and artefacts, around 20 of them have been traced to various parts of the world and the process to retrieve them has been initiated. Sitting in his chair close to the window, Mankodi gets engrossed in the information on his computer while talking.
But he notices arrival of his avian friends at the window. He checks the bird feeders hanging in the window to ensure there is sufficient food for them. He feeds 'masala sev' to a crow that lands on the feeder with piece of roti in its beak. After the bird picks the sev from his palm, the elated professor gets back to his work.
Mankodi also launched a website www.plunderedpast.in where he regularly puts up alerts about sculpture thefts. "The objective to put these details in public domain is to discourage thefts and smuggling. If the information is freely available, the scholarly community that buys these artefacts and international security agencies would be alerted well in time, so that such stolen artefacts are not sold for millions of dollars," he says.
Narrating how an FIR helped in tracing stolen sculptures, Mankodi said, "A 1873 sculpture was put up on sale in the US. The sculpture was stolen from Satna in Madhya Pradesh. The owner had registered it with the Government of India and had even lodged an FIR about the theft. Since details about the sculpture including its photograph were available, I alerted The US Department of Homeland Security when it was put up for sale. The sculpture, whose value in international market was US $15 million, was traced in New York. Notorious smuggler Subhash Kapoor, who is currently in Chennai jail in connection with theft of a Natraja statue, had smuggled the sculpture. Now the procedure to retrieve the sculpture has been initiated," Mankodi said.
Currently Mankodi is trying to trace 2 sculptures stolen from Patan in Gujarat. "One is Brahma and the other one is Ganesha. Both the sculptures have been stolen from the open air museum at Ranki Vav in Patan in 2001. I have posted the details, including the photographs and the FIR on my website. International investigating agencies, auction houses and scholars have been informed about the theft. I hope the sculptures are traced soon and brought back to India," he says.
When asked how it feels to get sculptures back, his modest reply is, "I can only trace them. It is the job of the government to arrange for its retrieval."
Also read: 6 million-year-old elephant skull discovered in China