50 days of note ban: Handloom city Pilkhuwa lies deserted, traders angry
In the main bazaar of Pilkhuwa, the textile town in Hapur, Uttar Pradesh, Haji Ubedullah sits idle, soaking in the winter sun.
"Wednesdays are otherwise busy days, since they are the designated day for the weekly market. This road is full of traders who come from other places. There are very few now, as you can see," he remarks.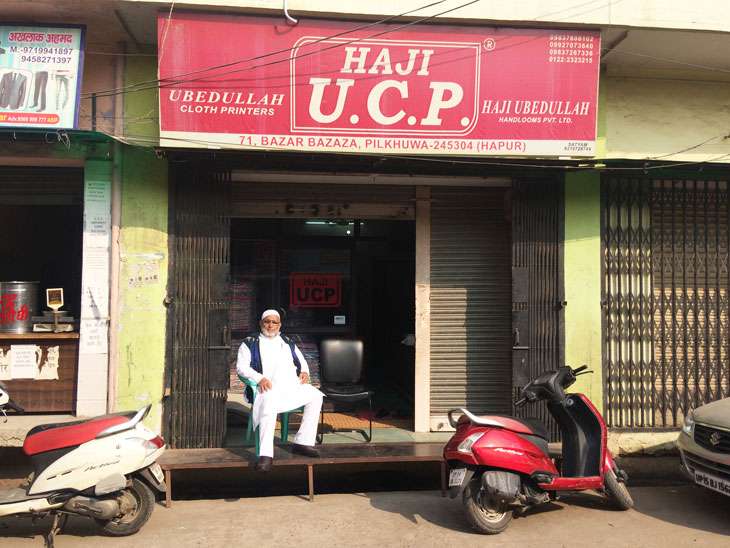 Haji Ubedullah (Photo: Sadiq Naqvi/Catch News)
Ubedullah is one of the many traders who are in the wholesale business of bedsheets, pillowcovers and linen for quilts and towels, something this little textile town has been famous for.
"There is no business, no customers," Ubedullah says, pointing to his shop. "There is no business since 8 November, when PM Modi demonetised Rs 500 and Rs 1000 notes," he tells this reporter. "There has been little change in our plight in the last 50 days."
Ubedullah is among the wealthy ones, who are still able to run their business. Several others, small powerloom owners among them, have been forced to shut shop and move to other menial jobs. Some even pull rickshaws. Already facing the wrath of the electricity department, demonetisation has compounded these loomer owners' misery.
"Six of the eight workers in my shop have already left for their villages in eastern UP and Bihar. Another six of the 10 who would do the printing of the bedsheets and pillow covers have left too," Ubedullah says, explainingg how those in involved in ancilliary jobs like stitching of the bedsheets, pillow covers et al, those who transport stuff from the units to the shops, also have little work.
Winter usually brings with it the season of weddings, which translates into people buying more of these items. As such, November is generally the best time for business for these traders.
"But the entire marriage season has gone waste. There have been no sales," Ubedullah rues.
A few yards away, Navneet Goyal, another wholeseller who deals in only bedsheets, is livid.
"All of November and December seems to have gone to the dogs," he says. "When people do not have money to buy essential food items, why would they buy bedsheets?" Goyal says, detailing how a few thousand people who set out from these towns to get orders from other states have stopped travelling. According to locals, there are around 15,000 people who travel to other states from Pilkhuwa to procure orders.
"There is no cash in the market. Why would the retailers place any orders?" Goyal asks. "We come in the morning, while away time at the shop, and go back empty handed. Modiji has only troubled businessmen. I don't see any politician facing any problems because of this notebandi."
Rakesh Mittal, another trader in the Pilkhuwa bazaar, who also deals in bedsheets, pillowcovers, and linen for quilts, explains how all of the stock is lying in the godowns.
"Had this decision been taken in December, we would not have been affected, since the sale of linen for quilts only peaks in November. That is the most important month for us in terms of business. But this year, no stock has been sold. We will now have to wait for the next year to clear this stock," he says.
Mittal, however, thinks that the misery would end soon, and business would be better in January. "Demonetisation may work wonders for domestic traders like me. But Chinese imports would come down, since there will be no way to under-invoice the imports," he believes.
Powerlooms facing shutdown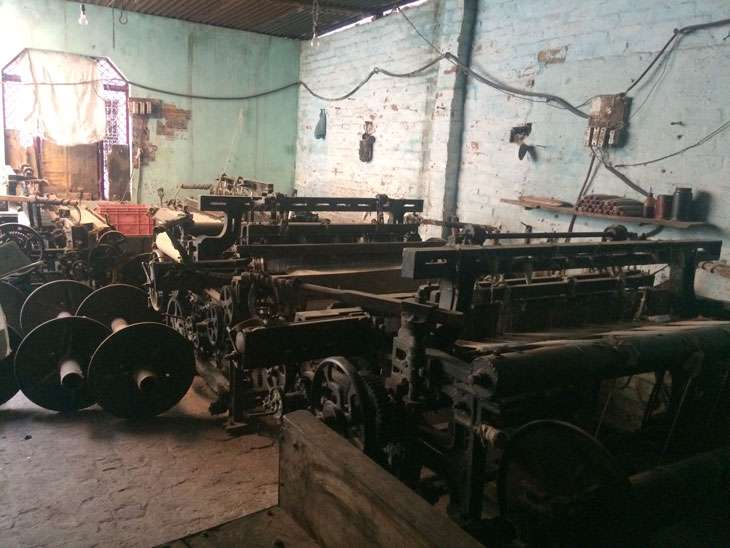 Pilkhuwa is also a big market for a lot of handloom weavers, who come to this mofussil town to sell their stuff from other districts. Most of the stuff comes from nearby towns of Sardhna, Murad Nagar and Meerut. However, there are others who come here from other places.
Akbar Ansari is one weaver who comes to Pilkhuwa from Nehtaur village in Bijnor district on the other side of the Ganga, more than 100 kilometres away.
Wednesday is when most of these weavers come every week with raw cloth for what is later processed into bedsheets, pillowcovers and other items.
"I have been sittting since morning. I have barely done business of Rs 2,000. We would sell stuff worth more than Rs 40,000 on any routine Wednesday," Ansari told this reporter, alongside piles of unsold bundles of cloth. "Looms are shutting down. We used to employ some six workers from nearby villages to help us on the looms. We have been forced to let them leave. There is no business."
"Looms are shutting down in Pilkhuwa," adds Kuldeep Agarwal, president of the Powerloom Vastra Utpadak Sangh, the local association of powerloom owners. Agarwal himself runs a loom which manufactures canvas used for bags and in vehicles like trucks as soft roof. "Dhanda chaupat ho gaya hai (business is finished)," he says.
There are around 250 powerloom units which manufacture canvas, and another around 250 units which are in the business of printing and processing raw cloth into bedsheets, pillowcovers and so on, according to Agarwal. "The business has come down to 20% of the normal," he says, pointing out how turnover, which used to be in crores of rupees, has come down to a few lakhs.
"When truck sales have come down, who will buy canvas?" says Ankur Singhal, another powerloom owner who deals in canvas. His business, too, has come down by a whopping 70%.
While demonetisation may be the last nail in the coffin for many powerloom owners, their misery started with the electricity department demanding actual bill amounts, rather than the subsidised rates that these businesses had been paying.
Most of them pay Rs 130 per horsepower, quite like the subsidy that is given to the farmers for running water pumps for irrigation. So, most of the smaller players, who have two to four looms within their houses, would end up paying just a little above Rs 1,000 per month for electricity. Now the electricity department has sent them bills, some of them to the tune of even more than Rs 2.5 lakh.
"Notebandi, coupled with the highhandedness of the electricity department, will force us to die of hunger soon," says Sarfaraz Ansari, who runs powerlooms within his house in Ghari Mohalla, a neighbourhood where most people are involved in the business. However, most looms are not functional any more, or are running below capacity.
"Both our looms have not been functional for the last almost two months," says Shabnam Ansari. Her husband, Riyaz Ansari, has taken to pulling a rickshaw, since there was no business.
"The traders say there is no demand for canvas in the market," Shabnam says, explaining how the family would otherwise together make Rs 9,000 to Rs 10,000 every month working on the loom.
Like Riyaz, another weaver, Hanif Ansari, too has taken to pulling a rickshaw. He had to shut down his loom before the decision to demonetise currency notes was announced. Hanif, however, hoped that business would shore up and he would restart his loom. However, demonetisation has dashed his hopes.
It's not just loom owners. Others like Abrar Ansari, who washes and bleaches the raw cloth, are also suffering.
"There is no work. Last year, at this time of winter, I had lot to do," he told this reporter, sitting on the boundary of the little tank within his house, where he would wash and bleach the cloth and get Rs 2 for each bedsheet. The tank is empty.
His neighbour, however, seems to have some work, as washed bedsheets are seen on the line.
"Pilkhuwa will soon have no looms. Then it won't be any longer known as the handloom city," Sarfaraz says.
Edited by Shreyas Sharma
More in Catch
Demonetisation after drought: Bundelkhand's cup of woes runs over
Note ban: how Chandni Chowk's jewellery & bullion trade is suffering
People get no respite from note ban misery in poll-bound Punjab