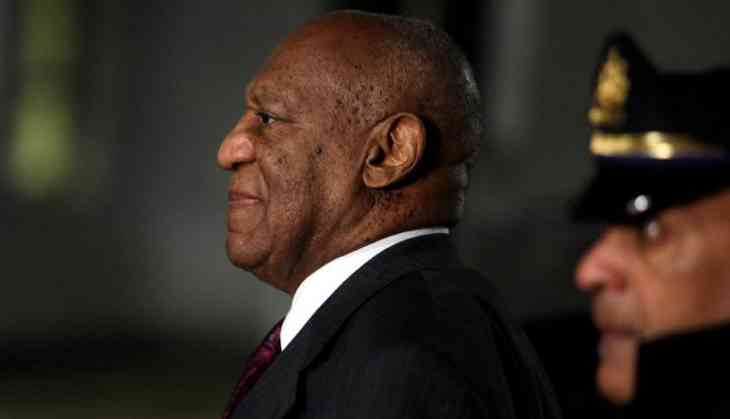 Comedian Bill Cosby was convicted of all three counts of aggravated indecent assault for drugging and sexually assaulting Andrea Constand on Thursday, April 26.
It is first such conviction of a Hollywood celebrity since the #MeToo movement that has brought down rich and powerful men for their treatment of women.
Cosby, 80, is best known as the lovable father from the 1980s Television hit The Cosby Show, faces up to 10 years in prison for each of the three charges of aggravated indecent assault against basketball star Andrea Constand, 45.
Hollywood actor Bill Cosby has been convicted of drugging and sexually assaulting Canadian basketball star Andrea Constand at his suburban Philadelphia mansion in 2004 nearly 14 years ago.
Constand has accused comedian of molesting her, however, the comedian claims the encounter was consensual and has always denied any wrongdoing.
Cosby's main accuser, Andrea Constand, along with two other women who were also drugged and sexually assaulted by him were present in the courtroom and burst into tears when the verdict was announced.
Profoundly happy that Cosby's victims, his survivors, are shedding tears of relief today.

— rose mcgowan (@rosemcgowan) April 26, 2018
I can't stop thinking about all the old farts in Hollywood that knew. They knew the whole time. The networks, the producers, the studios. Time's not up yet. https://t.co/KS3ocB4G8L

— Kathy Griffin (@kathygriffin) April 26, 2018
This made me burst into tears. https://t.co/flNBU2TkUT

— Annabella Sciorra (@AnnabellSciorra) April 26, 2018
The state of America is this- Even with dozens of accusers we were all afraid Bill Cosby would walk.

— Patricia Arquette (@PattyArquette) April 26, 2018
In a fitting end to Sexual Assault Awareness month, Bill Cosby was found guilty today. Thinking of all the women he traumatized over the past 50 years. As a survivor myself, I know that pain never fully goes away. But I hope that his victims finally feel some semblance of peace.

— Padma Lakshmi (@PadmaLakshmi) April 26, 2018
Finally some justice for Bill Cosby's victims. May they find a little #peace today. #GUILTY

— Elizabeth Banks (@ElizabethBanks) April 26, 2018
Just because you're rich and powerful doesn't mean another person's body is automatically available for sex. Consent must be given.#BillCosby

— Jessica Chastain (@jes_chastain) April 26, 2018
#BillCosby my statement pic.twitter.com/Ssfltpxxul

— Janice Baker-Kinney (@mamaJanny) April 26, 2018
Incredible scenes as women run weeping from the courtroom immediately after Cosby is found GUITLY, and tearfully embrace one another. pic.twitter.com/5GWThXycx9

— David Mack (@davidmackau) April 26, 2018
Time's up, Bill. Time's BEEN up for you, for years. And now justice. Justice for women I know who you've hurt and those I've never met. Good riddance. https://t.co/aJ0YaVhwyA

— Amber Tamblyn (@ambertamblyn) April 26, 2018
BYE BILL https://t.co/OPTODw0lyO

— Kathy Griffin (@kathygriffin) April 26, 2018
SAD DAY 2 LEARN THAT AMERICAS FAV TV DAD WAS RESPONSIBLE 4 THESE HEINOUS CRIMES, MORE IMPORTANTLY 2DAY IS A GR8 VICTORY 4 ALL VICTIMS, & SURVIVORS OF SEXUAL ABUSE! MY HEART SMILES W EACH OF THE WOMEN IN THAT COURTROOM 2DAY! I PRAY R JUSTICE IS NEXT! #Kids2 https://t.co/Ir6VjJ1mJ7

— Corey Feldman (@Corey_Feldman) April 26, 2018
To the survivors of his abuse, and to all survivors –whether you receive justice swiftly or many years down the road, know that we see you, we hear you, and we believe you. You matter and what happened to you matters. https://t.co/hOb8QUH8ti

— Mariska Hargitay (@Mariska) April 26, 2018
Unbelievably amazing news!!!!! https://t.co/Z6yEcLT9fC

— Mira Sorvino (@MiraSorvino) April 26, 2018
"I feel like my faith in humanity has been restored," one of the women, Lili Bernard, said after hearing the verdict. "I stand here in the spirit of Martin Luther King, who said that the arc of the moral universe is long but today it has bent towards justice.
"Today, this jury has shown what the #MeTo movement is saying, that women are worthy of being believed," she said. "And I thank the jury, I thank the prosecution."
Also Read: Avengers craze! Meet 2-year-old Ezekiel, suffering from heart disease protected by Iron Man's shield