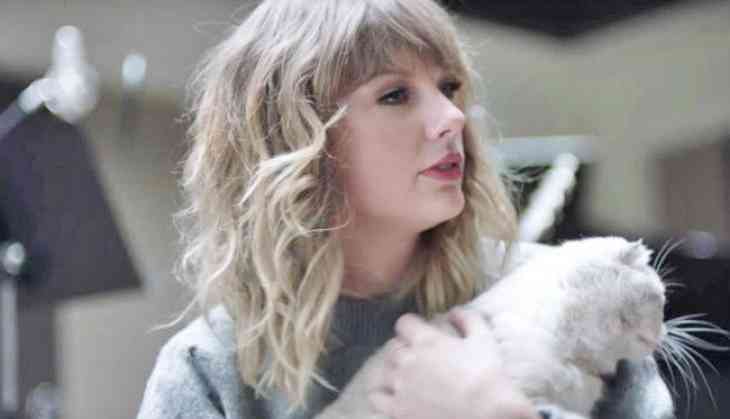 On International Cat Day, Taylor Swift posted the purr-fect tribute to her cats, Meredith and Olivia.

The world's most-famous cat lady started off a series of 12 posts on her Instagram story with a video of her original fur baby sprawled across her bed.

"It would appear my painting of a relaxing grey sky has lulled Meredith to sleep and put her in a very tranquil place," the Grammy winner, 28, narrated before switching to a video of Olivia snoozing at the base of her staircase.

She jokingly mocked the cat by saying, "Clap your hands, that'll make you look more normal."
📹 IG | Taylor's Instagram story celebrating #InternationalCatDay pic.twitter.com/LlyQY02MEa

— Taylor Swift News (@TSwiftNZ) August 8, 2018
She has referred to the famous felines as her "fuzzy daughters" in the past, gave fans a deeper look into her pets' lavish lives and quirky behavior.

In another video, she films Olivia noisily flipping through a book on her nightstand of a historical Hollywood biography.
📹 IG | Taylor's Instagram story celebrating #InternationalCatDay part. 2 pic.twitter.com/rGgMXPwL64

— Taylor Swift News (@TSwiftNZ) August 8, 2018
"Don't do it, don't start drama. Don't kick her in the head — don't do it! I feel like she's about to start drama, when you get the little tail flop. I feel like she's just waiting to start something," the pop star says of the simmering tension of her "two puffy fluff balls" in another video.
The singer is reportedly joining the star-studded cast of Cats, the world's most popular musical about felines. The movie adaptation of the hit musical will be helmed by Tom Hooper, who directed the hit movie adaptation of Les Miserables in 2012.