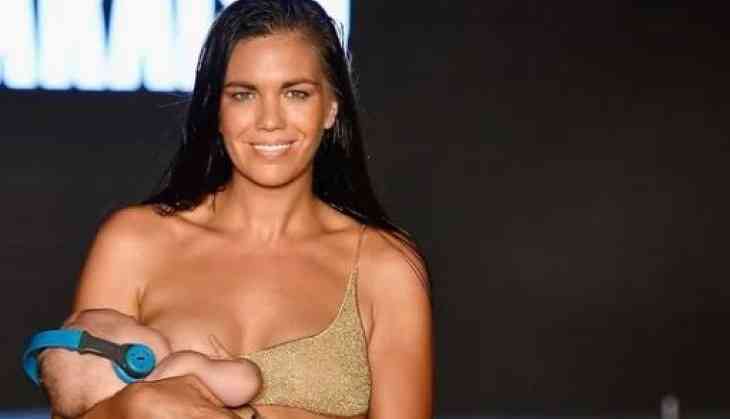 A few weeks ago, Swimsuit model Mara Martin breastfed her five-month-old daughter, Aria during the final rounds of a Sports Illustrated open casting call in Miami.
The model wore a sparkly gold bikini and one very unexpected accessory.
In a recent interview with BAZAAR.com. she revealed, "During the entire casting process for the Sports Illustrated contest, my daughter Aria was with me. The team and crew got to know her throughout the process and when I found out I made the final 16, the editor of the magazine, MJ Day, asked if I wanted to walk the runway with her for one of my looks."
She continued, "nothing goes as planned. The show time kept getting pushed back. I began to feed Aria, like I do every daily, multiple times a day, and did through out the entire casting process. Then casually, MJ came over to me and said that if I wanted to continue feeding when it was my turn, that she would support it."
Also Read: Swimsuit model Mara Martin breastfeeds her daughter while walking Sports Illustrated Swimsuit Runway
#SportsIllustrated #Swimsuit #model Mara Martin walked the runway while nursing her one month old daughter. #NormalizeBreastfeeding pic.twitter.com/qsHWnmiugx

— LoVetta Jenkins (@ChattyPassenger) July 17, 2018
Aria was still feeding when Martin's turn approached. "So I decided to keep feeding her," Martin says. "Breastfeeding is a natural thing and has become such a normal part of my daily life the past five months that I didn't really think of anything of it when I decided to walk out."
In a video of Martin walking down the runway, the audience can be heard cheering her on. The model mom even put a pair of little blue headphones on her daughter to protect her ears from the loud music.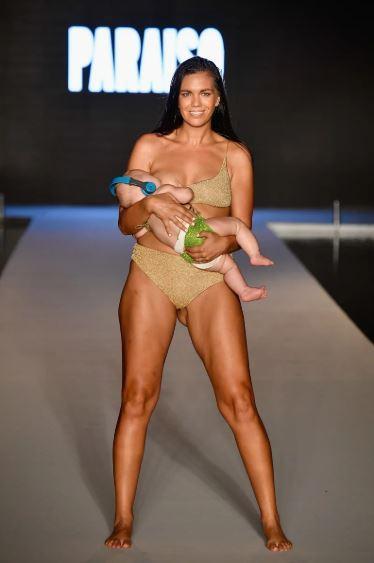 "When my fiance and I went home the next day... the phone kept ringing and notifications kept coming in," she adds. "I'm so grateful and humbled that so many people around the world have shown support to me and what I did on the runway with Aria. I hope that women in general can keep lifting each other up and become each other's biggest fans."
Martin is also a champion of women's empowerment. The day after walking in the Sports Illustrated contest, she wrote on Instagram: "I'm so grateful to be able to share this message and hopefully normalize breastfeeding and also show others that women CAN DO IT ALL! But to be honest, the real reason I can't believe it is a headline is because it shouldn't be a headline!!! My story of being a mother and feeding her while walking is just that." She also captioned a photo of her newborn daughter: "Here's to STRONG women. May we KNOW them May we BE them May we RAISE them."
Also Read: 'America's Got Talent 2018': Angel City Chorale impresses judges with their soulful performance; earns golden buzzer