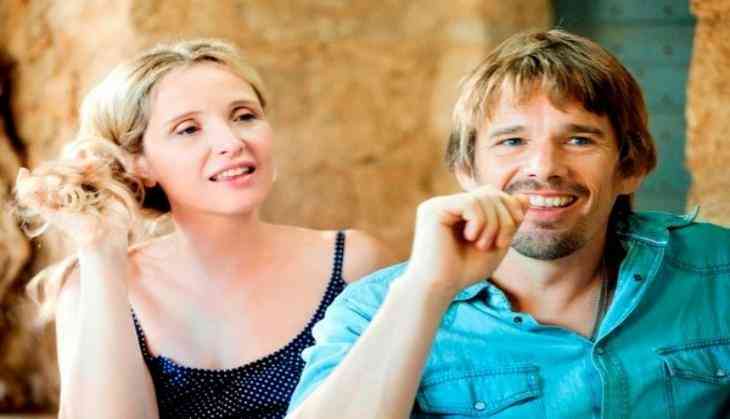 It has been four years since Jesse and Celine's hotel fight in Greece. And now, fans want to know if they're still married.
Every nine years since 'Before Sunrise' in 1995, Hawke has reunited with Linklater and co-star Julie Delpy to write and direct another installment.
Actor Ethan Hawke, though he is not sure if Jesse and Celine would be back again, but he believes that he does have an idea of what to expect, according to The Independent.
He said, "I would have said after the second there was definitely going to be a third one, but I do feel complete in that the first one starts with the older couple arguing on the train and by the end of the third one we've become that couple. If it were to continue it would change shape. It would be something else. Julie, Rick and I might work together again, we might revisit those characters but it'll need a new burst of energy."
"I don't know what it is. We're not allowed to think about it until five years after - that's how we've done it every time. "Waking Life" was five years after "Before Sunrise" and "Before Midnight" we met five years after "Before Sunset." So we're gonna meet five years after the release of "Before Midnight," talk about it and see where we wind up," he added.
The actor also shared that he has a lot of hope for Jesse and Celine, because at least they're not living a lie.
"If I look back at my own life and I see the most hurtful, scratchiest parts, those are the parts where the most growing had happened. It's a hard relationship, for sure, but I see a lot of love in that movie. At the end of that movie, I think he has more hope than Celine does.I think he's clearly invested in that relationship and he's clearly invested in loving that woman. Her problems are stronger and I think more developmental.I relate to it and I don't see it without a lot of hope."
The Oscar-nominated star also revealed that even though he has worked in many movie in between the 'Before' movies, but 'Before' trilogy will always be with him and he put a "lot of my own life into those movies."
-ANI