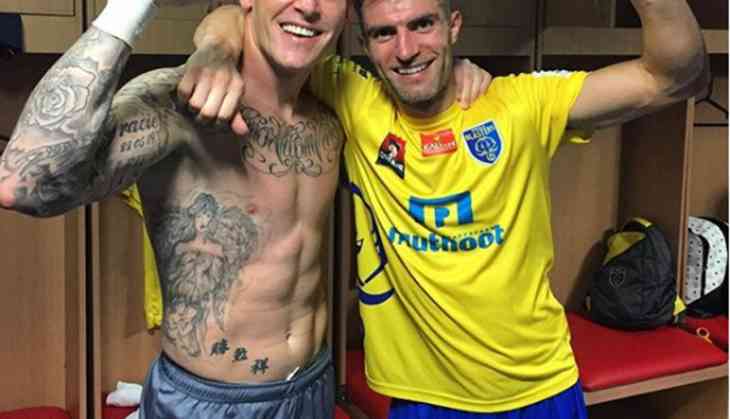 Graham Stack played for Arsenal, Reading and Barnet to name a few. Betway Insider's Tom Clee recently sat down with him to discuss his time recently at the ISL team, Kerala Blasters.
So Graham, tell me how this all came about?
I was having a kick around in the garden with my children when I heard the phone ringing, it was Steve Coppell, my old manager from when I played for Reading. He told me he had just taken over the Indian team, Kerala Blasters, and wondered if I would go out and join him as a player and coach.
I was still waiting on a new contract from my club at the time, Barnet. I'd been there 4 years at this point so it was always going to be a hard decision. Steve offered me a four month contract, generating the same amount of money as roughly 18 months of work would back in the England. I thought this would be the only chance I have left as a player to go experience working in a completely alien culture and environment.
I knew it would be extremely hard living away from my wife, Natalie, and four children – Leila, Grace, George and Alfie. This turned out to be, without a doubt this was the hardest challenge I faced. I missed my son's first day at school and his first league match, I missed friends birthdays and christenings. I missed everyone so much, there is only so much facetime you can take.
Were you the only player going over to Kerala?
Luckily no, ISL rules stated that players must have between 8 and 10 foreign players in the squad. Sachin Tendulkar at the time owned the Blasters, and he opted to bring in Aaron Hughes, Michael Chopra and Antonio German. I quickly found that the dressing room was more multicultural than most European teams are today! We had a real mix of backgrounds, experience, cultures and religions- I described it at the time as a 'beautiful blend'. We used to have a laugh in training, Oldies versus the younger players, or foreigners versus the Indians, it always kept spirits up.
Did the Indian players look up to you?
I think they looked to us all for some guidance, they were always asking about our experiences in Europe, but then also looking surprised when we got the foam rollers out! A big shock for them was the amount of off the pitch work that we put in, we really had to change their mentality on that front.
Did you travel much?
Absolutely miles! 6,000 to be exact. I think this was about the same as one would expect a Champions League player to travel during the competition. Plus I lived in a hotel local to the ground, so while that was good for the home fixtures, away games involved often a very long journey.
What did you think of the Indian Fans?
The fans were the biggest surprise for me, we were playing in front of 80,000 some weeks, I thought the stadium was going to collapse! I have never experienced and will never experience- anything like that again. People were 50 deep in the streets, it was crazy.
How did the season go?
Before I joined Kerala were bottom of the table, but after we all came over we finished second in the league. We then beat Delhi over two legs to make the playoff final. Long story short, we lost the final on penalties- it wasn't how I wanted to finish my time over there. This however didn't spoil what turned out to be one of my greatest experiences in world football.
This interview was conducted by Betway, and the full piece can be found on their blog.