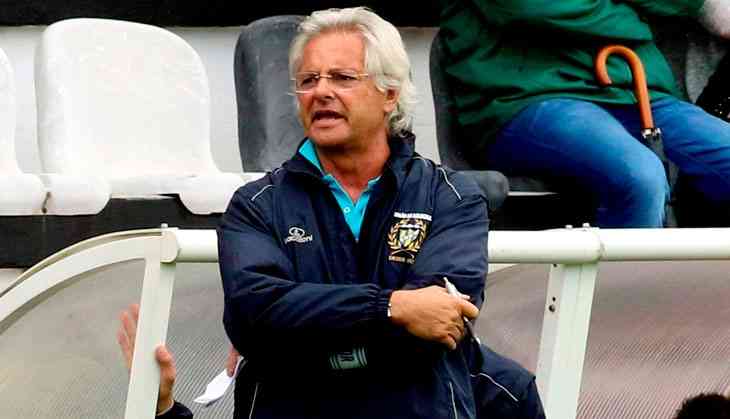 In a year when India are gearing up to take part in their first ever Under-17 Football World Cup, it's curious then as to why All India Football Federation (AIFF) has taken over a month to select a new coach. On 25 January 2017, Nicolai Adam, was ousted by the AIFF and forced to resign after an alleged falling out with the players. It's barely nine months away and Praful Patel-run AIFF is yet to settle on a new coach. The wait might be over, though.
The original list of 75 applications was whittled down to just eight - that included the likes of Oscar Bruzon, Colm Toal, Edgar Borges, Stuart Pearce and Abraham Garcia - after which video interviews were conducted over Skype. AIFF General Secretary Kushal Das, former India striker Abhishek Yadav and Kishore Taid, AIFF's head of operations and strategy conducted the interviews and made the shortlist.
Finally, 63-year-old former Portugal forward Luis Norton de Matos is AIFF's preferred man to guide the Indian junior players during their first ever World Cup campaign. The Fifa U-17 World Cup is set to take place in India from October 6 to 28.
The AIFF are simply waiting for Norton to get his visa. The AIFF are hoping to get him to New Delhi on February 28 and then straight to Mumbai to meet Patel, reported Hindustan Times. Should the interview go superbly, Norton will take over starting next month. Norton came highly recommended by the Portuguese Football Federation (FPF), so it shouldn't come as a surprise to anybody.
Nicolai Adam's ouster
Following poor results in the Granatkin Cup in Russia, the AFC U-16 Championships and BRICS Cup, Adam was under severe pressure. During the 16 team Granatkin Memorial Tournament in Russia, the youngster's came in at dead last place. India won just one of their five matches and lost to Tajikistan in their 15th place play-off. Post the tournament, Patel had met with Adam and persuaded him to step down. Adam was appointed in early 2015. Even during the AIFF Youth Cup held in May last year, the U-17 team didn't even win a single game.

"Yes, the players have complained about certain issues and we will discuss the same in the coming days. At this point, we are reviewing and only then will we take a call if things can be worked out or not," one of the top officials in the AIFF told Goal. "Detesting Nicolai's coaching, the players refused to function under his reign. The AIFF official confirmed that players have also made allegations of physical abuse," reads the report. Physical abuse was the theme running through the U-17 teenagers. Most of them said they wouldn't take part if Nicolai Adam continued to be the head coach.
Luis Norton de Matos
Luis Norton de Matos was born in Lisbon, Portugal on 14 December, 1953. During his playing career as a forward, he played for various teams in the Primeira Liga, the top-tier of the Portuguese football league system. He played 210 games in total in the league, scoring 36 goals over a span of nine seasons. The start of his career began with S.L. Benfica playing only for the reserves team and transitioned from player to coach in in 1989. In five matches for the Portuguese national team, Norton scored one goal in a friendly against West Germany.

One of his main coaching jobs was that of the Guinea-Bissau national team from 2010-2012 where he took the team from a ranking of 194 and got them as high as 136. Just after Guinea-Bissau, he moved to coaching the Benfica 'B' team.

Luis Norton de Matos had also recently applied for the job of the Rwandan national football team. Norton is known to Manchester United coach Jose Mourinho. Last year, he coached Portuguese Primeira Liga team CF Uniao. Unfortunately, though, after being in the top tier for 20 years, they were relegated. His only other top division experience was when he coached Vitoria Setubal in 2005.

If appointed as U-17 coach of the Indian football team, Norton will have only eight months to turn around the fortunes. If the interview does not go smoothly, the AIFF do have two back up options - another Portuguese and a former India youth team coach. On the other hand, Norton will be hoping that the AIFF can up its game and schedule many a friendly/practice match against formidable opponents. More than just training ground drills, real match practice is what will make the difference for the youngsters going into the World Cup. One thing they will not be lacking is home support.