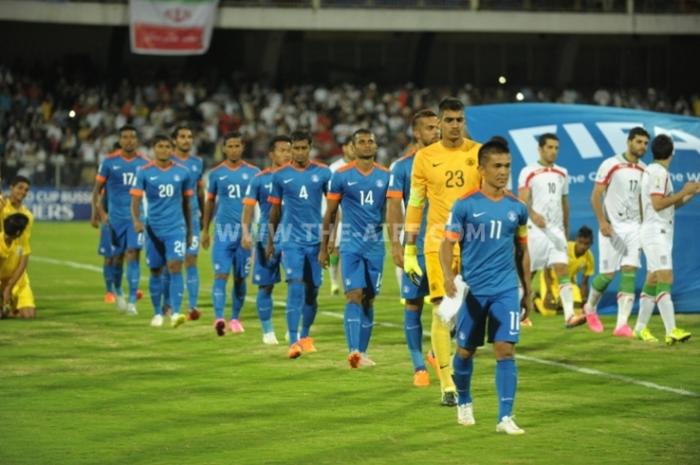 For the eternal optimists, India's World Cup qualifying game against Iran was supposed to be the national team's moment in the sun. Glorious scenes of celebration on beating a team ranked 115 places higher were imagined. Unfortunately, that was not to be, as the team suffered a 3 - 0 loss which virtually ended India's chances of progressing from the group to the next round. However, there were plenty of positives to take from the match. It was a cohesive team performance in some parts, with certain individuals showing grit and determination in the face of a very stern test posed by the Iranians.
Sandesh Jhingan's star is growing
Chosen the best young player of the tournament after the inaugural season of the Indian Super League last year, central defender Sandesh Jhingan showed us exactly why he deserved the prize. Easily the best player in the losing side, he flew into tackles regularly and put his body in the line of many shots that were destined to find the back of the net. Along with Arnab Mondal, who too put in a commendable performance, he formed a solid central defensive partnership. Despite the result, India might have already found one half of its long-term centre back pairing in the form of Jhingan, who will hopefully be a mainstay for years to come.
Sunil Chhetri is still India's main man
At 31 years of age, one would imagine that Sunil Chhetri would be approaching the twilight of his career. But given his performance every time he pulls on the blue jersey of India, it is safe to say that he is far from being over. He was India's main attacking threat, seeming to be the only player willing to take on the Iranian defense. Even Iranian coach Carlos Queiroz had to concede that all of India's attacks seemed to stem from Sunil Chhetri. He will be hoping to lead India out in every one of the country's remaining group stage matches, and put in performances which would be reflective of India's true potential at the international level.
India had no option but to rattle Iran
India adopted a physically aggressive approach against Iran in the initial stages of the match, and seemed intent on breaking up the play quite occasionally. The reality was that Iran's players were leagues above the Indians when it came to technical ability, so unsettling the opponent in the initial stages proved India's best chance of getting anything out of the match. Until the goal came, it seemed to be a more even contest than what it eventually turned out to be. It was not like India were there to merely disrupt the play though - Carlos Queiroz himself said that India were not merely sitting back and defending, but were actually showing intent to play the ball around.
The Bengaluru crowd support was unwavering
It was refreshing to see Indian supporters in the crowd stay on till the final whistle, even after the result had become obvious. They came in droves with banners, and created a lively atmosphere throughout the match with chants and songs. For a change, despondent abuse was not hurled at the players. This is the nature of support that must now remain constant if a positive vibe is to be created around Indian football.
Change will not come overnight
In hindsight, even a 3 - 0 defeat to Iran is a respectable one. If India is to make any sort of footballing progress, we must play matches with higher ranked opponents with more frequency, while investing heavily in youth development. Planning for the long term is essential, rather than worrying abut quick fix measures like getting PIOs (People of Indian Origin) to play for the team.