This Holi, use water sensibly. We have very little left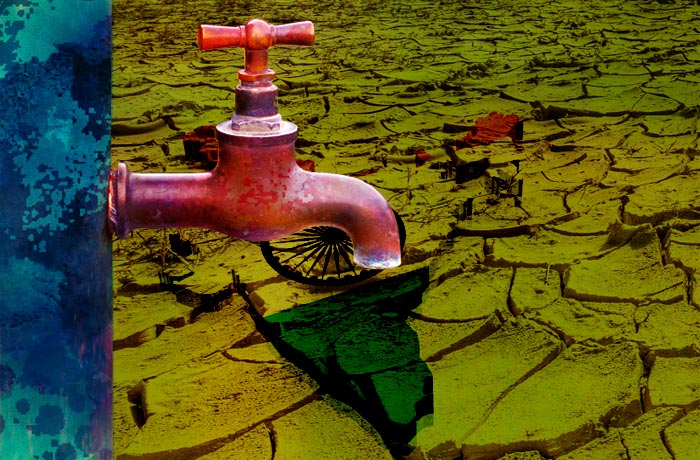 Holi is upon us. Without the ritual splashing of water about, the festival seems incomplete. Indeed, there's nothing more thrilling than emptying a bucketful on a still-asleep neighbour.
This year, though, that bucketful of water will come at an unprecedented cost. After two successive years of poor monsoon, India doesn't have that kind of water left.
The government weekly observes 91 water reservoirs across the country. It has found that in 16 states, the water levels are lower than last year. And they continue to drop every day. In the last week alone, the volume of water in these reservoirs has decreased by 2,000 billion litres.
If not reservoirs, we source water from rivers and groundwater. While rivers are polluted, poor rainfall and overuse means groundwater is dwindling, too.
No wonder most studies find that India is on the verge of a full-blown water crisis. Some cities, in fact, are already in the grip of the crisis --Maharashtra's Latur gets water supply just once a month.
So, before you go about splashing water on Holi, consider these numbers:
That's how much water was left in the 91 reservoirs being observed on 17 March.

This comes to about 43 billion cubic metres of water. If every Indian demands the world standard of 200 litres per day, this much water will be exhausted in just six months.

Poor rainfall over the last two years prevented the reservoirs from filling up; the warm weather ensured water evaporated more than usual.
The amount of water in reservoirs compared to last year. This means that if the reservoirs held 100 million litres last year, we have only 71 million litres now.

The amount of water we have now is, on an average, three-fourths of what we have had over the past 10 years.
The amount of water left in South India's reservoirs, the least in the country. This estimate is for Telangana, Andhra Pradesh, Karnataka, Kerala and Tamil Nadu.

Gujarat and Maharashtra follow with reservoirs filled to just 24% of their capacity.
The year when India will run out of its water resources, according to a study presented in the Parliament in August 2015.
Considering the current situation, the study, which was done before the failed monsoon of 2015, may have been too optimistic.
The deficit in the 2015 monsoon rainfall. This was the worst monsoon in six years.

About 40% of the country witnessed deficient rainfall.
The share of groundwater sources from which withdrawal of water exceeds recharge by rainfall.

This means the amount of available water is continuously declining. Without good rainfall, or a fall in demand, these wells and borewells will run completely dry.

In fact, 16% of our groundwater sources are already "over-exploited".

The estimates are based on the data gathered from the government's "observation wells".
Number of days people in Latur town wait for water supply.

Latur is in Marathwada region, which is reeling from a severe drought.

Around the time the 2015 monsoon was failing, the main dam supplying water to Latur was filled to just 1% of its capacity.
Share of houses in Bundelkhand region without enough drinking water.

The region, which is split between Madhya Pradesh and Uttar Pradesh, is reeling under the "worst" drought in the country.

As a result, a fourth of the region's households have had to send their children into child labour, according to a November 2015 survey by the Yogendra Yadav-led Swaraj Abhiyan.
The depth of a borewell dug in Bangalore in December 2015.

According to one study, the city would need to be "evacuated" by 2025 because it will run out of water.

Another study by the Karnataka government has found that groundwater in 40% of its districts is polluted.