Dry spell continues in Rajasthan, light rain expected in Mumbai this weekend says Weather dept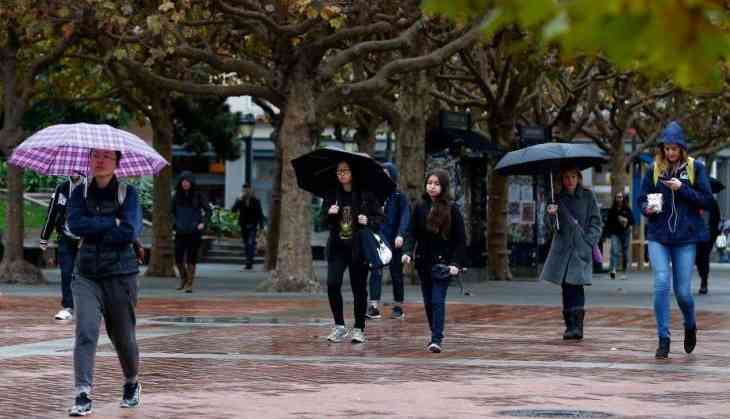 Heat low pressure and dust wind continue to pass across Rajasthan. The Northern Limit of Monsoon keeps on moving in some parts of Maharashtra, Chhattisgarh, Odisha and West Bengal.
It has been estimated that progress of Monsoon is not expected during the next 24 to 48 hours.
According to the weather expert [Skymet Weather], a fresh Western Disturbance over Jammu and Kashmir may give a light rain over the state along with Himachal Pradesh and Uttarakhand.
The cyclonic circulation over North Rajasthan, Punjab may cause dust over the northwestern plains including Delhi and NCR.
The night temperatures are expected to settle above the normal by 3 to 5 degrees in places like Agra, Amritsar, Rohtak, Narnaul and Ludhiana.
The India Meteorological Department (IMD) Mumbai has forecast for some heavy rain in the Konkan region on June 17. IMD officials said that showers could continue on June 18 as well.
A scientist from IMD Mumbai Ajay Kumar, informed that heavy rain is expected over Konkan on June 17 and June 18. "There is a circulation in the North Arabian area which could cause showers in the city," he added.
WWE star John Cena replaces Hollywood actor Sylvester Stallone in a Jackie Chan movie
Also, IMD has issued a warning of heavy rainfall at some parts of Kerala today. They specifically wrarned that there will be heavy rainfall at the isolated place in the state.
Light rain is expected over Konkan & Goa including Mumbai, while fairly widespread rain along with heavy to very heavy spells at few places are expected over Kerala and Coastal Karnataka.
East Uttar Pradesh, Bihar, Jharkhand, West Bengal and Odisha would witness isolated rain and thundershowers.
This weather information was originally published on skymetweather.
Also Read: After Harvey Weinstein and Bill Cosby, American actor Sylvester Stallone facing sexual allegation charges, Los Angeles D.A. to review his assault case