Deep roots, deeper lives: art and tales that remind us trees matter
What is a tree? What does a tree signify? Note that these two questions are quite different.
What a tree is, science has answered to a great extent. It is a perennial plant with a stem, a trunk, leaves, and so forth. But that is not what a tree signifies, what it means.
Today, for city-dwellers like me, what does a tree mean? What does it symbolise? It is a symbol of oxygen, of nature doing its job. It is equally a sign of our assault on nature, of its fragility.
We are told to plant trees and their presence is a positive sign, of something desirable. I'm supposed to be happy planting trees or having them in my backyard. Green neighbourhoods, and so forth.
But was it always this way? Of course not.
A unique new book talks about the meaning and importance of trees, and nature, for Bhils - one of India's largest tribal communities, native to central and western India.
Through Bhil art and folklore, Tree Matters, published by Chennai-based Tara Books, known for its books for children, tells us what a tree is for a forest-dwelling community.
The power of story and magic
Unlike concrete jungles, which have gradually failed to inspire us, trees continue to be mysterious and powerful for Bhils.
"You might think that when people are around trees and forests, they know them so well that they don't notice them after a while. But the Bhils have a special way of relating to trees: trees are not only useful to them, but also symbols of great beauty. Trees make the forest a home, a place of protection and a place of inspiration."
And thus begins the book, with the artwork and narrative of Gangu Bai, a Bhil artist who was at Tara's studio for a fortnight to work on the book.
The narrative has been adapted and written in English by Gita Wolf and V Geetha.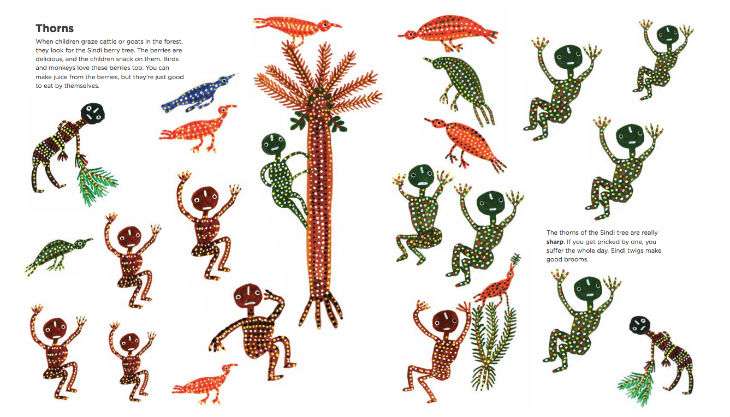 The large 18 by 10-inch pages do justice to Gangu Bai's brilliant artwork, which takes centre stage.
Although Bhil painting appears sparse at first, the longer you look at it, the more details you find. The characters are constantly in motion and the dotted figures almost seem to come alive from the pages.
It was a sheer delight to navigate through the paintings and the narrative, carefully placed on the sides.
Through the folklore, the book provides a peek into what trees mean for the Bhils. Children are raised around them, climbing them, and eating assorted berries and leaves off them.
There's even the story of a boy born while his mother was in the forest, gathering, and her friends helped her deliver the child. He was named Jungle.
There are trees for all occasions. Wedding parties can sit under a mango or mahua tree, but not under a neem tree because a marriage ought not begin on a bitter note. Their tattoos are also of different trees.
Deep roots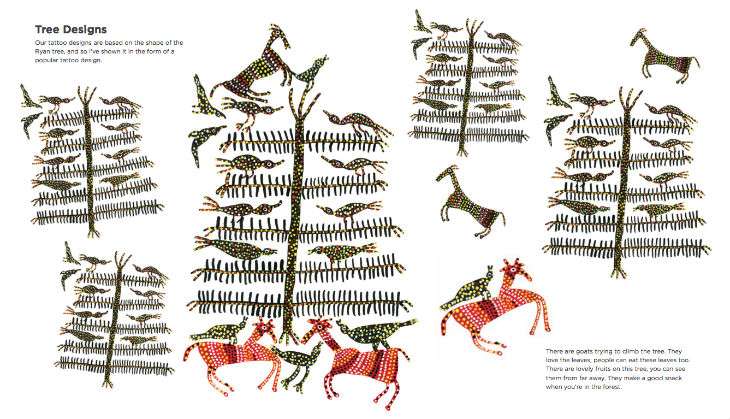 Bhils' association with trees is not purely a matter of reverence or gratefulness. Bhils appear equally terrified by the trees.
They are often possessed by demons living in the trees, and overpowered by the Mahua and toddy tapped from trees. The children feast on berries, but know which ones are poisonous.
In Gangu Bai's artwork, no human stands taller than the tree - in fact they barely reach the first branch. Birds, deer and cattle are shown to equally cherish the tree. There is perhaps a lesson for all of us.
Past imperfect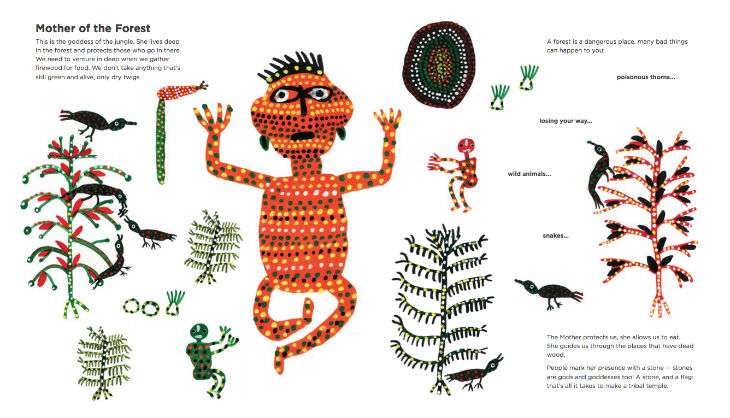 The past tense may be a feature of storytelling in general, but this particularly stands out in Tree Matters.
The book opens with the following lines: "Earlier, the forest was a source of food - leaves, berries, fruits and seeds - a place to gather firewood, to rest or to play. Today, this is not easy, since there are rules about who may or may not go into a forest and what can be taken out of it. But many Bhil people remember how it was."
Bhils are among the tribal groups severely affected by dams on the Narmada. Bhils now live in many cities and towns of Maharashtra, Gujarat, Madhya Pradesh and Rajasthan.
Gangu Bai herself works in Bhopal, for the National Museum of Mankind. The nostalgia shows.
How strange she must think of people planting saplings on World Environment Day.
Lessons to learn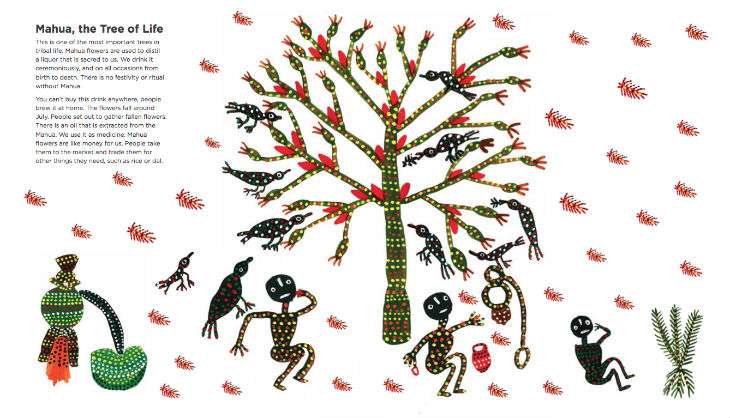 But that is not the only lesson from the book.
As the book's afterword rightly says, Gangu Bai's enchanting work is "painted ecological wisdom" that seems "both archaic and startlingly modern".
In anthropology and developmental psychology, there is now a pursuit to understand the different cosmologies and universes that exist in human minds of different cultures. How we regard ourselves and our surroundings shape how we understand them, and how we eventually shape them.
Folklore is one of means to understand such universes. For me, folklore and traditional wisdom are passages into another world. The purpose is not just to understand cultures better, but to chart a history of change.
Of where we lost trees and found them again. It is perhaps our best chance to learn how to salvage our future, and therefore, Tree Matters is not a book to merely be relegated to the children's section.
Tree Matters
Gangu Bai with Gita Wolf and V Geetha
Tara Books
Rs 400
Also read:390-year-old bonsai tree - the oldest survivor of Hiroshima blast
Also read:A 1300-year-old endangered tree found in China
Also read:#GaneshaChaturthi: an eco-friendly Ganesha idol that eventually grows into a tree