Climate change: Kolkata, Mumbai to be most vulnerable in 50 years
Catch Team
| Updated on: 10 February 2017, 1:50 IST
Population rise and urbanisation will make Kolkata and Mumbai two of the most vulnerable cities to climate change by 2070. The two metros are rated at the top of a global ranking of cities vulnerable to rising sea levels, according to a new study released on 16 May.
Sea level rise is caused by global warming, which melts ice at the Arctic Ocean and Antarctica and it will definitely happen happen despite our best efforts at reigning in warming. If global temperatures rise to 2 degrees Celsius by 2100 - the goal of the recently signed global Paris Agreement on climate change - there will still be about 79 centimetres of sea level rise.
Sea level rise directly causes flooding, but it also makes areas more vulnerable to facing storms - such as typhoon Haiyan that hit Philippines in 2013.
Overall, more than a billion people will be at risk because of flooding of coastal cities, the study released by the ChristianAid charity said. The study combines projections of how much sea levels will rise with population growth estimates.
The report says that with a projected population of 14 million by 2070, Kolkata is the most vulnerable city in the world to such coastal flooding. The second most vulnerable is Mumbai, with an estimated population of 11.4 million. Bangladesh's capital Dhaka, China's Guangzhou and Vietman's Ho Chi Minh figure below, as do Shanghai and Bangkok. American city Miami is ninth on the list, while New York is the 17th most vulnerable.
"Ironically the three countries with the cities likely to suffer the most from coastal climate change are three of the biggest emitters of greenhouse gases. Today's two biggest emitters, China and the US, are set to take a financial hammering because of the value of exposed property, business, investment and other assets. India, currently fourth and rapidly increasing its carbon pollution, is likely to bear the brunt of the human cost," the report said.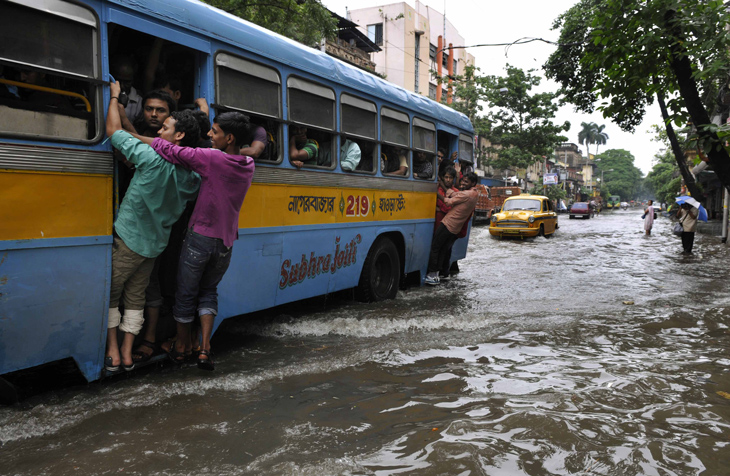 Heavy rains disrupted normal life as several parts of the city became waterlogged at Thantania Kali Bari on 39 June, 2013 in Kolkata, India (Ashok Nath Dey/Hindustan Times via Getty Images)
Financial losses from coastal flooding would be the highest in Miami, with a projected $3.5 trillion exposed. Kolkata is fourth on the list, with over $2 trillion at risk, while Mumbai is sixth with about $1.7 trillion at risk.
Polar ice is already under threat. This year, with record high temperatures, Arctic ice is set to be at a record low after the ice sheet was very thin last summer. Ice formation was also poor during the winter period. Some studies have suggested that Arctic ice may even completely disappear this summer.
In November 2015, another study had said that even with a 2 degree rise in temperature, Kolkata, Mumbai, Hong Kong, Shanghai, Dhaka will still be vulnerable to coastal flooding. (There is also an interactive map)
An artist had depicted what seal level rise would actually look like - for example, Mumbai's Gateway of India is seen partially submerged even under a 2 degrees scenario.
The latest study by ChristianAid has emphasised that even though financial losses are largely concentrated in the West, the bigger impact will felt by the poor, and among them, women. The path ahead involves not just reducing global warming by cutting down on carbon emissions, but also to start preparing for the worst case scenario.
UN Secretary General Ban Ki Moon recently said that overseas development assistance to improve disaster management needs to be at least $1 billion - double of what it was in 2014. It is also finalising an internationally accepted method to calculate loss and damage from climate change - which will be discussed at the upcoming UN climate change conference in Morocco - so that polluter nations can be directly billed for the damages.
Edited by Sahil Bhalla