Alarm call: 98 tigers died in 2016, the most in one year since 2001
Catch Team
| Updated on: 11 February 2017, 5:46 IST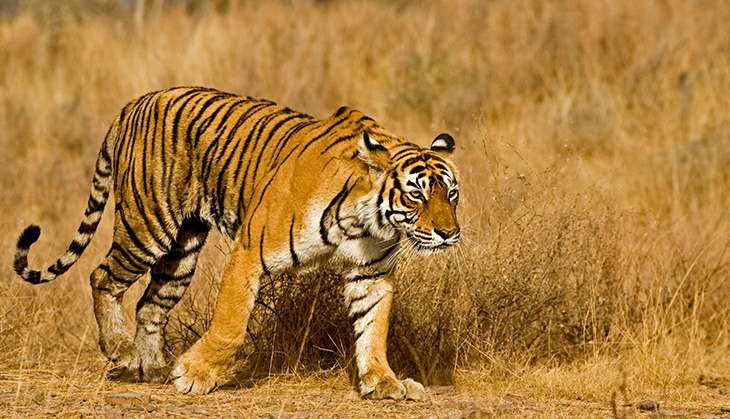 Last year was one of the worst for India's wild tiger population. As per data placed in the parliament, 98 wild tigers died in 2016, the most in a year since 2001 and 25% more than in 2015, when 78 deaths were reported from across the country's national parks and reserves.
These numbers paint a grim picture of India's conservation programmes. The country, home to 70% of the world's tiger population, has been struggling to check organised poaching rings which have been killing the national animal at an alarming rate for years now.
The National Tiger Conservation Authority, a statutory body under the environment, forests and climate change ministry which is responsible for managing tiger reserves, has put out a list detailing the reasons for the 98 tiger deaths. But the reasons of death in over 50% cases aren't "available" with the agency, which has led to suspicion that most of these tigers were poached. At least 30 tigers reportedly fell to poaching last year, more than double the number - 14 - in 2015.
Also Read: International Tiger Day: In India, 2016 may see highest tiger poaching in over a decade
In fact, the NTCA itself had earlier issued an advisory that unexplained deaths should be treated as due to poaching unless there's evidence to the contrary. Anil Dave, the environment and forests minister, confirmed that poaching and poisoning continue to be the main threats to the tiger, whose body parts are highly valued in the black market for their use in traditional Chinese medicine.
As per NTCA's data, Madhya Pradesh led in tiger mortality in 2016 with 33 deaths. Karnataka and Maharashtra followed with 18 and 15 deaths.
According to a report published by the Conservation Lens and Wildlife, or CLAW, not 98 but 102 tigers died in 2016. Of these deaths, 35 were due to "unnatural reasons", 43 due to "natural reasons" while "details are awaited" for the rest. The report claims that 27.4% of the dead tigers were one month to three years old, 30.39% were 4-9 years old, and 19.6% were over 10 years of age.
Wildlife experts believe this situation is alarming and immediate measures need to be taken to improve the management of the parks. "The protection levels have improved but they are far from satisfactory. Several wild animals, including tiger, leopard, elephant, pangolin, are being poached at an alarming rate. Still, the government takes no note of it. Aging forest staff who still wield lathis are no way to fight the organised poaching rackets. We need intelligence gathering but it's not happening. The lack of political will has been a curse for conservation in India," said a former senior official of the environment and forests ministry.
Rajesh Gopal, former NTCA chief and head of the Global Tiger Forum, disagreed. He claimed that more tiger deaths are being reported because forest staff have become more pro-active. He further claimed that not all these deaths are "targeted killings", many are natural and "non-targeted killings".
"Targeted killing is when a tiger is killed specifically for its body parts while a non-targeted killing is when people set up snares and electric wires to kill herbivores and tigers get electrocuted, or when there is a livestock kill and people engage in revenge killing. So, under these circumstances, it would be wrong to say poaching has increased at an alarming rate in the last one year."
Also Read: World Environment Day: tiger numbers on the rise, but so are threats
While Gopal conceded that poachers target tiger reserves, he argued that this alone is not the reason for a spike in tiger mortality. "There are 18-19 reasons due to which tigers die in the wild, so to say the protection levels are shoddy would be completely wrong," he said.
Rather ironically, the spike in tiger deaths in 2016 coincided with the Third Asian Ministerial Conference on Tiger Conservation, hosted by India, where Prime Minister Narendra Modi pledged to protect the country's feline population and doubled the allocation for tiger conservation from Rs 185 crore to Rs 380 crore.
Addressing the delegates from various tiger range countries, Modi said, "A major threat to the tiger is the demand for its body parts and derivatives. The forest and its wild denizens are an open treasury which cannot be locked up. It is painful to learn about trafficking of body parts and derivatives of tigers and other big cats. We need to collaborate at the highest levels of government to address this serious issue."
Such coordination has, however, been missing. Worse, the Modi regime is pushing a "development" agenda that could destroy tiger habitats. For one, the project to link Ken and Betwa rivers that has got clearance from all key environmental agencies, will submerge over 100 sq km of the Pench Tiger Reserve in Madhya Pradesh.
This after India pledged to double its tiger numbers by 2022. The 2016 data is a reality check. To meet the ambitious target, India must ensure that there's no repeat of 2016. For this, it's necessary to check poaching by strengthening wildlife conservation laws, and better train and equip forest staff. At the same time, the policy of pushing environmentally destructive development projects must be put a stop to.
If this isn't done, and urgently, it won't be long before India's magnificent national animal is pushed to the brink of extinction.
Also Read: Out of the woods: has Modi finally changed tack on tiger conservation?