Ranbir Kapoor losses his cool; throws away fan's phone [WATCH VIRAL VIDEO]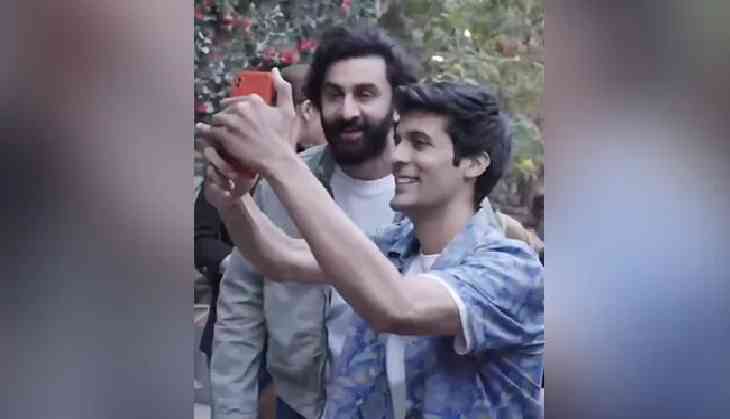 Ranbir Kapoor losses his cool
We have seen numerous Bollywood celebrities losing their cool while interacting with media persons or with their fans. But have we seen Ranbir Kapoor, who always looks calm and in a jolly mood with fans, in an 'angry-mode'?
This time, yes! The 'Brahmastra' actor lost his cool in front of several cameras while taking a selfie with a fan. Furious Ranbir was captured throwing away one of his fan's cell phone.
In the video, Ranbir could be seen smiling and posing with a fan who is trying to take a selfie with the 'Tamasha' actor. The fan is seen struggling with mobile settings to take a perfect selfie with the actor and fails several times.
This makes Kapoor anguished. He then asks for the fan's smartphone and tosses it away.
watch here.
Shocking 😱 Ranbir Kapoor THROWS Fan's Phone for annoying him for a Selfie.#RanbirKapoor pic.twitter.com/dPEymejxRv

— [email protected] (@SAMTHEBESTEST_) January 27, 2023
The video clip of Ranbir's angry behavior with one of his fans has shocked the internet and has gone viral like a wildfire.
Since being shared, the clip has accumulated over 22,600 views and received mixed reactions in the comments section. Several Twitter users also claimed that the clip looks like a promotional campaign for a phone brand
Notably, Ranbir is a brand ambassador of a smartphone brand.
The clip has been shared on every social media platforms. On twitter, users are sharing the 16-second-clip along with hashtag '#AngryRanbirKapoor', and yes its trending.
Recently, Puerto Rican rapper Bad Bunny made headline when he threw away his fan's smart phone in water while she was trying to take a selfie with the him.
So, what are your thoughts about the Bollywood star's weird behavior?