Watch out, Bollywood! Pakistani cinema is making a grand comeback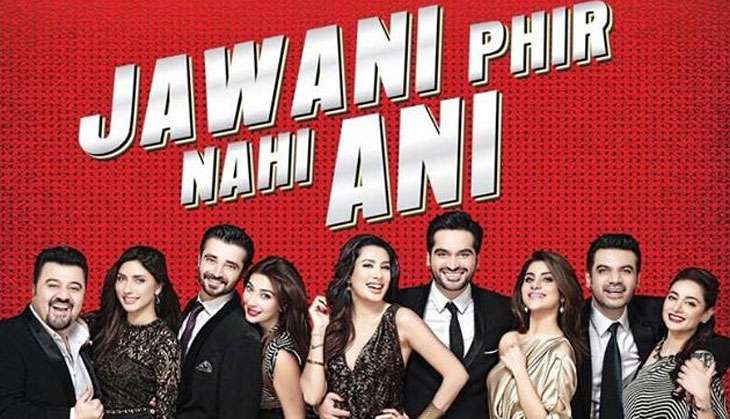 The next time you ask on Quora why "Pakistani people enjoy Bollywood films more than films from their own movie industry" and it tells you "well for one thing, they're just not as good" - please don't believe it. Because Pakistani films are catching up with Bollywood, and super fast at that. Sometimes, these films are even better. Think Khuda ke Liye and Bol for starters.
It's no secret that Pakistanis love all-things Bollywood and that the country is the third biggest market for Bollywood films. But this is quickly changing.
This change was witnessed on Eid ul Zuha, two weeks ago, when our neighbours flocked to cinema halls to watch, not a Bollywood movie, but three of their own releases - Actor in Law, Jaanan and Zindagi Kitnee Haseen Hay - and we are not even counting the other three Eid releases in Punjabi and Pushto.
Veteran actor Om Puri who has played an important part in Actor in Law has gone on record to say that Pakistani films are on par with Indian films, and some of them even meet "international standards".
If you still live with weird stereotypes about Pakistanis and Pakistan in your head and are expecting to see women in hijabs being romanced by bearded men in shalwar kameezes - you need to watch the trailer of Actor in Law for a reality check. The leading lady Mehwish Hayat can pass off as any other Bollywood actress in a pair of shorts, hurling shoes and abuses: "Isko Facebook par zaroor dalna - yeh le kuttey!"
9 Pakistani actresses we can't wait to see in Bollywood films

The Director's Take
Nasir Khan directed a romantic film about an Indian girl in trouble who is helped by a Pakistani cab driver in Mauritius. The film was released in February this year.
Khan talks about the rapid growth of Pakistan's film industry.
"The Pakistani film industry is growing at an impressive rate. A few years back we only had about 14 screens. This year my film Bachaana released on around 90 screens," Khan tells Catch.
"The most heartening thing is that there is a diversity of thought in all the Pakistani films that have released thus far. Filmmakers are not yet burdened with producing just one type of film. So even though we are not competitive in terms of budgets we are poised to be very competitive in terms of content."
Khan says Pakistanis are passionate about films and that is what drives them.
He points out that on an average a Pakistani film does better at the Box Office than a Bollywood release.
"What's interesting is that this is happening even though we don't have a lot of established film stars like India that drive the box office," he adds.
Nasir Khan, film director
Sirah Haq, scriptwriter
Writing on the Wall
Sirah Haq is a scriptwriter. She has worked in Pakistan's TV drama industry for a number of years and is the industry's first trained script consultant. Haq trained at the National Film and Television School in London and is currently based in London but frequently travels back to Karachi.
Haq explains the change.
"Scripts are gradually improving and writers are coming up with more and more entertainment value in each project. Although we may seem to be similar to Bollywood at first glance, scripts are in fact very intrinsically Pakistani in terms of the language used, references to popular culture and socio-political subjects picked up. While we will have the whole song and dance similar to Bollywood, I also see us developing a very distinct and slightly serious narrative in the years to come," Haq tells Catch.
She encourages filmmakers to spend more time on their scripts.
"As a script consultant, my biggest challenge right now is creating awareness about what I do and encouraging writers and producers to work on their scripts with me and see how it improves the quality of a film.
"Most writers come from a TV drama background, which means they need to learn the constraints of writing a two to three hour narrative and especially need to work on structure rather than relying on dialogue to carry a film. I think we have a long journey ahead in terms of storytelling, but I am excited because we are growing at a very fast rate."
Ammara Hikmat is an entertainment publicist who has publicised over 100 Bollywood and Hollywood films in the Pakistan market.
"Having worked on Bollywood and Hollywood films released locally, I think we have started climbing up the ladder, but we still have a long way to go to. No matter how forgiving the audience is towards local content, they would still choose a pre-sold foreign title over a massively promoted local film. Despite this we are at a good stage where the grooming of our industry has started. We are in a transitional phase, filtering out good content from bad," she says.
The Transition Begins
Vasay Chaudhry is Pakistan's most bankable scriptwriter who gave Jawani Phir Nahi Ani and even the Salman Khan-starrer Sultan couldn't break its record in the domestic market.
"On the one hand, we have had great commercial successes like Waar, Bin Roye, Na Maloom Afraad, Jawani Phir Nahi Ani, Actor in Law, and at the same time films like Moor, Manto, Shah and Mah-e-Mir have been the torchbearers for content-based cinema," Chaudhry tells Catch.
"So if we can manage this combo in the years to come then I think Pakistani cinema will have a lot to offer both nationally and internationally. Our next step should be to reach out to markets outside Pakistan," he adds.
Humayun Saeed, the lead actor of Jawani Phir Nahi Ani agrees that Pakistani cinema is making a grand comeback.
"Pakistan's film industry right now is evolving slowly and gradually. We need to focus on nurturing our strengths, such as our writing style, instead of competing with Bollywood or any other industry for that matter," he suggests.
"Once our movies are content driven, they will receive appreciation from all parts of the world but this is going to take some time. It will not happen overnight. Our TV serials have become massively successful worldwide because they are different. We need to apply the same sensibilities to our films and carve our own identity like Iranian cinema, Turkish cinema and Hollywood have done.
"Our industry dynamics are very different, and we need to work according to them. Another very important thing I would like to point out is that our actors need to work hard in Pakistan and build credibility here in order to build a fan following globally. Working towards making our industry bigger is far more important," he adds.
Hikmat loved Jawani Phir Nahi Ani and watched it three times.
"Once with the cast, then friends and again with family. Why? Because it was so full of entertainment, relatable Pakistani humour and it has a certain repeat value," she says.
Ammara Hikmat, entertainment publicist
Labour of Love
Hamza Bangash is a Pakistani director, currently running a Kickstarter campaign for his upcoming film Rang Raaz: The Secret of Colour.
The film is about a Hindu-Muslim couple who elope one night in Karachi. As day breaks and reality sets in, they must reckon with the consequences.
"After an amazing first year, where films like Shah, Moor and Manto came out, Pakistani cinema has now reverted to Bollywood-inspired knock offs. We need our films to speak honestly about the issues our society faces. They should be engaging and with a conscious!
"That's what we tried to do with Rang Raaz, and I think that's why the trailer for the film has resonated with so many people. That's the direction our cinema needs to be headed towards. Bollywood creates some amazing movies, but we can't compete with them on budget. India has nurtured their film artists for almost a century. The Pakistani film industry needs to work together on discovering it's own own identity."
Of course, there is the issue of budgets as Hamza Ali Abbasi, a Pakistani theatre, television and film actor, points out - yet Pakistanis are excelling.
"With the kind of budgets we make films with, the quality that we are now producing is a nothing short of a miracle," says Abbasi.
Nadeem Mandviwalla, film distributor
Change is the only constant
Nadeem Mandviwalla, Pakistan's biggest film distributor, talks numbers to indicate the change.
"In 2015, Jawani Phir Nahi Ani, a Pakistani film did a GBO of PKR 350 million. The biggest Bollywood film in Pakistan has been Salman Khan's recently released Sultan which ended with a GBO of PKR 340 million. These two films hold the box office record in Pakistan till date," Mandviwalla tells Catch.
He points out that usually Pakistani films fare better than Bollywood.
"Pakistani films fare better mainly due to their non-availability at DVD shops and on cable channels which remain totally unregulated in the case of Bollywood and American films."
Mandviwalla blames the government's policies for the downfall of Pakistan's film industry.
"It was the government's policy of (imposing) high rate of entertainment duty, admission price control and freedom of content to be shown in cinemas which led to the debacle of Pakistani cinema. Surely, as the policies have changed in Pakistan since 2001 through 2007, cinema in Pakistan is now being taken on a very serious note," he says.
Pakistani drama has always been world class, and it is good to see Pakistanis are taking their cinema seriously too - a cinema which is almost on par with Bollywood.
"While Pakistan will always face a constraint in budgets due to the market size, we strongly believe that Pakistan will keep producing intelligent cinema which will be at par with any Bollywood film due to the advantage of language and great actors available in Pakistan."
Asked if there will be a dip in Bollywood earnings from Pakistan in the years to come, Mandviwalla says, "Pakistani films will always have an advantage over Bollywood films as they are marketed and publicised on a much bigger scale. So Bollywood films will see a considerable dip in earnings when there are Pakistani films available."
However, this journey will take time.
"It is going to take some time for Pakistani films to stabilise in their number of productions and also for the actors to be known in India like Bollywood actors are known in Pakistan."
And then the inevitable should happen -- Pakistani films should be shown in India so that Indians get to see real Pakistanis and not their caricatures.
Is Pakistan the third biggest market for Bollywood films? Fawad Khan says YES