Uorfi Javed hits back at BJP leader: 'I'm a bigger threat to society than rapists?'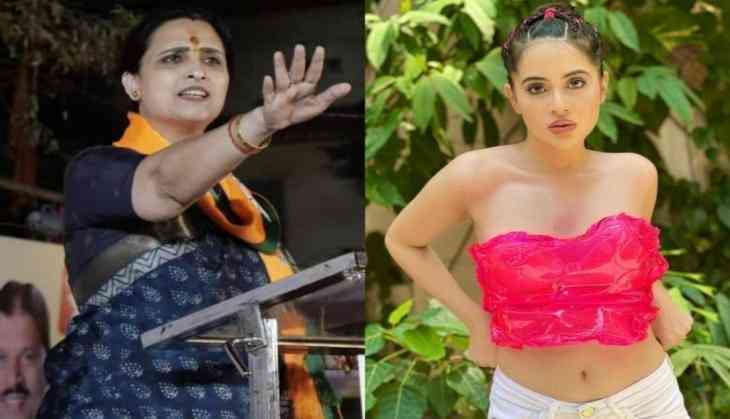 Chitra Wagh and Uorfi Javed
Indian television actress Uorfi Javed has hit back at BJP Maharashtra Mahila Morcha President Chitra Wagh after she filed a complaint against her for 'roaming the streets of Mumbai and exhibiting her body'.
Uorfi wrote in her post that there is no such 'article in the Constitution' that can actually imprison her, and asked the politicians why they don't have anything better to do.
Furthermore, the actress added that convicted rapists of the Bilkis Bano case are roaming free, but instead, members of parliament are demanding her arrest.
Uorfi wrote, "I don't even want a trial and all that bullsh*t, I'm ready to go to jail right now, if you disclose yours and your family assets. Tell the world how much a politician earns and from where. From time to time, multiple men have been accused of harassment, never have seen you doing anything for women, Chitra Wagh!"
In her next story Uorfi further wrote, "Started my new year with another police complaint from another politician! Asli kaam nahin hai in politicians ke paas? Are these politicians, lawyers dumb? There is literally no article in the constitution that can send me to jail. The definition of nudity and vulgarity differs from person to person," Uorfi added that unless someone can actually see her private parts, she can't be sent to jail.
She added, "I got some better ideas for you, Chita Wagh, how about doing something against sex trafficking in Mumbai? How about shutting down those illegal dance bars? How about something against illegal prostitution?" Finally she added, "All those politicians wanting to arrest me while Bilkis Bano convicts roam free and politicians are demanding my arrest. What irony, I'm a bigger threat to society than rapists?" Uorfi added, "Happy new year to everyone except Chitra Wagh!"
January 1, 2023
In her complaint letter, BJP Maharashtra Mahila Morcha President Chitra Wagh had mentioned, "No one could have imagined that the right to conduct, freedom of thought given by the Constitution would be manifested in such a subversive attitudeIf she wants to display her body, she must do it behind the four walls, but the actor may not be aware that she is fuelling the perverse attitude of the society."
Also Read: Kiara Advani addresses Sidharth as her 'favourite Malhotra'