Tamil actor has near-death experience on film set; video of accident goes viral [WATCH]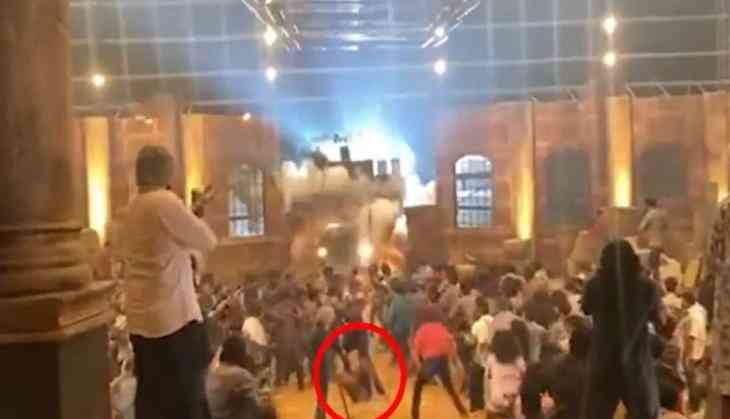 Tamil actor Vishal escapes death after vehicle loses control on Mark Antony film set.
Tamil actor Vishal had a near-death experience on the set of his upcoming film 'Mark Antony' when a prop vehicle lost control. On Twitter, the actor shared a video of himself filming a scene with a prop vehicle. Vishal had to drop to the ground in the scene while the vehicle entered the sets. The truck could not come to a halt while Vishal finished his scene.
While the prop vehicle managed to avoid Vishal, it appeared to have collided with a set wall. Sharing the video, Vishal thanked God, and said that he just missed dying by a few seconds and a few inches.
The video of the accident quickly went viral on the internet, with several Twitter users reacting to it, including actor S J Suryah. The actor, who also appears in the film, retweeted the video and wrote, "Really really thanks to god noolizhaiil Uire thappinom.... Instead of taking the straight route, the lorry went a little diagonal and an accident occurred; if it had come straight, we both would not be tweeting now." "Yah great thanks to GOD we all escaped".
Here's the video:
Jus missed my life in a matter of few seconds and few inches, Thanks to the Almighty

Numb to this incident back on my feet and back to shoot, GB pic.twitter.com/bL7sbc9dOu

— Vishal (@VishalKOfficial) February 22, 2023
Furthetmore, the film's production company tweeted and assured that there were no injuries on the set.
'Mark Antony', helmed by Adhik Ravichandran, features Vishal and SJ Suryah in lead roles. Sunil, Ritu Varma, Abhinaya, and Y. Gee Mahendran all play key supporting roles. Movie is all set to release this summer.
Also Read: Alia Bhatt slams paparazzi over 'invasion of privacy': Mumbai Police asks actor to lodge formal complaint