Storks movie review: a delightful, cutesy tale on where babies come from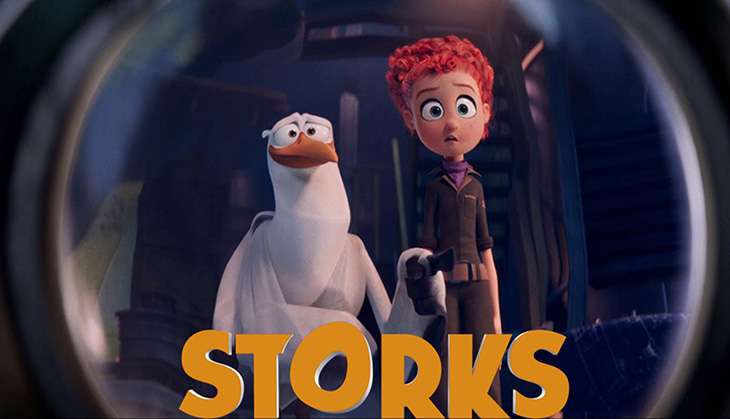 "Where do babies come from?"
For centuries, children have asked this very awkward question, leaving most parents either unable to answer, or to spin a story about how storks delivered their 'bundle of joy' to them. Or just mutter something about the 'birds and the bees' under their breath.
But what if, one day, the storks stopped doing their jobs? The one sole vocation for which they were sent to earth?
That's what the latest animation movie of 2016 is about. Directed and written by Nicholas Stoller, the practice of air-dropping babies is deemed to dangerous when a new boss takes over Stork Mountain - Hunter (Kelsey Grammer) - and he reorganises the company as cornerstore.com, an Amazon-type business that brings manufactured goods (such as refrigerators and smartphones) to customers in a super quick and efficient manner.
Andy Samberg voices Junior, who's an ace employee, poised to take over the business. But he's got one task to handle before he gets the top job - to get rid of Tracy (Katie Crown) and accident-prone orphan who's been stuck with the storks since her delivery got screwed up.
The plot then moves to young Nate Gardner (Anton Starkman) who lives in the suburbs with his workaholic realtor parents (Jennifer Aniston and Ty Burrell). Nate stables across an old baby-delivery brochure and excitedly pens a letter to Stork Mountain asking for a baby brother with ninja skills.
That letter finds its way to Tulip, who somehow (accidentally) reactivates the defunct infant factory for just that one special delivery, while hoping that it doesn't set of alarm bells, or tip off Hunter's tiny sycophant underling Pigeon Toady (voiced by comedian Stephen Kramer Glickman).
The pace is absolutely relentless from beginning to end, infused with jokes in the middle - many of which fall flat. But there's a lot of inventiveness to the script, Stoller's first animation attempt, with a pack of wolves that can merge and shape shift into many modern day marvels - from a suspension bridge to a boat and so on. The pack is led by Alpha Wolf (Keegan-Michael Key) and Beta Wolf (Jordan Peele), who have a great snappy playfulness in their rapport.
That same tongue-in-cheek rapport extend to all the other pairs too - Junior and Tulip and Nate's two parents.
Visually, the animation is crisp and bright. The movie as a whole may have its shortcomings, but for an animation directorial debut, it's enthusiasm is what lifts to a whole new level.
The verdict
It's not the best animation movie this year, but Storks does make for a decent distraction.
While it doesn't answer the question of where babies come from, viewers of all ages should be able to enjoy it.
RATING: 3 out of 5