Song battle flare-up between YouTube star Neha Rathore and BJP MP Ravi Kishan [Watch]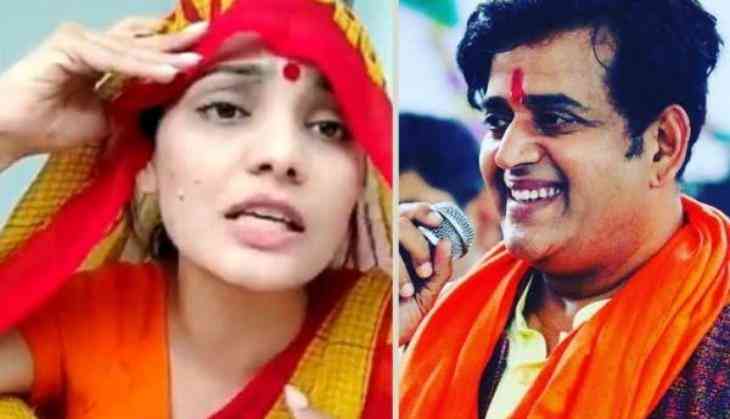 Neha Rathore & BJP MP Ravi Kishan
Gorakhpur MP Ravi Kishan has put out a Bhojpuri song titled 'UP Mein Sab Ba' in support of the BJP and Chief Minister Yogi Adityanath.
While the actor shared a teaser of the song, the complete track has been uploaded on YouTube.
#UpMeinSabBa Full song out now click the link below to watch.

https://t.co/5tPzG0euEn pic.twitter.com/7oTpPOH21n

— Ravi Kishan (@ravikishann) January 15, 2022
In the video, MP Ravi Kishan can be seen showcasing the work done by Chief Minister Yogi Adityanath in the state.
In response to the song titled 'UP Mein Sab Ba,'Bhojpuri singer Neha Singh Rathore released her own version of the song titled 'UP Mein Ka Ba' in which the singer criticised the claims made by the actor in his song.
Neha Singh Rathore came under the spotlight in 2020 when the BJP government announced a complete lockdown of the country, during which she put out her rap song titled 'Bihar Mein Ka Ba.'
The BJP leader Ravi Kishan's song put on show a picture of development and victory, appears like a report card of the five years of Yogi Adityanath's stint in the state.
It focuses attention on what the Yogi-led Bharatiya Janata Party (BJP) government has discharged in the state of UP since 2017 and why the people should vote Adityanath and the party back to power in UP.
Some of the point at issues Ravi Kishan includes in the song are infrastructure development, jailing of criminals, and providing ration and employment to the people in want.
The singer and You Tube star Neha Singh Rathore has throw doubt on these claims in her song.
With her song 'UP mein ka ba,' that is, 'what's there in UP,' Rathore alludes to issues like COVID-19, unemployment, and the Lakhimpur Kheri tragedy that took place in 2021.
Her verse about the latter makes reference to the incident in which Union Minister of Home Ajay Kumar Mishra's son, Ashish Mishra, allegedly ran his vehicle over the farmers.
The YouTube star also questioned Prime Minister Narendra Modi's reputation of being a 'chaukidar,' asking who is responsible for the unfortunate incident.
यू पी में का बा……सुनिये जरूर बा. pic.twitter.com/BSZj4qqxC4

— Nawab Malik نواب ملک नवाब मलिक (@nawabmalikncp) January 16, 2022
In her song, Neha Rathore also made mentions about the dead bodies of COVID-19 victims flowing in the river Ganga.
Her song has been extensively shared by opposition leaders and social media influencers.
Also Read: IED recovered in east Delhi was part of consignment of explosives smuggled from Pak