Shah Rukh Khan, Alia Bhatt & 'Dear Zindagi' in the time of demonetisation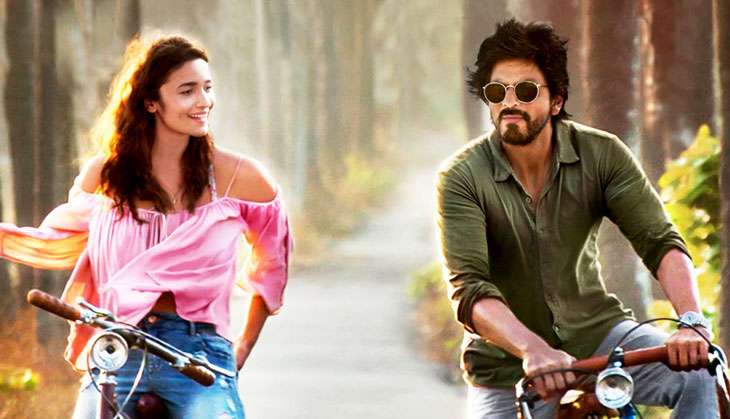 Shah Rukh Khan will treat his co-star in Dear Zindagi, Alia Bhatt, and the film's very capable director, Gauri Shinde, to "chole bhature" and "parathas" because he's in Delhi - saddi Dilli, his city, surrounded by his people.
That, for me, was the biggest takeaway from the press conference of the Dear Zindagi star cast and its director - just two days before its launch, Bollywood's biggest since the demonetisation drive was unleashed on unsuspecting people by Dear Modiji.
The box office has been hit by the cash crunch even as actors continue to shower lavish praise on "Modiji's masterstoke", never mind that innocent people are dropping dead outside banks and ATMs.
Dear Zindagi has an additional problem at hand - Pakistani actor Ali Zafar who has been cast in a fairly significant role. The actor has been kept out of the four teasers of the film, and the director has admitted that Zafar has not been replaced.
But what we learnt at the press conference was more and more of what is already in the public realm. About the film's plot, about Shah Rukh playing Jug, Alia's therapist, about Alia playing Kaira, an impulsive girl who finds lovey-dovey couples irritating.
We don't have answers to the other issues - because the mike was perhaps handed over to only those who ask safe questions. To those who like to humour the stars. To those who'd rather enjoy the spotlight on themselves by posing inane question after question. It's okay if the questions don't make sense. It's okay if the star himself politely hints that he didn't quite understand the question.
Shah Rukh Khan, Gauri Shinde and Alia Bhatt
The show must go on
The press conference was moderated by an RJ, who basked in his own 15 minutes of glory before the stars arrived - after around two hours of waiting, and two hours of hearing the Dear Zindagi songs on repeat.
As if he was addressing an audience with an IQ even lower than his, the RJ set the ball rolling by posing two grand questions - the answers to which one must keep to oneself, he warned.
1) Who was the last person you spoke to before you walked in for the press conference?
b) When you switch off your phone do you think about your 'zindagi' (life)?
As we kept the answers to ourselves, the RJ decided to unleash the four teasers of the film. Apparently this is a first for a film - no trailer, he announces grandly as if we were at a circus.
When Shah Rukh, Alia and Gauri come on stage finally, Shah Rukh starts yakking. "The film is about embracing life with all its...," he says looking for the right word.
Alia whispering "imperfections" helps.
"...imperfections. Whatever difficulties we face we have to embrace life."
The Ringmaster
By now the RJ loves himself even more. He asks a (rigged) question each to Alia, Shah Rukh and Gauri.
He asks Alia how close is she to the character she essays in the film - a question she has probably fielded a thousand times already during her back-to-back interviews since the morning.
Alia plays along, "I relate to Kaira more than I relate to any of my other characters. And I feel a lot of girls my age, and maybe even guys, will be able to relate to her. Whatever she goes through, the insecurities she deals with, her complicated romantic relationships, the ups and downs in her life, I have been through it all. Kaira is a little moody, I am also a little moody, she is impulsive, I am impulsive too - but not as much as her. I relate to the way she thinks too..."
RJ: Amaaazing!
The ringmaster's next question is for Gauri - how much of Dear Zindagi is drawn from her own life?
"Everything is drawn from life...inspiration comes from your experience, from travel, from observing people..."
RJ: Amaaazing!
He tells Shah Rukh that Alia's character in the film asks him a lot of difficult questions, and asks which was the hardest to answer?
"Why are breakups so irritating? Why are romantic relationships so irritating? Almost all questions were difficult to answer."
RJ: Amaaazing!
The Mike's Journey
There has been a lot of conjecture around Shah Rukh not promoting this film actively. Perhaps he has stayed away because the effects of demonetisation may add a flop to his career, perhaps he wanted to steer clear of the controversy regarding the ban on Pakistani actors in Bollywood films. After all he has hinted more than once that he has had prove to his "nationalism" often.
But we do not learn that. What we do (re)learn is why he is a part of the movie - because this film has been written beautifully by Gauri, because Alia has performed so well!
".. I have an extended cameo in the film. I feel I haven't done a role like this before, so first I would like to take an opportunity to thank both of them for allowing me to be a part of this script. In this film there are questions that we all seek answers to in our lives...
"...in this journey, when we are experiencing our ups and downs we sometimes meet people who accept us without judging us...The beauty of this film is that without being preachy...the message has been conveyed...
"...(besides) being a father to a 17-year-old girl and even otherwise being a person whose life and profession has totally depended on women - to me this has been... that is why I am a part of it..."
RJ: "Amaaazing...! We seek answers from Google, when we are lost on the road we turn to Google maps, but the moment we switch off our phones we have a dialogue with Dear Zindagi...Let's talk to Zindagi."
The house is thrown open for questions.
A Question of Answers
Questions ranged from "there's a sea in the film, the cast is playing kabaddi, Punjabi are words thrown in, other glimpses of Punjab as well. How much of Punjab will we get to see in Dear Zindagi?" to "How patient is Alia?" to "Why is Shah Rukh a part of this project?" to "What does 'zindagi' mean to Shah Rukh?"
All three looked dazed for a while but Shah Rukh came to the rescue of Alia and Gauri with his quick witted answers.
* "Alia has just come from Udta Punjab. So there's Punjab for you..."
* "Alia and Gauri both have a lot of patience. Though I have no idea how patient they are with their boyfriend and husband (respectively)..."
* "I am still trying to figure that out at 61 (what is zindagi)..." For good measure he even offered the statistics of happiness. "If you have experienced 61 percent happiness, and 41 percent sadness - it is a good life."
Shah Rukh, who has long since mastered the art of dealing with mediocrity, elaborated on his new law of happiness. "There is no cure to life. We have to live it. Zindagi ka ilaaj zindagi hai. There is no cure to life. We have to live it."
Almost as if this is his kismet. To be dealing with mediocrity, interview after interview, launch after launch.
Alia is catching up with Shah Rukh in this game fast. When asked the rather tired question of her "out-of-box" film choices, she shot back, "...to think out-of-the-box you have to first know the box..."
Gauri too was sharp with her answers to the obvious questions.
"Shah Rukh and content are not separate, they are both the same. I don't think his super stardom has overshadowed the film. It has made the journey easy. He is like a team leader."
To rub this in she teased - "Please do see - even if it is because of Shah Rukh".
Basking in Glory
As the media enjoyed being in the shadow of super stardom, they forgot to ask what they should have - about the ban on Pakistani actors, about donating Rs 5 crore to a welfare fund, about the demonetisation drive hitting the box office.
And soon, the ringmaster announced that the show was over.
Shah Rukh took the mike from him and reminded the audience how Delhi was his beloved, and how he loves its people.
He joked that his reel-life role of a therapist is being extended to real life - and everyone who needs counselling can call him between midnight to 6 am. The offer is only for women though.
And also that he would now treat Alia and Gauri to "chole bhature" and "parathas".
He knows that the media eats out of his hand.