Rakhi Sawant reacts to Sid-Kiara's wedding with 'Ghinn aati hai...'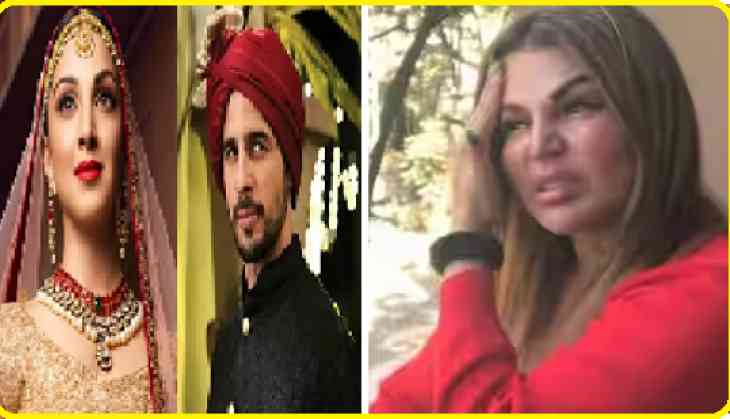 Bollywood and television actress Rakhi Sawant, who is recently making headlines due to disputes with her husband, said that she doesn't like lovebirds around her. Citing Sidharth Malhotra and Kiara Advani's recent wedding, Rakhi said that whenever she sees newlyweds, she gets emotional because of her ongoing fight with her husband Adil Khan Durrani.
The 'Bigg Boss' contender stated she has developed bad feelings towards the institution of marriage.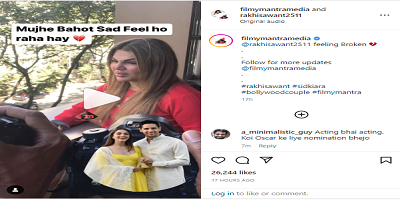 While talking to paparazzo, Sawant opened up about the ongoing turmoil in her life she said, "Mujhe itna sad feel ho raha hai ki Kiara ki shaadi huyi aur Sidharth Malhotra ki shaadi huyi aur unki news achi fehlni chaiye duniya mai, itna pavitra shaadi, aur meri itni gandi news fehl rahi hai (I am feeling extremely sad that Kiara and Sidharth got married, their happy news should get viral everywhere in the world, such a pious wedding, just look at here, my bad news is getting circulated everywhere)."
An unhappy Rakhi continued, and said, "Mujhe itna feel horha hai, kissi bhi shaadi ko dekhti hoon na, toh mujhe ghinn aati hai, kissi bhi lovebirds ko dekhti hoon, mai roo padti hoon. 14th februray aarhi hai, aur mera dil ro raha hai (I feel so bad whenever I see weddings, I feel disgusted whenever I see lovebirds around me, I start crying. 14th February is coming, and see I am crying from within)."
The video was posted on Instagram by Filmymantramedia yesterday and since being shared it has accumulated thousands of views. The post also prompted users to express their thoughts in the comment section.
"Go somewhere and give yourself a time to heal. I bet you will feel better," a user suggested Rakhi.
"I feel sad for her," another commented.
"Inshallah a good man will come into your life. Trust God, learn Islam, everything will be fine," third user wrote.
"Everything will be fine, stay strong", added another.
"Why I feel sad for her? I think people judge her so much, I think she has a good heart", read other comment.
Talking about Rakhi Sawant's married life, she confirmed her marriage with boyfriend Adil Khan Durrani in January 2023. According to the actor, the secret marriage took place in July last year. Sawant shared pictures with Adil on Instagram and captioned it, "Finally, I'm happy so excited and got married my love is 4 Ever unconditional love for you Adil."
Currently, the couple is going through a rough phase and involved in an ugly fight. Rakhi had put allegations on Durrani for having an extra affair and stealing money from her. She further accused Adil of thrashing her on the day her mother died.