Kunal Kapoor's Veeram is not a commercial film: Jayaraj at IFFI 2016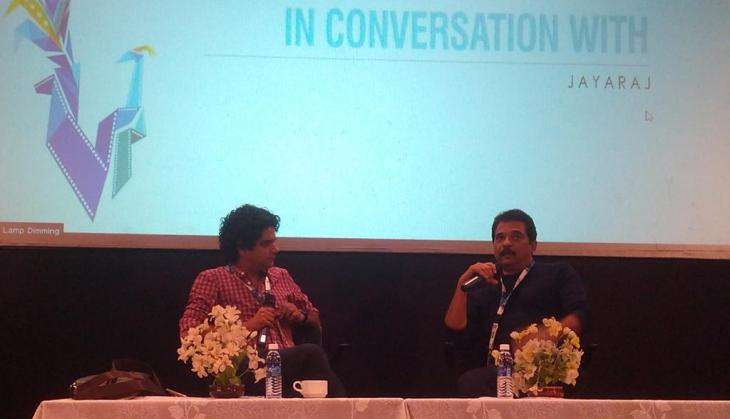 If you don't know a thing about the Malayalam film industry, a good place to start would be director Jayaraj's upcoming film Veeram. Already the most expensive movie to come out of Kerala, Veeram is an Indian epic historical drama film based on Shakespeare's Macbeth.
Starring Kunal Kapoor, and produced at a budget of Rs 35 crore, it's the fifth installment in Jayaraj's 'Navarasa' series and his third adaptation of Shakespeare after Othello and Anthony & Cleopatra. It has been shot three different times in three different languages - English, Hindi and Malayalam - because, as Jayaraj says, "the target audience is a global audience".
On day 4 of ongoing International Film Festival of India (IFFI), Jayaraj was in conversation with Mayank Shekhar about his latest work.

Not a commercial film
When one thinks big budget film, it's expected that the movie will be a commercial one. However, Jayaraj, who's known as much for arthouse as commercial cinema, claims this isn't the case with Veeram. "This has been my dream," says Jayaraj.
While Shekhar kept asking if the film was a commercial venture due to its large budget, and whether Jayaraj wanted it to join the Rs 100 crore club, Jayaraj shot his questions down saying that with films like Sairat getting a lot of money, it has opened the door wide for regional cinema.
"Pullimurugan passed 100 crore. There is a lot of potential in regional cinema. We never thought a film like Sairat would cross 100 crore. Why is Sairat becoming a big hit? I saw the movie in a regular theatre and wanted to find out. Sairat is proving that regional cinema has potential and is doing well," said Jayaraj.
Made for a global audience
Since the movie is releasing in Hollywood as well, Jayaraj needed to bridge the gap in technical proficiency. For that he got the same VFX team who worked on Game of Thrones.
Jayaraj is no stranger to international exposure either. His previous film, Ottaal, won the Crystal Bear for Best Film at this year's Berlin International Film Festival. Since then, he has been garnering more attention worldwide. With the upcoming release of Veeram, the audience is only going to grow bigger.
Also read - A short film by Satyajit Ray and the process of preservation: learnings from IFFI 2016
"arthouse is limited to your region. But do you think this award can open the doors to a larger audience?" asked Shekhar. "If you have a story and you're passionate about it, then you can proceed with it and it will succeed," Jayaraj answered.

The arthouse struggle and India's cinema scene
Speaking on the distribution of arthouse cinema in Kerala, Jayaraj acknowledged that it is extremely limited at present. "That's a problem we're always facing. You can conquer, cause occasionally it can break the barriers of mainstream cinema. The biggest problem is that there is no chance to release the independent films. Theatres are allowing it to be shown but aren't promoting it. Even at film festivals it doesn't get the right exposure."
He does, however, accept that times are changing. Kerala produces the largest number of films a year - around 150, and lots of youngsters are coming with dreams and they they are thinking outside the box.
"First there was Dabangg at 100 crore, and now there is talk of 500 crore. There is a lot of potential. There is even talk of 1,000 crore business in India alone," Jayaraj continues.
"35 crore without a star. We've heard that you wanted to go down this route for the movie. It is not so common in Kerala. In Kerala films it is rare to see someone like a Nandita Das," Shekhar asks questioningly.
Also read - Actors must say no to trash: Tannishtha Chatterjee rejects 100cr club at IFFI 2016
"I'm not denying star presence. I'm just saying that for an experiment, the presence should be there. The time should be there," Jayaraj answers. "When there is formula, with the intention of lot of stars and masala, it is for the sake of commercial ingredients. This is not like that. I never had the intention of making a successful box office film. I made a 100% arthouse film".
Veeram may have action, it may have a soundtrack but it isn't commercial and that's what Jayaraj hopes to prove with this film. That even arthouse cinema can he successful. Fittingly then, when asked about his favourite movies, he answered that they were Akira Kurosawa's Rashomon and Satyajit Ray's Pather Panchali.