Jurassic World: Fallen Kingdom review: The follow-up to the blockbuster just can't escape the hole it's gotten into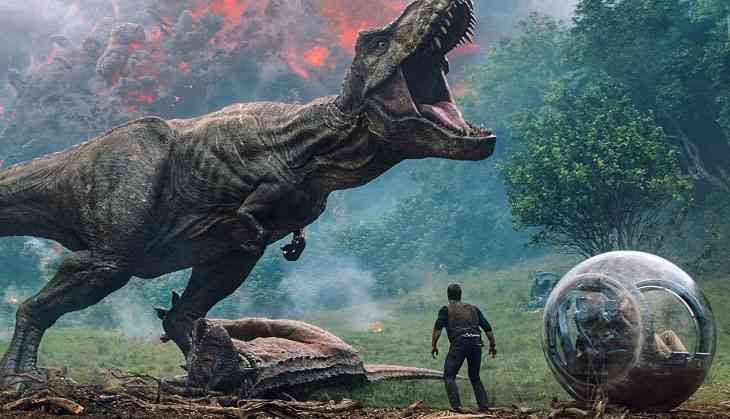 Claustrophobic. That's the best way, to sum up, Jurassic World: Fallen Kingdom. From the big sprawling island to the enclosed halls of an estate, Jurassic World: Fallen Kingdom goes from one large-scale blockbuster to a disappointing sequel.
Jurassic World: Fallen Kingdom is the sequel to the highly successful Jurassic World. It was three years ago when director Colin Trevorrow brought Steven Spielberg's franchise back to life.
That movie was a sprawling spectacle of dinosaurs, who were bigger, louder and had 'more teeth'. There was a massive island-sized resort. It was a theme park at its grandest. We saw Claire Dearing (Bryce Dallas Howard) oversee the park, and Owen Grady (Chris Pratt), an animal expert, roped in to help her out.
That was back in 2015. Fast forward to 2018. We have a sequel to a movie that made over a billion dollars at the box office and a new director in J. A. Bayona.
Bayona took everything that was good about the first movie - open spaces, dinosaur-human connection, tourists, and a true action ride - and put it all into these closed spaces and with limited room for any kind of manoeuvring.
In comes the estate. Out goes the park. In comes, an uneven script - from writers Colin Trevorrow and Derek Connolly - and out goes the fun.
The film doesn't give itself a moment to breathe. Everything is just simply rushed through. No character is able to grow. It's been packaged into boxes of scenes that are so eager to pass on the baton that the link between them is broken.
The film opens many years after the theme park on Isla Nublar has had its fair share of ups and downs. There is now an active volcano threatening the extinction of all the creatures left on the island. The US government holds emergency meetings on whether or not these dinosaurs should be rescued. They decide not to intervene.
In comes Claire, the animal rights activist who will do anything to save these creatures from extinction. An old acquaintance Eli Mills (Rafe Spall), who works for billionaire philanthropist Benjamin Lockwood (James Cromwell), gets in touch with her. Lockwood wants to save the dinosaurs as a testament to Jurassic Park creator John Hammond (played by the late Richard Attenborough in previous movies). Lockwood has a secret sanctuary where these dinosaurs can exist in peace, without any human intervention.
To pull off the mission to smuggle eleven species off the island, Mills gets in touch with Claire, who enlists the help of Owen, Blue's - one of the smartest dinosaurs - trainer. To absolutely no one's surprise, Mills has other plans. His plans involve auctioning off these species to the highest bidder right within the confines of his estate.
Once all the main characters congregate at the estate is when things go downhill. This isn't what anybody in the audience expects. The movie takes a little turn, not for the better. It's a sort of haunted horror with elements of a thriller thrown in. The good guys enlist the help of the dinosaurs while the bad guys try to get out while they're ahead in the game.
In a way, this is a sort of cat and mouse game. It's a sort of escapist theme that plays out throughout the movie. There is a scene, late on in the 'haunted house' where a kid, Maisie, decides to dive right into her bed after being chased around the mansion by dinosaurs. This is laughable at best. The 'monster entering the kids' bedroom' scene has been done to death in Hollywood.
Jurassic World is supposed to appeal to kids, as well as adults, but with many scenes of animal cruelty - whether the dinosaurs are shackled in their cages, or drowning - I don't see how they'd be on board with a film like this. It's the sort of repressive writing that has been the downfall of many a movie.
Ultimately, one just wants to get out of the claustrophobic environment the main characters have been thrown in. It's a world you don't want to be a part of. Normally, sequels expand on their blockbuster beginnings, but Jurassic World: Fallen Kingdom has into a hole that it is unable to escape from. They've been trapped.
There's an obvious setup, in the middle of the movie, that means the storyline is going to continue. You'd know that even if you haven't watched the movie. That, in itself, is another misstep for the franchise.
Should you watch it?
No. Avoid it in the cinemas. If you really want to watch some dinosaurs, then wait till it comes to the television in your home. This franchise, in retrospect, shouldn't have been resurrected, just like the dinosaurs themselves.
Rating: 1.5/5