Hind Ka Napak Ko Jawab movie review: Screw surgical strikes, just send MSG to Pakistan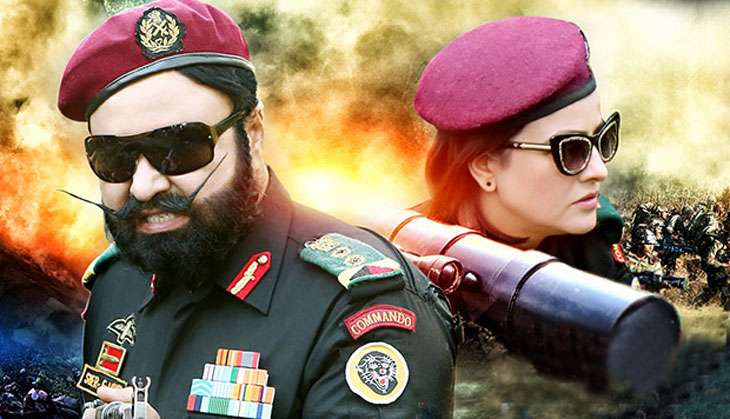 My biggest worry going into Hind Ka Napak Ko Jawab MSG Lionheart - 2 was that the film would break continuity in what was meant to be the Lionheart trilogy. In the first movie, we dealt with aliens who caused mental illness. By the end of the movie, they were regrouping to strike again, obvious fodder for a sequel. However, when MSG revealed that the film would instead deal with the hot button topic of surgical strikes, the alien story arc seemed effectively dumped.
But MSG is versatile. Hind Ka Napak Ko Jawab ties the aliens into the storyline, as they seamlessly (with the help of antigravity magic and force fields) integrate into Pakistan's terror apparatus.
The movie then proceeds seamlessly, with all the tact and nuance that has come to be the hallmark of an MSG movie.
It begins with the Indian army carrying out surgical strikes on Pakistan, without the help of MSG. Hundreds of Indian soldiers stream effortlessly through helpfully placed gates in the Indo-Pak border fence to inflict massive casualties on Pakistani terrorism camps.
Their vengeance is so over the top, you'd think they'd sent a clear enough message. Unfortunately, the lukewarm response by the media, as well as statements by politicians casting doubts about the veracity of the strikes, leads the Indian establishment to deploy India's most dangerous weapon - MSG.
MSG's suitability for such a mission is twofold - one, he's furious that politicians dare to question the Indian army about the strikes, and two, he's shown carrying out surgical strikes in Myanmar, where he pilots a helicopter with an XBox controller, before blowing up the bad guys with the controller batteries.
Thus bad ends and worse begins.
If MSG has thus far waged war on his arch enemies - logic, dress sense and acting, he's added a fourth enemy to that list with Hind ka Napak, Pakistan. And if he seemingly hated the first three, that hate isn't a patch on his hatred for Pakistan.
In MSG's world, Pakistani maulvis are perverts who run terror camps, terrorists are waging jihad to get laid, and Pakistani cabinet meetings consist of the Prime Minister (a Nawaz Sharif knockoff) and army chief meeting with assorted terrorists. All rooms are green. All bottle caps are green. And, as head of Green-land (Not to be confused with Greenland) budget Nawaz Sharif even drinks green juice.
MSG proceeds to infiltrate all of this madness with his trusty lady sidekick Josh, destroying all of it along the way. He even manages to assassinate the Pakistani PM, not with poison or bullets, but technology that turns him into poo. No. I'm not making this up. Only MSG is capable of that.
Along the way he manages to meet, rescue and marry a Pakistani woman. We know she's chaste and sanskar because she has an Indian visa. She falls in love with him because of his proficiency at calf exercises. He trains her to fight. She dies randomly and inexplicably and he moves on in two seconds because he has 99 problems but...
And what about the aliens? They're still lurking in the shadows we imagine, waiting to make a grand return in the sequel.
Watch this movie if you want to unlearn everything you know about terrorism, the army, diplomacy, Islam, romance and the Balochistan struggle. Another good reason to watch it is if you like CGI animals -- from eagles to exploding crabs and terrorist Saint Bernards.
If those aren't life goals for you, don't watch this movie, it may give you cancer. If India truly wanted to retaliate against Pakistan, we should arrange for Hind Ka Napak Ko Jawab to be screened on all Pakistani channels for a whole day. They will gladly give up Kashmir to make the torture stop.
Rating: 0/5