Dhinchak Pooja is back with a bang with her new song 'I Am a Biker' [Watch]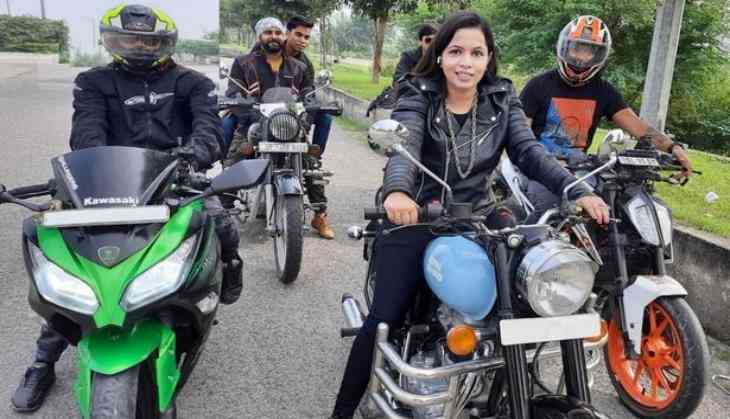 Pooja Jain also known as Dhinchak Pooja became an internet sensation with her famous track 'Selfie Maine Le Li'. She remained under the spotlight with other videos such as Swag Wali Topi and Dilon Ka Shooter and even got a chance to take part in Bigg Boss.
And now after quite a while, she made her comback with her latest track, 'I'm a biker.' Just like her previous songs Pooja's new track also has her trademark music and as expected the song has sparked off a meme fest on social media.
In her latest video, Dhinchak Pooja is dressed like a biker, wearing a leather jacket in place. Sitting on a bike and flanked by bikers on both side, Dhinchak Pooja sings, "I'm biker, jaise koi tiger, mote thodi diet kar, tu bhi mujhe like kar…" The rest of the song follows pretty much the same template with lyrics that rhyme in Hindi and English.
The new track has collected more than 1 lakh views on Youtube so far. She has turned off the comments section this time, but this did not hold back social media users from sharing their thought about the song.
Furthermore, the internet users took to social media handle to put out their hilarious reactions. One of the users said, "Aaj Dhinchak Pooja ka song I'm Biker sunn liya hu...kaan se khoon nikal raha hai ab mere." Another said, "Dhinchak Pooja really knows her target market! Now she apparently knows Auto-tune as well lol."
Check out some of the twitter reactions here:
Sahi mein
Beats kahi se badshah type achi dhundh lai hai ladki
Aur autotine bhi thik thik laga liya hai
Tagdi competition to kakkar family#dhinchakpooja https://t.co/8dDMJvlg51

— scornis (@scornis7) January 15, 2022
Aaj #dhinchakpooja ka song i 'm biker sunn liya hu ...kaan se khoon nikal rha hai ab mere pic.twitter.com/GmYZV5j6wV

— Am!t (@master_love_b) January 16, 2022
Saw this girl riding bike without helmet @dtptraffic #dhinchakpooja pic.twitter.com/M1L4CMifFl

— Ankit Prakash Ching (@iAnkitPrChing) January 15, 2022
"Mote thoda diet kar", queen #DhinchakPooja attacking me early in the morning.
Btw, she sounds better with auto tune now. https://t.co/53StlBvRYA

— Mohit Pandey (@pandeymohitt) January 15, 2022
ए ईमान वालों.... अपने अमाल सुधारो.....
तुम्हारे गुनाहों के सजा की अगली किस्त लेकर #dhinchakpooja आ रही हैl
🤲💚 https://t.co/10ONESVaDD

— आशुतोष (बिहारी बकैत) (@bakaitbaaz) January 12, 2022
Also Read: Vicky Kaushal relives 'good old acting days', video goes viral