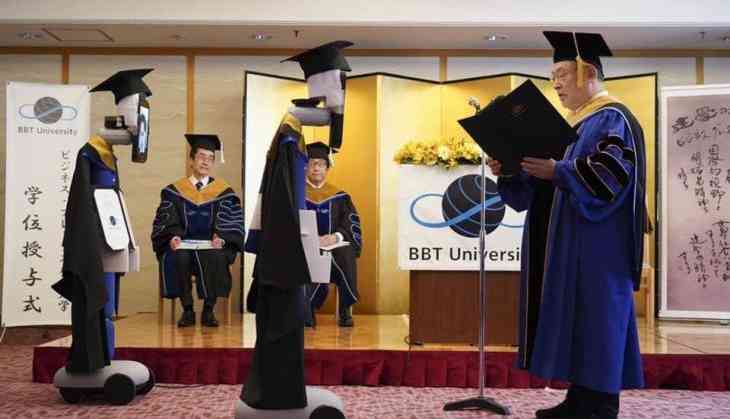 Due to the novel coronavirus lockdown across the globe, all the schools, colleges, universities have been closed. However, educational institutions have started teaching students via online mode but a university in Japan's Tokyo took the help of robots during the lockdown.
As academics institutions have also been closed in Japan and due to which spring graduation ceremonies have been closed. Therefore, the Business Breakthrough University in Tokyo found a new way to conduct the ceremony with the help of robots.
According to the news reports, students were received their degrees with the help of robots who showed the faces of each student on the tablets while receiving the degrees. However, students were logged on at home.
Students at one school were able to attend remotely by controlling avatar robots while logged on at home.
The robots can be seen wearing the graduation caps and gowns for the ceremony at the Business Breakthrough University in Tokyo.
Business Breakthrough University in Tokyo has held the world's first online #graduation ceremony using #robots due to the #coronavirus pandemic. The robots could also take graduation photos with the principal on behalf of the students. pic.twitter.com/wlKZVYdSOD

— jiwan kafle (@jkafle15) April 10, 2020
The robots dubbed 'Newme' by developer ANA Holdings.
Graduated students were logged on at home and controlled the robots via their laptops.
To receive the diploma degree, the robots were approached the podium one by one. School staff also clapped for the students and also said "congratulations". The University President Kenichi Ohmae placed the diplomas on a rack mounted on the robot's midsection.
"I think this is truly a novel experience to receive a certificate in a public area while I am in a private space," Kazuki Tamura said via his computer avatar when receiving his master's degree diploma.
This is definitely a tremendous and unique step that has been taken by the university during a coronavirus lockdown and hopefully, other institutions who have robots facilities can use this method of conducting such ceremonies without gathering people.
What do you think?
Also Read: 5-year-old girl sends important message via letter to her 93-year-old neighbour amid lockdown