Over 130 Delhi private schools established on DDA land, asking for a hike in tuition fees, are sitting on billions of undeclared surplus money. Audited account of several schools, seeking to present deficit in accounts, reveal "financial malpractices".
"Top Delhi schools such as DPS Dwarka, Mother's International and so on are sitting on crores of undeclared surplus money. And yet, these schools are trying to shift the financial burden on parents. The total of all surplus amount in these schools run into few billions," sources at top audit firms, scrutinising the accounts of 138 schools, told Catch.
Last year, over 410 schools applied for a hike in fee structure for the academic year 2016-17, out which the files of 244 schools were rejected by the government. Among the remaining 166 schools, 28 withdrew their applications.
"Post thorough audits of accounts of 138 schools, just five were found to be eligible for a fee hike. Rest are all sitting on crores of surplus money," said a source in the Delhi government.
Most of the schools have either undeclared funds (income or savings) lying in various accounts or have transferred massive amounts to their parents' association.
Catch accessed the audited accounts of 12 Delhi schools, to find the following: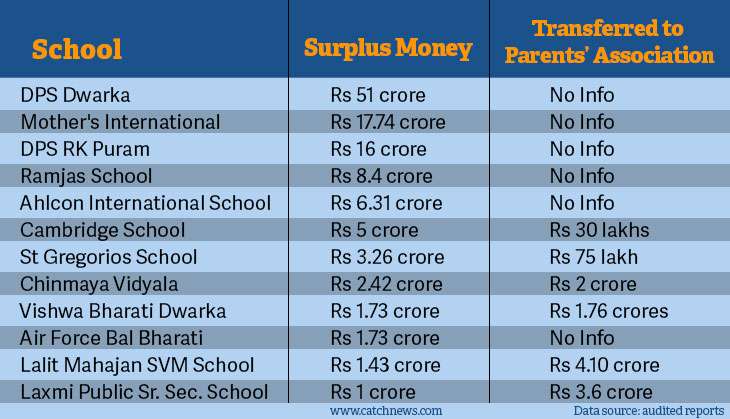 "Schools established on DDA land cannot hike fees without prior permission. The project management unit (PMU) were scrutinising school applications, when these glaring discrepancies were found," says the source at the audit firm.
One particular school, after transferring money into a different account for acquiring land to set up new branch, reportedly bought a flat worth Rs 75 lakh under Parents' Association account.
DPS Dwarka, with one of the highest surplus amount of Rs 51 crores, has asked for a tuition fee hike of 16.7%. The school's audit summary states that 'late fees' charged was more than usual and in some cases, receipts had not been issued. Other schools mostly requested for a 10% fee hike. And all these schools demanding fee hike have surplus money.
According to a notification by the Delhi Directorate of Education, private or unaided schools running on DDA land cannot refuse admission to residents of the locality and shall admit at least 75% students from the neighbourhood. "A previous high court order also bars these schools on DDA land to increase fees until their current reserves are spent," said the government official.
Blacklisting CAs
During the audit, some chartered accountants were allegedly helping the schools fudge data. Delhi government plans to blacklist all the responsible CAs for illegally aiding schools.
Disclaimer: We tried to get in touch with the concerned schools, but did not get a response. The story will be updated as soon as we get the schools' response.