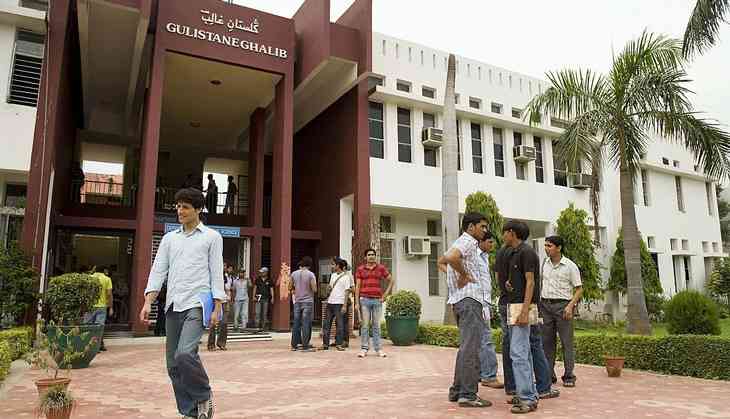 Students interact on the college campus of Jamia Millia Islamia (Mary Knox Merrill/The Christian Science Monitor/Getty Images)
The Central government is all set to file a fresh affidavit in Delhi High Court to withdraw its support for minority status for Jamia Millia Islamia (JMI) University.
In 2011, amidst widespread objection from within the university, the then UPA HRD Ministry, under Kapil Sibal, had supported the order of the National Commission for Minority Educational Institutions (NCMEI) to declare JMI a religious minority institution. Now all that is set to change according to a report in the Indian Express.
As a result of the UPA order, JMI stopped reservations for SC/ST or OBC students and set aside half of its seats for Muslim students –
– 30% seats in all courses is reserved for Muslim candidates
– 10% for Muslim women
– 10% for Muslim Other Backward Classes and Scheduled Tribes as notified under the Central government list
According to a well-informed source, in the UPA-II HRD ministry –
"There were two points of view in 2011 when the proposal for minority status of JMI was tabled. Both essentially within the Jamia Millia Islamia. One was that the late Dr Zakir Hussain moved out of Aligarh Muslim University and established Jamia in Delhi. The whole idea of relocating from the shadow of Aligarh was to say that it was not for any one community, meaning that it was possible to have an institution established by Muslims which could remain secular and not be identified strongly with the religion. When Khurshid Alam Khan (Salman Khurshid's father) became the Chancellor of the university, he moved the proposal to grant it deemed university status by the government to seek funds in 1962. He gave an undertaking to the government that it will not be a minority institution.
"The second point of view was in favour of the protection of minority interests and rights. Under Najeeb Jung's time as Vice-Chancellor in 2009, a proposal was moved that was supported by some members of the faculty and students that for all intents and purposes JMI is a minority institution and it should be so declared. Salman Khurshid primarily supported the proposal and under Kapil Sibal's tenure in 2011, the cabinet conferred it minority status."
However, the NDA government has opposed JMI's minority status since it came to power in 2014.
In January 2016, then Attorney General of India Mukul Rohtagi advised the HRD ministry, then headed by Smriti Irani, that it was legally entitled to oppose the NCMEI's order.
The law ministry in its recommendation said that JMI, which was founded by a Central legislation, was neither started by Muslims nor run by the community. Hence, it wasn't entitled to the minority status.
The problems in this
However, objections are being raised with the timing of the central government's move.
"The centre also withdrawing support for minority status of Aligarh Muslim University. That is the policy of the Centre to withdraw minority status for minority institutions especially Muslim institutions like JMI and AMU. As far as Jamia is concerned, the minority status was not granted by us. The status was granted by NCMEI. When the matter came up to the cabinet, we did not object to it. The current government is claiming that it is restoring the institution because when it was established, it wasn't a minority institution. But the question is that why do it now? If the institution has been functioning for many years with a minority status why take it back? The government will have to explain to the court why this change of mind?" Kapil Sibal told Catch.
"In keeping with their agenda of saffronisation of educational institutes, the Centre's policy as of now is not to fund institutes for minorities. Their argument is that because JMI is a central university, it cannot have reservation for only a particular community. It is an absolutely unsecular move," Sibal added.
In 2011, in the case of JMI's minority status, NCMEI said that it "was founded by the Muslims for the benefit of Muslims and it never lost its identity as a Muslim minority educational institution".
However, former JMI Vice-Chancellor Mushirul Hasan, who had always been critical of minority status for the institution, told Catch, "I will not comment on an order that was passed six years ago but I always felt that minority status for JMI could be seen as continuing 'ghettoisation' that could adversely harm the minorities."
A look back
Mukul Rohtagi in his recommendation cited the precedence of Aligarh Muslim University (AMU), which, after the Azeez Basha vs Union of India case in 1968, was deemed by the Supreme Court as not eligible to be a minority institution.
In its ruling, the SC said that since AMU was set up by the British legislature and not by the Muslim community, it cannot claim a special status.
But in 1981, Parliament passed the AMU Amendment Act to undo the SC's ruling, accepting that AMU was, indeed, set up by Muslims.
However, in 2005, the Allahabad High Court ruled that the 1981 Act was ultra vires, taking away from AMU its minority status once again. The Supreme Court stayed the Allahabad High Court ruling, giving AMU back its minority status.
But in January 2016, the Centre, once again, changed its mind and decided that AMU was established by an Act of Parliament and therefore couldn't be given the privileges of a minority institution.
In 1962, JMI became a deemed university and was granted the status of a Central university through a Central law in 1988.