This powerful dance-drama just showed us the everyday cycle of patriarchy & nationalism
Asad Ali
| Updated on: 10 February 2017, 1:51 IST
PraatohKrityo shat on patriarchy last week, when you weren't looking.
But a packed house at Kamani auditorium in Delhi was, with rapt attention, as a group of five women rustled up a dance-theatre performance that critiqued patriarchy, the Hindutva strand of nationalism, moral policing and the 'usual' regime-regulated oppressions.
A colloquial Bengali reference to the daily early morning act of answering nature's call, PraatohKrityo has been directed by Kolkata-based theatre artist Joyraj Bhatttacharya, and looks set to shake up audiences everywhere it is staged.
Perhaps it's serendipity that the play was staged close on the heels of the announcement that the Chandigarh administration was allegedly planning to ban short skirts - all five women on stage performed in flimsy, short dresses. It was entirely unrelated but emblematic of why we need more plays like PraatohKrityo - to expose the absurdity of the times we live and participate in, where state oppressors will pull you up for obscenity and pull down your skirt to bring down crime.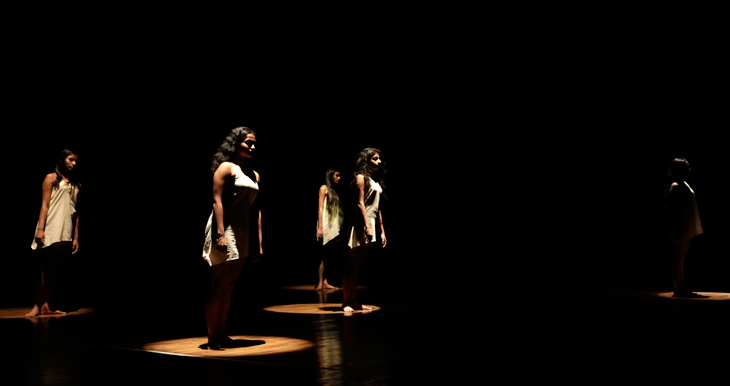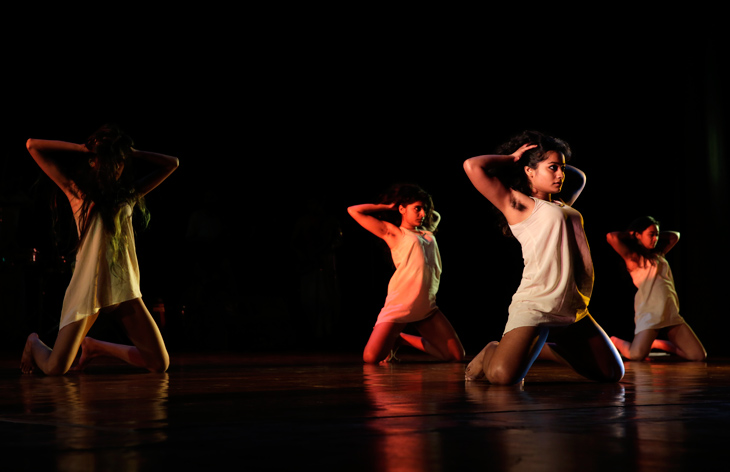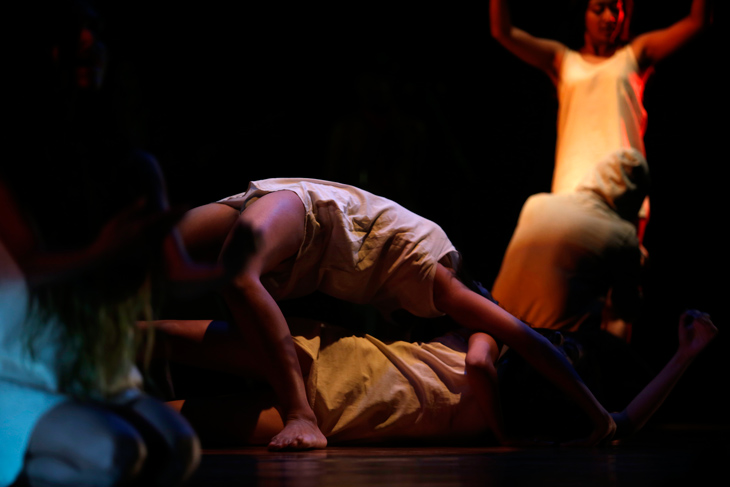 This is certainly not the first urban production to deal with these themes. But what sets PraatohKrityo apart is the route it takes to get its core message across. Joyraj and the five actors have attempted to be anti-classical and disruptive throughout - it's not what they have to say as much as how they say it which really makes it stand out.
On close examination, I found six particular strands of the production gave it its strong effectiveness even while retaining an appealing minimalism.
1. The musicians - ten in all - are male. Throughout the performance they play their instruments and watch the women dance - the male gaze is right in front of us, the audience. Those musicians are us, watching/consuming the experience of five scantily-clad women dancing to their/our tunes, the music of patriarchy. Joyraj agrees saying, "the musicians were a reflection of us the audience consuming what was on offer."
2. The music itself was a fusion of both Eastern and Western styles. So there's a dhaaki (usually seen during Pujo in Kolkata) and there's a Jazz trumpeteer as well. The message? Patriarchy cuts across cultures and civilisations, whether it's the oriental East or the occidental West. Also, the women dance with all the suggestive gyrations one associates with Bollywood or popular culture. But there are more refined 'feminine' moves as well. "There are feminine movements on stage and Bollywood steps. But all moves are exaggerated, they are all over-projections that are making a mockery of convention," explains Joyraj.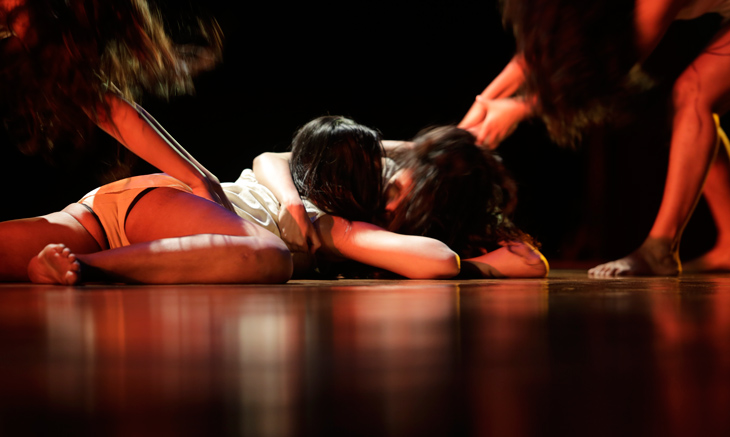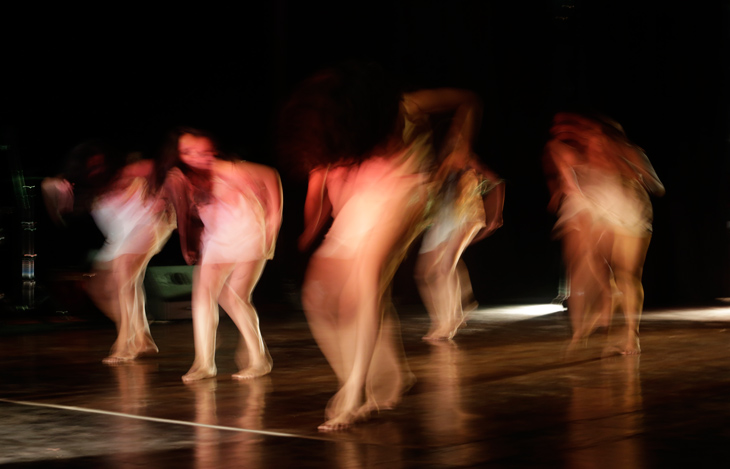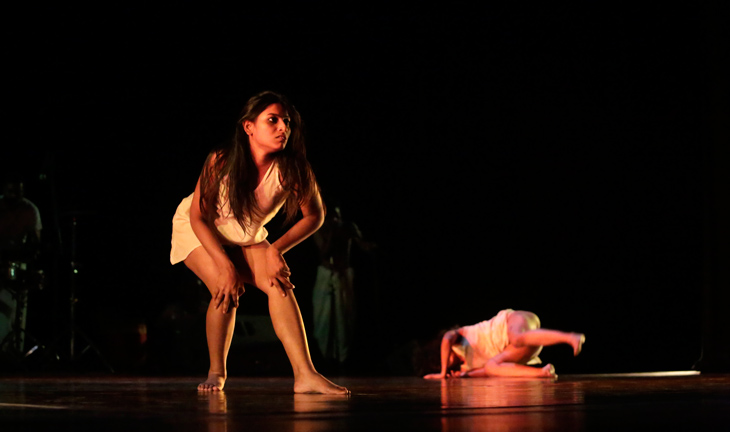 3. The women break into an impromptu ramp walk and keeping walking back and forth. Next, they start posing like models do at a photoshoot. They sashay down the stage, bump into each other but are unfazed and keep posing, like models on the ramp. They are programmed to keep walking, pouting - and being judged all the time.
4. A man smoking a cigarette comes on the stage as the women are posing and starts measuring her skirt. Soon after two women enact a moment of intimacy as two other women pull them back repeatedly. It's again a reference most will recognise: some forms of love aren't allowed by society.
5. At one point one of the women starts chanting something which sounds like a Sanskrit mantra. Her hand gestures are as if she's performing a puja before the holy fire. Except, it's gibberish which has been made to sound like Sanskrit - mocking the language a lot of right wing forces have tried to appropriate in their narrative of pseudo-nationalism in recent times. What's more amusing is that the gibberish 'mantra' is sprinkled with random keywords that will ring a bell for everyone - AFSPA, Manipur, Modi and Vivekananda were the ones most prominently heard. To place such references within the incoherence of nonsensical Sanskrit is smartly done.
6. The most audacious bit - and some might argue the most cliched - came towards the end, as all five women walked up to the dhaaki and one of them snatched away the poite (holy thread of the Brahmins). They proceeded to tear it apart with their hands and legs, swing it in the air for a bit before casting it aside and walking off with what seemed to be a fleeting moment of scorn and rebellion. The reference here is again obvious - it's the taking down of the Brahminical structure with all its caste hierarchies by the women who've perhaps been most affected by it.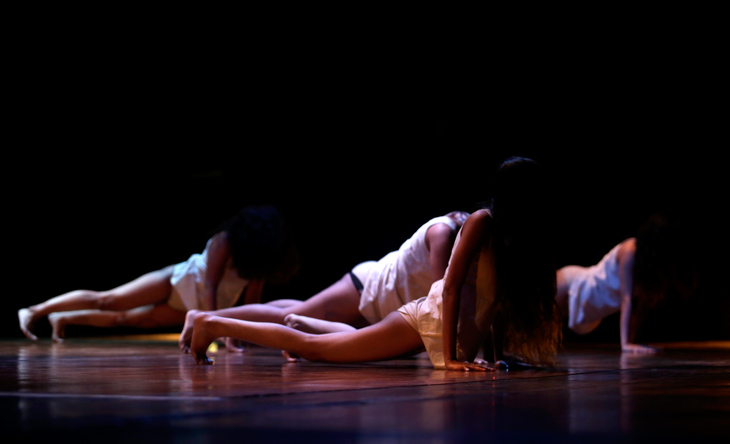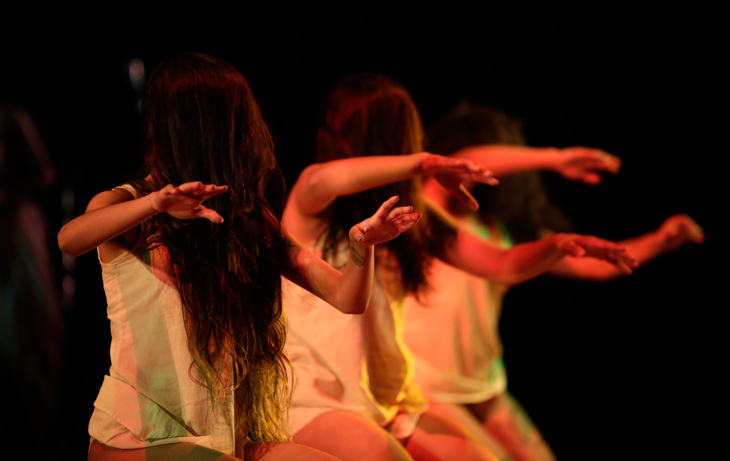 These six strands really play out brilliantly for the production. Male gaze, moral policing, caste structure, Hindutva nationalism - PraatohKrityo addresses the most urgent societal problems and attitudes of our time in a manner that demands our engagement. We are reminded of how we demand and lap up the jhatkas and matkas of the 'item numbers' in showbiz, and we're also the same people dictating moral terms to 'our' women. We're the same society that allows the non-sense verse of "Sanskrit nationalism" to be peddled by our politicians for electoral gains.
By the end of the performance, it felt natural to feel shame. And that alone demonstrates the sheer magnetism of this performance - because to move the most cynical among us through silent stage movements is perhaps the ultimate accomplishment for modern theatre.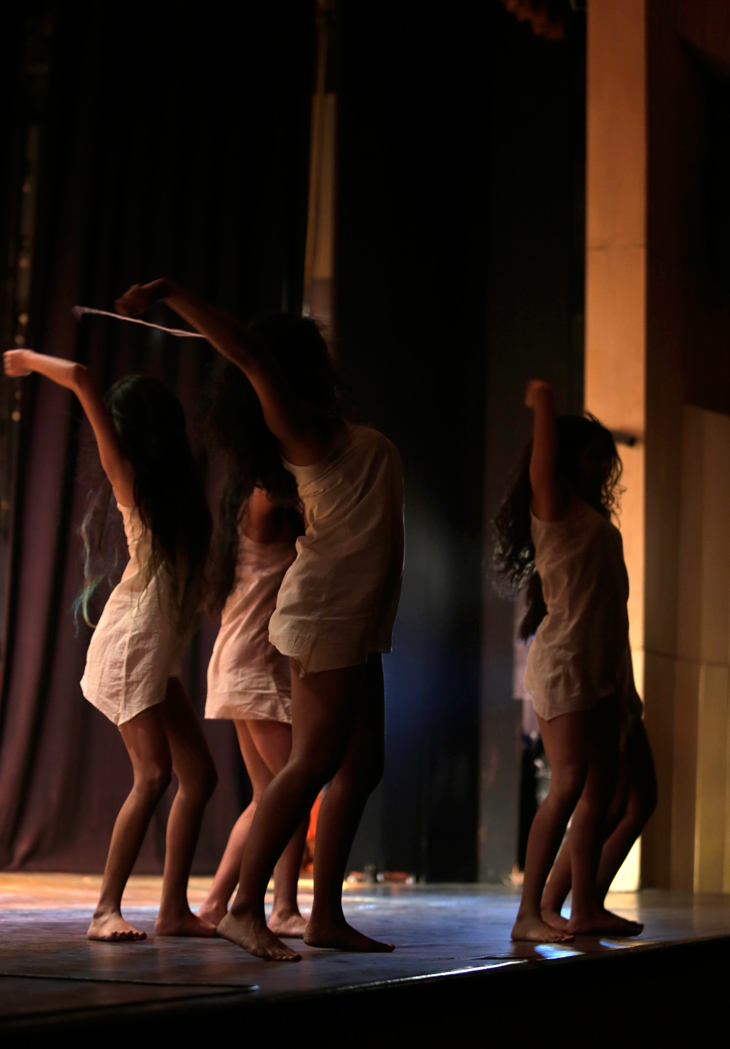 Edited by Payal Puri
Photo credits: Vikar Kumar/Catch News