Om Puri's memory deserves better than the sleazy biography his wife wrote
Om Puri was an "unlikely hero" as the title of his biography Om Puri: The Unlikely Hero (Roli Books) unimaginatively suggests, but he surely deserved a better biographer than Nandita C Puri.
Nandita, Puri's wife of 26 years, with whom he eventually legally separated a couple of years ago, despite tall claims of objectivity, couldn't forgo the pettiness of a relationship gone sour.
She revealed intimate details of Puri's life, which she was privy to as his wife, revealing more about herself than the actor, whose greatness has been captured for posterity in frames.
When Puri's biography was released in 2009 he was shocked to see the sexual details of his life in print, sexual acts that were deliberately given a certain colour to show him in poor light. Puri was deeply hurt.
Fortunately for Puri, his actor friends punctured his wife's writings, by penning adulatory introductory notes for the biography. Notes that are pointers towards the actor's struggles, his supreme talent, and his sheer simplicity, which he wore like a crown.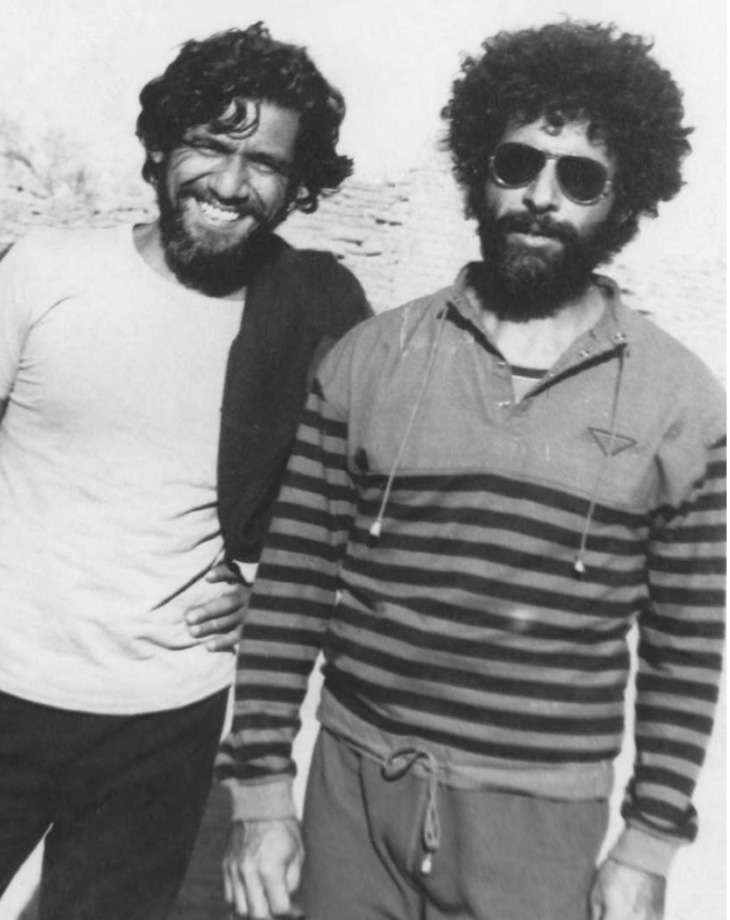 Om Puri with friend Naseeruddin Shah
To Om, With Love
When Om Puri decided to become actor he tried on several names - Vinamra Kumar, Antim Khanna, Prakash, Vilom Puri and Azdak Puri - the last two being actually billed in his first few films, according to actor Naseeruddin Shah, his friend and batchmate at National School of Drama.
The first two, Vinamra and Antim, were suggestions by Naseer which Om Puri turned down rather impatiently.
"Om and I are similar in that we are not, either of us, 'gifted performers'. Being entertaining does not come easily and since we both have had to slog to make things work for ourselves, I think, at the risk of sounding more pompous, acting has acquired a slightly higher purpose than mere entertainment," Naseer writes in his note to Puri's biography.
His relationship with Puri goes back to 1970 when they were students. Puri was in awe of Naseer who came from a well-educated family, was popular amongst girls and could speak good English - even though Naseer was the "black sheep" in his family.
They went on to become rivals, "for roles, not girls", as Naseer points out.
"He is one living person whom I have constantly envied for the courage and integrity he has shown. We used to be different actors then but now we have a lot of similarities. He used to be the hardworking one among us and I used to take my abilities for granted. Now it is the other way round to an extent. Yet we have a healthy regard for each other and I am closer to him than either of my brothers."
Naseer saw "magic" in Puri's performance.
"It killed my envy and jealousy and made me, albeit grudgingly, admire his performance. It also opened my eyes to the kind of performance that could be achieved from him."
Puri has often credited Naseer with helping him, lending his formal shirt at NSD when Puri didn't have one, to much more.
Naseer rubbishes conjectures (including Puri's wife-cum-biographer's), of Puri being stingy.
"I have watched with fascination since 1970, not only Om's struggle to master his craft, but also his unending generosity with money, time and affection, and needless to say, I have been more inspired by him than any other living person."
Late American actor Patrick Swayze, whose association with Puri began with City of Joy, says what drew him to Puri was his "silent strength and power".
"The first day when I was working in Mother Teresa's home for the dying, I realized that I was the one to be truly pitied, not the dying. Because I got so much from life and did so little with it. And Om helped me in this endeavour of mine."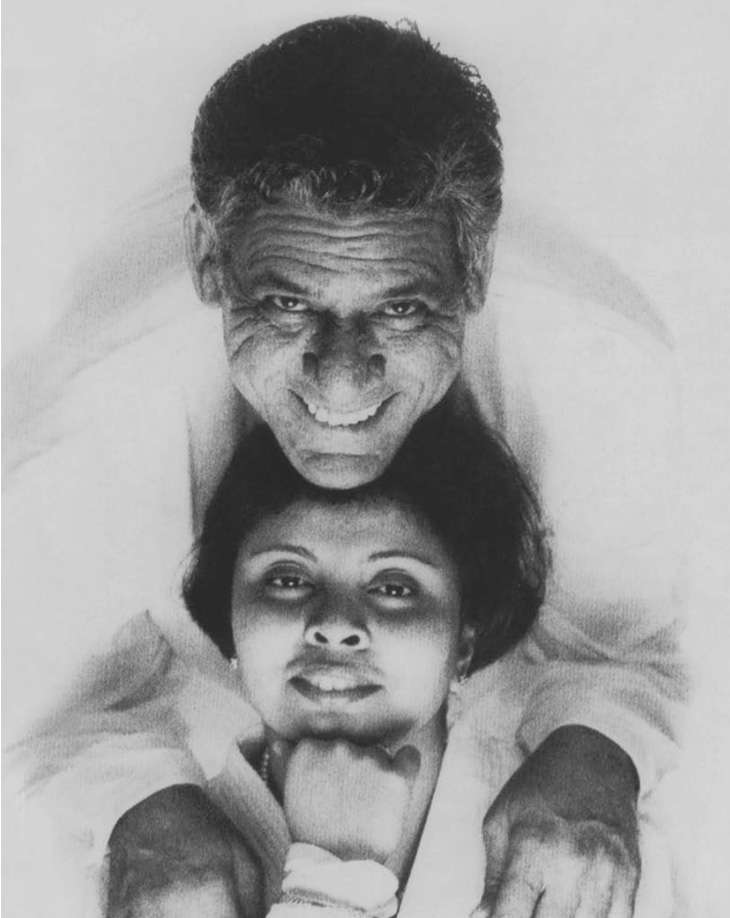 Om Puri with wife and biographer Nandita C Puri
The Poor Little Boy
"A poor village boy who held on to his dream of becoming an actor, Om Puri conquered the film industry by his raw talent and gritty perseverance": the blurb of the book does not add up when one flips through the 200-odd pages of the biography.
The image of the little boy who at the age of seven started contributing in his little way to the family kitty, washing cups and glasses in a local tea stall, radically changes when he turns 14 in the next few paras.
We forget the boy who loved the glamour of celluloid. The boy who wanted to head to Lucknow for an audition but didn't have the money (Rs 50) to take part in the contest.
"When he was fourteen years old and in the ninth standard, a turning point came in Om's life. One summer night, as the family was sleeping out on the terrace, Om noticed his Chhoti Maami sleeping with her midriff exposed. He had been getting attracted towards her for a while and that night his reins snapped. He reached out and caressed his aunt's exposed tummy."
Thereafter, we see Puri more as a sick child than as a great actor in the making.
To be fair, Nandita does declare upfront that it is difficult to write a biography, let alone of one's spouse. Given the dangers and her intentions she should have stayed away from this mega exercise in which she invested 16 years!
Theatre Beckons
In 1967, Puri moved to Patiala for his BA. He gave tuition and worked as clerk, to take care of his college fees.
His luck changed when he met Harpal Tiwana, the father of modern Punjabi theatre. Tiwana even offered him a salary of Rs 150 a month to sail through.
"To me Harpal Tiwana was my first guru. He first introduced me to the seriousness of the medium. I am what I am today because of him. In a way his contribution was much more than my drama school professors later..." Puri is quoted as saying in the book.
National School of Drama proved to be a transforming experience for Puri. Despite having a friend in Naseer, his first six months in NSD were miserable mainly because of the language barrier. When he moved to Bombay in 1976 the first place he went to was Naseer's.
After struggling for a few years he landed his first prestigious assignment The Jewel in the Crown for which he was paid a grand sum of Rs 50,000. He bought his first car, a second-hand Fiat.
Ardh Satya made life as an actor easier for Puri. Film offers started pouring in after this, though they failed to translate into good money.
But he was assured of constant work and now, at the age of thirty-four, he could happily call himself a full-time film actor. It took him 15 years to get there.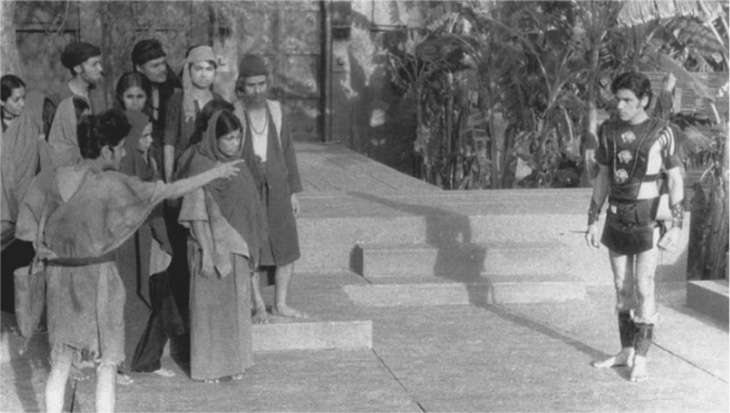 Om Puri during his NSD days
Puri on Puri
Nandita refused to show the drafts to her husband, but she managed to get him to write about Indian Cinema and himself.
Puri writes that he was motivated by the middle cinema of Bimal Roy, V. Shantaram, Hrishikesh Mukherjee, Basu Chatterjee, Gulzar and others and in some measure the art house cinema of Satyajit Ray, Mrinal Sen, Shyam Benegal and their ilk.
"Slowly, the contradiction in me grew. The trouble was that middle Indian cinema would not accept actors like me as they had their established stars like Amol Palekar, Sanjeev Kumar, even Amitabh Bachchan sometimes, and others, though these films were commercially viable. And art films were usually low-budget films and our pay couldn't really compare to that of actors in the other genres. It was like surviving on bread alone - without butter or jam."
He was left with little choice than to do bit roles in commercial films for sustaining himself financially.
"Though I did try to resist commercial cinema for quite some time, I succumbed to it finally as money was equally important as art. Some of my colleagues from 'art cinema' commented on this shift but I have always maintained that I do not really discriminate between the two genres."
Puri writes that this did not give him total fulfilment or a satisfaction of the mind and heart, but a niche did get created within commercial cinema for meaningful character roles and actors at the fringes.
He also complains about the complete lack of discipline in Bollywood that demoralised trained actors like himself.
"So as Naseer retreated into theatre, I found solace in English cinema and television. After that experience, I can see even more clearly, the way things are meted out in this industry. I rage within at the outrageously feudal setup...
"So I thought, maybe in my old age, when I would have proved my mettle, I would get to play select character roles. But ironically, today, most of the good character roles (Sarkar, Khakee, for instance) go to the yesteryear stars."
He also expresses his dismay at the trend in Bollywood to promote their own children.
However, he is happy, that "with the gradual corporatization of the industry, legitimate 'white' money has taken over. And it is in this great Indian film industry where there is harmony among the various communities. Where Hindus, Muslims and Christians, all break bread together. Where a communal clash at a shoot is unheard of. May it always stay this way."
Sleazy Sells
Nandita loses the plot midway with details of how Puri "deflowered".
"A fifty-five-year-old woman, Santi, used to provide general help in his maternal uncle's house. Twice a day, water was drawn into the house with a hand pump and Om was asked to assist Santi in the job. Days went by and Om kept pressing the pump backwards and forwards, till one day he realized that Santi would first touch, then caress and finally fondle him during the task. The young boy began to get turned on without knowing what was happening to him."
There are also silly details of how Puri who met Nandita - a cub reporter in Calcutta then - while shooting for City of Joy and would call her "Nondita" with a Bengali accent.
"He even wrote it as Nondita in his love letters to me. Over the years, my name has taken on a more Punjabi accent - Nanditta!"
His Punjabiness did not agree with her as their marriage progressed. She even makes fun of his acting prowess.
"The authenticity reflected in his acting can be slightly unnerving. Having excelled in tragic roles on-screen, Om loves to play the protagonist off-screen too. In all his failed relationships, he always paints himself to be the wronged rather than the wrong one. And people tend to believe him. That's the flipside of being married to a very fine actor: he gives a convincing performance. Plus, he must always have the last word!"
Om Puri
Short Fuse & Other Stories
The rest of the book reads like a lawyer's draft for a woman filing for divorce.
* Om has (a short fuse) which when it snaps, booms the neighbourhood down.
* Om is wary about parting with his money. He would never give me a monthly allowance for household expenditure and preferred to pay the bills personally.
* He would be away for months and the milkman or grocer would be knocking for their dues, every time to be told, 'Saab is away.'
* Om suffers from selective memory. He loves to remember what he wants and obliterates the rest. Once when we went to Park Hotel in Kolkata after two years and got the same room.
* Whenever we travel, within the country or abroad, Om provides us with the best. But at the end of each trip he calculates the entire cost of food, travel and stay and tells me, 'Hey look! I spent this amount on you.'
But the most bizarre one is: "although he has received the OBE for his contribution to English cinema, his language and accent both remain true to his Punjabi roots. Despite years of trying to make him pronounce 'October' correctly, he still says 'Ak-too-ber'."
I feel sorry for Puri.
To quote Naseer, "this scrawny, pockmarked adolescent underdog with hungry eyes and an iron will, living in a corridor with a stove, a saucepan and a few books into a significant, somewhat paunchy and a very prosperous player in the international acting scene - is the sort of stuff about which ballads were sung in the old days" -- deserved better.
Much better.