Nag Panchami 2023: Devotees throng ancient Nag Vasuki temple in UP's Prayagraj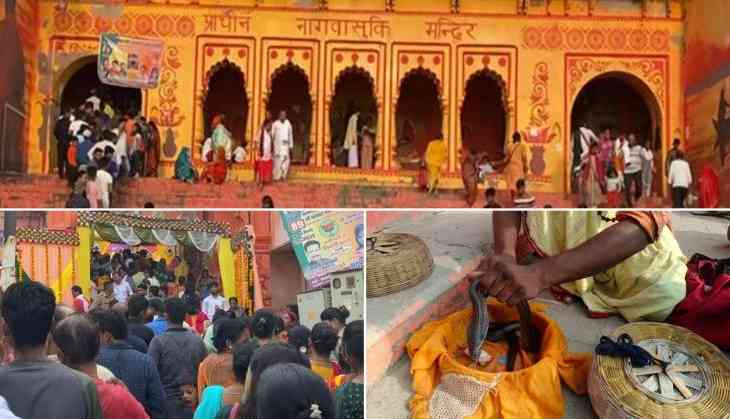 Prayagraj (Uttar Pradesh): A large number of devotees on Monday thronged the ancient Nag Vasuki temple in Prayagraj, Uttar Pradesh to offer their prayers to lord Shiva and Nag Vasuki on the occasion of the seventh 'Shravan Somvar.'
Long queues of devotees could be seen outside the Nagvasuki Temple in Prayagraj today morning.
People queued up since the early hours to seek the blessing of Lord Shiva and Nag Vasuki at the temple entrance. Visuals show the preparation of an assortment of delicacies being prepared on the occasion.
Nag Vasuki Temple Head Priest Shyam Dhar said, "Nag Panchami is very important in Sanatan Dharma. All the festivals and festivals will start from today itself."
On the day of Nag Panchami, Sanatan Dharma worships the snake as a deity.
The temple of Nagavasuki, the king of serpents, is situated on the banks of the Ganges in Prayagraj.
A large number of people come here on this day to offer prayers and pray for auspiciousness for their families, added the priest. In Sanatan Dharma, the snake is also seen to be associated with the environment.
It is believed that the cobra plays an important role in protecting the paddy crop, as it kills the rats. Things enriched by nature are offered to the serpent god on this day, he said.
Meanwhile, devotees worshipped the 'Nag Devta' or Nag deity at the Shesha Avatar Laxman Temple in Ayodhya. Devotees from far and wide come here and offer water, milk, and raw gram to Lord Lakshman on this day.
The festival of Nag Panchami, which is being celebrated today, is an annual occasion where Hindus worship snakes. Its origins date back to the earliest days of the religion.
Offering milk to the snake god is among the primary rituals of this festival. There are numerous stories related to Nag Panchami.