If you don't watch #Mastizaade, you're winning at life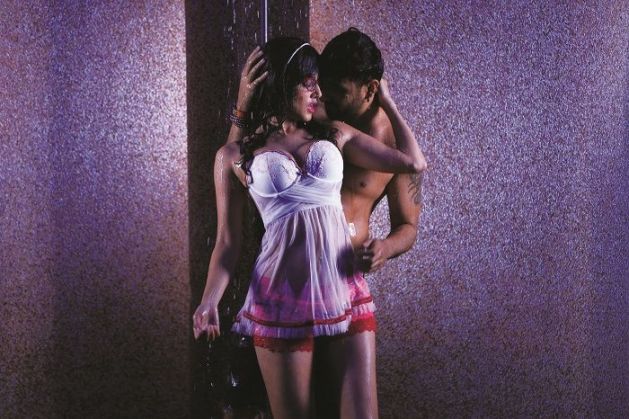 Sunny Leone couldn't have asked for a better promotional boost for Mastizaade than that Bhupender Chaubey interview on IBN Live's Hot Seat earlier this month. Not that there's a chance in hell you missed it, but basically his line of questioning was hideously deprecatory, fuelled by a determination to put Leone in her place by showing zero respect for her.
Instead of admitting that she's ashamed of her past as a porn star (as Chaubey seemed hell bent on cornering her into doing), here she is, walking around nonchalantly in public, looking to pounce like malware into India's narrow minds. How dare she? Haw. Chhi. Thoo-thoo. Bachao! Etc.
Also read - Movie Review: Here's why Mastizaade is your worst nightmare
The vortex of sympathy
The infuriating 20-minute clip of his shameless badgering and her superhuman ability to sit through it was circulated wildly across social media and, sucked into a sympathetic vortex, everyone was suddenly on Team Leone.
Her impromptu cheerleading squad included - and this became huge - the otherwise elusive Aamir Khan, who tweeted that he'd have no problem working with her, in response to one of Chaubey's many jibes (and likely also as an exercise in getting people back on his team. Who can keep track of all the things that can send you to Pakistan these days?).
An excruciating watch
So even though I had a strong suspicion that I could write an accurate film review just based off the poster featuring balloons in the shape of genitals, I benevolently decided to wait for the movie to release and actually watch the damn thing.
Milap Zaveri's latest misdemeanour turned out to be exactly like the Chaubey interview, only this time with Leone's active consent. Mastizaade goes on and on and on about the same thing, pulling every trick in the book that you'd think filmmakers would have thrown out years ago, and bottom-lining everything at sex.
Now these are all elements that are typical of the adult comedy genre around the world, but if you try and compare this to Hollywood doozies like American Pie and Dude, Where's My Car, respected sir/madam, I will know immediately that you have not watched this film (and frankly, GOOD FOR YOU, you're winning).
Brain dead and unrelenting
There must have been a storyline at some point - I dare assume that's a crucial step for a movie, even in exceptions-to-every-rule Bollywood - but LOL, who needs that when your protagonist has boobs, am I right?
So Leone has a double role, which means double doubles (GET IT? I came up with that myself, thanks). Her characters are called Laila and Lily Lele (Lele, see what they did there?) - one a highly libidinous vixen-type, the other a geeky (spectacles), more sanskari (slightly sari-clad) twin, who you can tell apart because one wears a bikini all the time, and the other a sheer negligee (and the negligee technically has more cloth).
They identify - by placing a coin in a man's crotch to see if it'll move when one of them performs a striptease - and then help cure sex addicts, professionally.
Also read - Mastizaade: I am responsible for what people think about me, says Sunny Leone
Enter two perpetually horny, sex-crazed men played by Vir Das and the guy I can't believe still has a career, Tusshar Kapoor. They pretend to be sex addicts to get with the Lele sisters and join this cure-all club, only for the whole lot of them to abandon everything and go to Phuket instead.
Because obviously.
I can't get into more of the movie because my defense mechanism for years has been to block offensive stuff out. But all there is to it is a string of gags anyway so here are some things I still have to brainwash myself out of remembering because a critical review of this...thing... is impossible:
Leone to some guy who knocks on the door: "Main apni Puski ke saath khel rahi thi. You like Puski, right?" (Puski is the name of a cat she's Skyping with, please don't ask more questions.)
Das' character falls in love with more-sanskari sister during a presentation she's making for a ball cleaner because "Saaf balls se khelna ka mazaa hi kuch aur hai." (She means golf balls and footballs, what's wrong with you?)
This sister also has a stammering problem so that the writers can high-five each other by making her say things like "cunt-cunt-cunt-country" and "ass-ass-ask me".
The other sister, in bed with Kapoor, wants him to say the three magical words, or she won't do it. When he says: "I love you", it makes her furiously boomerang out of bed. Because, you see, the three magical words she was waiting for were "Laila, mujhe dede".
Oh wait, it gets worse
There's a character called Tit-li Boob-na (GEDDIT?) whose bosom is so alarmingly ample that the elevator's sensor won't let the elevator door close; later, she can't find the fries that came with her burger because they're hidden under it.
The sisters have a gay brother who's so obnoxiously caricatured that there isn't a second of him being in a frame that doesn't make you cringe. He takes a fancy to Tusshar Kapoor's character, who he basically molests, and only finally lets go of on the condition that he joins him later in his hotel room (Room Number 69). "You will COME, na? Otherwise I'll make you COME." *shudder*
Every three minutes, someone unpeels a banana so they can eat it suggestively. I'm serious. So many goddamn bananas are consumed by various cast members through the film that you wonder if everyone just agreed to keep shooting the movie till the end because the spiked potassium levels were messing with their normal functioning.
An attack on the senses
Who comprises the audience people like Zaveri have in mind when they decide to make garbage like this? This is not a rhetorical question, someone please answer it.
The truly remarkable thing about this movie is that Vir Das agreed to it, and that someone finally found a role for Riteish Deshmukh that didn't make me wish they'd lock him in a basement instead. Or maybe that's because it was only two-minutes long, I can't tell anymore.
In conclusion... I wish I'd had the good sense to turn this into a drinking game - a shot for every time I felt nauseated. I'd be drunk in three minutes flat, and the concussion the assault of Mastizaade left me with might have been less painful.
More in Catch - Mastizaade: Why is Milap Zaveri angry with critics who slammed Bajrangi Bhaijaan?
Bhupendra Chaubey asked Sunny Leone the same question, 25 different ways