Bihar: Annual Pitru Paksha Mela in Gaya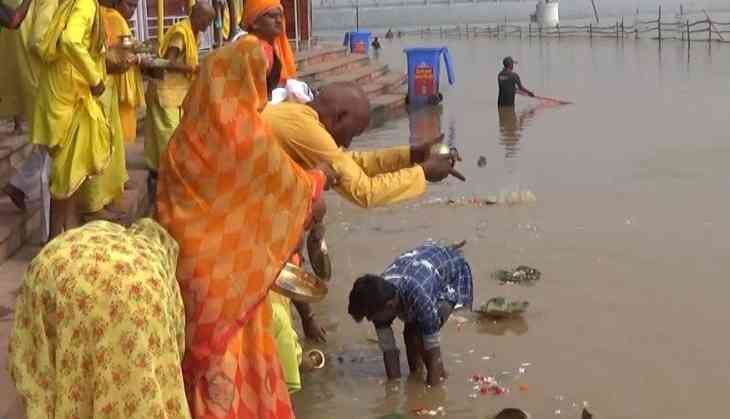 Gaya (Bihar): Devotees from across the country thronged the Vishnupad Temple on Friday as they observed the 'Pitru Paksha' and honoured their ancestors at the annual Pitru Paksha Mela in Bihar's Gaya district.
With the commencement of the annual Pitru Paksha Mela, pilgrims from far and near visited Gaya, took a bath in the River Falgu, performed rites and offered pinda (a ball of rice offered at a shradh ceremony) to their ancestors.
Speaking to ANI about the period of Pitru Paksha in the Hindu calendar, temple priest Vinod Pandey said, "As per Hindu traditions, the ancestors (pitru) are honoured in the south celestial sphere. Hence, the moment when the Sun transits from the north to the south celestial sphere is considered to begin a day of the ancestors. This moment is considered sacred and therefore special religious rites are performed."
"Hindus pay homage to their ancestors in this 16–lunar day period of the Hindu calendar. About 10 lakh to 20 lakh pilgrims from all the corners of the world visit the annual Pitru Paksha Mela," he added. Visuals show people purchasing puja items required for the shradh ritual in the shops and stalls set up near the temple. The shops are filled with items like banana leaves, copper plates, black sesame or til, honey, black gram, sandalwood paste and betel nut.
Pitru Paksha ("fortnight of the paternal ancestors") is a 16–-lunar day period in the Hindu calendar when Hindus pay homage to their ancestors (Pitrs), especially through food offerings. The period is also known as Pitri Paksha/Pitr-Paksha.
The food offerings made to the ancestors are usually cooked in silver or copper vessels and typically placed on a banana leaf or cups made of dried leaves.
This year, the Pitru Paksha starts from September 29 and ends on October 14. The person who performs the shradh should take a purifying bath beforehand and is expected to wear a dhoti. He wears a ring of darbha grass. Then the ancestors are invoked to reside in the ring.
The shradh is usually performed bare-chested, as the position of the sacred thread worn by him needs to be changed multiple times during the ceremony.
(ANI)