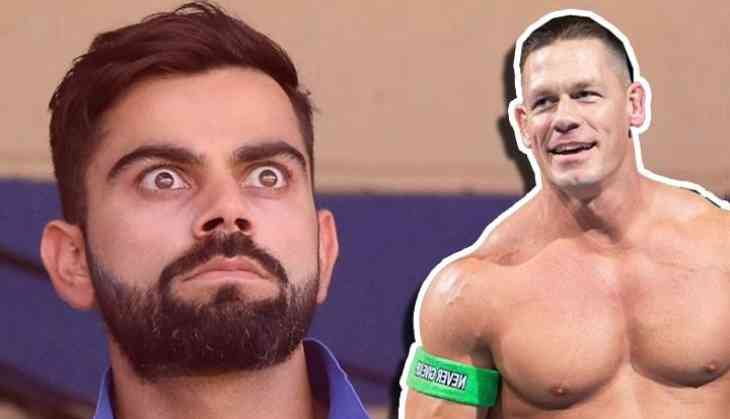 World Wrestling Entertainment (WWE) superstar John Cena shocked netizens when he posted a picture of Indian skipper Virat Kohli on his Instagram account. The fans were shocked to see Cena's post as he has no connection with the world number one batsman.
In the picture, Kohli can be seen walking towards a player to shake hands after the match but the other player is not visible as he is out of the frame. Cena took his famous phrase 'You can't see me' to describe the photo and suggested that he is the invisible man shaking hands with Kohli.
This is not the first time Cena posted something that involved the Indian skipper. In 2016, Cena posted a picture of Virat Kohli in Indian jersey with a background that read 'Bleed Blue'.
Cena also posted pictures of former Indian cricketers Rahul Dravid and Kapil Dev earlier and he keep posting quotes from Shahrukh Khan.
Meanwhile, Virat Kohli is leading his boys in the World Cup where they will play the semi-final against New Zealand on July 9 in Manchester. Kohli and his boys dominated the tournament as they lost just one game in the preliminary stage and finished on top of the points table before the knock-outs.
Virat Kohli has not scored a century in the tournament so far which is a bit weird but has 5 fifties to his name with a 34 not-out in their last game against Sri Lanka.
Also read: How India can defeat New Zealand without even bowling a ball in the semi-final