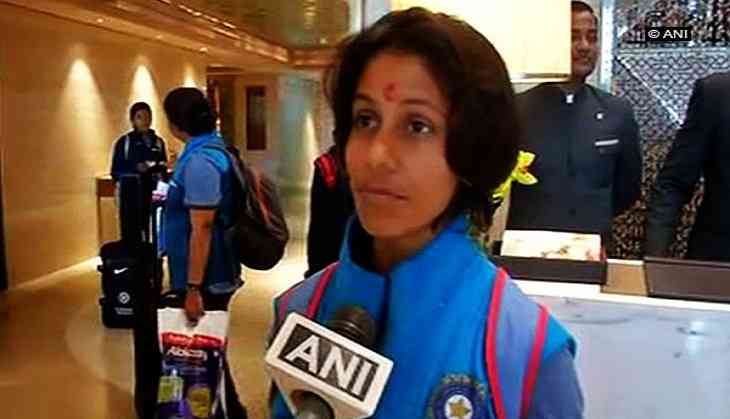 Indian spinner Poonam Yadav, who was one of the finds for the team during the ICC Women's World Cup, has said that they wanted to win the prestigious title for 'legends' Mithali Raj and Jhulan Goswami.
The Indian eves, who ended up as the runner-ups in the quadrennial global tournament after facing a nine-run defeat against hosts England at The Lord's on July 23, got a rousing reception upon their arrival at the Chhatrapati Shivaji International Airport on Wednesday morning.
The crowd at the Mumbai Airport was seen cheering 'India, India', with the kin of the cricketers waiting with eager eyes for their daughters to arrive. The players received a grand reception at the airport, with people putting 'tilak' on the girls' forehead and garlanding them.
Speaking exclusively to ANI, Yadav hailed the performance of the team and said that it was a consistent performance from the Women in Blue. Although, she regretted that they could win the prestigious quadrennial tournament.
"We played really well during this World Cup. Our performance was consistent throughout the tournament. Our performance was not dependent on any particular individual. It was a complete team performance. I think this performance will really boost the girls in the future."
"We just couldn't win the World Cup. It doesn't matter."
"Both Mithali and Jhulan are legends. They made very important contributions for the team. We wanted to win the World Cup for them. We tried our level best. They both helped us a lot and that's why we ended up being the runners-up in the tournament," she added.
The 25-year-old from Agra also insisted that after their stellar performance in the World Cup, everyone in India will start recognising them which in turn would help women cricket to grow in the country.
"I think earlier, no one even used to watch women's cricket. But now, people have come to know us. And the reception that we received today was just amazing. And we think that people have started knowing us," she said.
-ANI