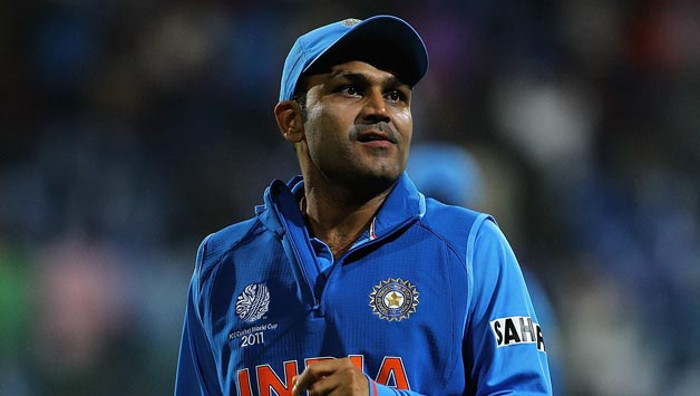 Dale Steyn considers the current Indian batting line-up a formidable one, but South Africa's world No. 1 pacer has revealed that nobody came close to being the nightmare that the recently-retired Virender Sehwag was in his prime.
The bowler, whose lethal pace is intimidating for most batsmen around the world, said he always found the going tough against an on-song Sehwag.
"In the past times that I have played here, I have bowled against guys like Virender Sehwag, that guy was a nightmare. He scored 300 in Chennai and if you missed him by a small margin, he would smoke you out," the 32-year-old said in an open session with the media ahead of the Test series against India starting 5 November in Mohali.
Steyn said even now India has a power-packed batting line-up "but not someone like Sehwag who would blaze right from word go."
Sehwag called time on his international career after being out of favour with the selectors due to a decline in form in the last couple of years. He would now be seen in action in an All-Star league set to be jointly conducted by Indian batting legend Sachin Tendulkar and Australian bowling great Shane Warne.
Speaking about the Test series against India, where South Africa would have the psychological edge after resounding victories in the limited-overs series, Steyn said he does not consider his side to be the favourites despite those results.
Steyn said his team believes in making clear strategy for each of the opposition players.
"...It's not rocket science, if you have got a guy like Sachin (Tendulkar) and you bowl a top of stump to him, he will hit you through the point, when you bowl it to Murali Vijay, he will probably hit you through the covers, so it's important to know where you want the fielder to be positioned. The delivery stays the same, but the batsman's shots will change," he explained.
"So, it's about getting into his head a little bit and looking into his last 10 dismissals. Position a fielder there and if he gets out in a similar fashion, may be laugh at him too.. Its not rocket science," Steyn said.
"I don't think we are favourites, we are playing in India's back garden. It's going to be extremely difficult. I think we are coming to this series with a lot of expectations after winning the T20s and the ODIs, so we've got confidence on our side and ideally we would like to win, that's what we are here for," he asserted.
"I personally enjoy the Tests more than anything else and we've come up with some good game plans. We have got a great bowling attack and we have got a fantastic batting line-up. We are up for the challenge, that's for sure," Steyn added.
Asked what does it take for overseas fast bowlers to do well in India, Steyn replied, "I think pace through the air is really important. With the wickets here on the slow side, anything from 135 (kmph) down, batters are able to make the adjustment when the ball hits the deck.
"It's the guys that bowl 145 (kmph) plus who really push batters, it gives them a lot less time to adjust..control is another thing, you've got to land the new ball in the right areas."
Steyn said conditions in the sub-continent are never too conducive for the pacers.
"It is really tough, I am not going to lie about that. It doesn't get easier every year. But I love bowling in India, the grounds are quite flat whereas in South Africa you feel you are running uphill. So here you feel you are running downhill all day long. Even if the wickets are not offering you a lot, like pace and carry, but your run up always feels smooth."
On whether his side has any specific plan to contain India's prolific captain Virat Kohli, Steyn said, "I am not going to tell you because then he is going to know about it. Yes, we have (a plan for him)."
Steyn was all praise for his skipper Hashim Amla, describing him as an unassuming aggressor.
"Hash can be quite a deceiving guy, he is calm and composed, but he goes for the kill, he definitely knows how to go for the kill. I mean if you look at his stats as a player, remarkable stats he has, if you look at him as a person, you would just never think those stats are capable of person someone like that," he said.
Asked if he would have preferred to play the Test series before the limited-overs matches, Steyn said, "I don't really care how they come around. I do tend to bowl better and better when I have bowled already. ODIs are not that hectic."
-PTI