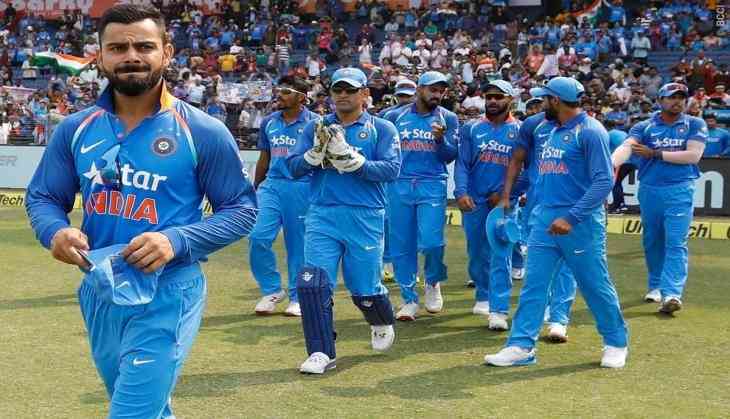 Virat Kohli's juggernaut departed to England with flying colours for challenging tour against Ireland and England starting next week on Friday.
Team India will play two day T20 international series against Ireland on June 27 and June 29 before they play a limited-overs series and Tests game against England.
Indian team doesn't want to take any kind of loose chance in the UK tour because the team has to play the 2019 World Cup in England and Wales. Simultaneously, the Indian team may add another feather to their glittering cap if they beat England in their home ground by 2-0 or 3-0 margin.
Indian team will come at no one position ICC ODI ranking if they able to do so.However, India is at no one in ICC test ranking while England is at no one in ICC ODI rankings.
In ICC ODI rankings India is at second postion with 122 points just below England with 125 rating points.
If Virat Kohli led Indian team achieve this feat then surely they will set another benchmark in the ICC.
India will play three T20Is games against England. They will then play three ODIs before the commencement of the high-profile five-match Test series.
India Team for ODI Series
Virat Kohli (Capt), Shikhar Dhawan, Rohit Sharma, KL Rahul, Shreyas Iyer, Suresh Raina, MS Dhoni (wicketkeeper), Dinesh Karthik, Yuzvendra Chahal, Kuldeep Yadav, Washington Sundar, Bhuvneshwar Kumar, Jasprit Bumrah, Hardik Pandya, Siddarth Kaul, Umesh Yadav
India Team for T20 Series
Virat Kohli (Captain), Shikhar Dhawan, Rohit Sharma, KL Rahul, Suresh Raina, Manish Pandey, MS Dhoni (Wicketkeeper), Dinesh Karthik, Yuzvendra Chahal, Kuldeep Yadav, Washington Sundar, Bhuvneshwar Kumar, Jasprit Bumrah, Hardik Pandya, Siddarth Kaul, Umesh Yadav
Also Read: World Cup 2019: After AB de Villiers, this cricketer's retirement from the ODI games will shock you