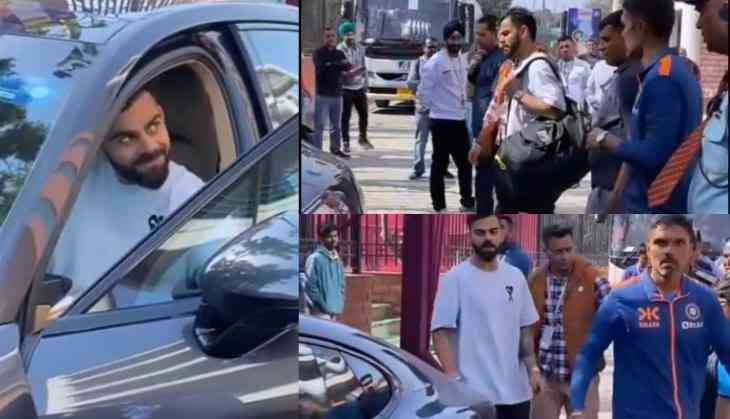 While Virat Kohli gears up for his first Test match at the Arun Jaitley Stadium in six years, the excitement in Delhi is palpable. After all, this is the city where a promising boy from Paschim Vihar named 'Cheeku' started his cricketing journey, which has now culminated into him becoming the best batsman in the world.
Starting Friday, Virat Kohli will play his first Test in Delhi since 2017 and rest assured, the noise levels in the stadium are going to be deafening. And in order to make sure his 106th Test turns out to be memorable, Kohli is putting in the extra yards. For the last two days, Kohli hit the nets, where he batted for long hours, more specifically against spin bowling. Kohli has not played well against spinners lately and the former India skipper is eager to change that going into the second Test of the Border-Gavaskar Trophy against the Aussies.
However, after he finished his training session and was about the leave the stadium, Kohli was surrounded by a crowd who had come to the venue and were following the action from the sidelines. The fact that Kohli's craze is unmatchable, it was captured in a video which showed the public go wild watching their superstar. As Kohli finished his session, he got inside his car – a swanky Porsche – and left, leaving the crowd in frenzy.
Here's the video:
Virat Kohli Spotted Leaving Arun Jaitley Stadium After Today's Practice Session.🚘❤

🎥: @ARUNSHARMAJI#ViratKohli #INDvAUS @imVkohli pic.twitter.com/7EyJfPKb3Z

— virat_kohli_18_club (@KohliSensation) February 15, 2023
The craze of Virat kohli in Delhi is unmatchable 🔥 pic.twitter.com/P6qqbZBUjj

— Ameee ♥ (@kohlifanAmeee) February 16, 2023
It's not just the fans that is impatient to have Kohli back playing in Delhi. The former India captain himself could not control his excitement as he went on a nostalgic trip on his way to the stadium. Virat Kohli took to Instagram to post a story with the caption: "A long drive towards the stadium in Delhi after ages. Such a nostalgic feeling."
Virat Kohli, who was out for just 12 runs in the first Test at Nagpur, could not have hoped to play the second match in Delhi. The former India skipper has a superlative record at the Arun Jaitley Stadium. Kohli has scored 467 Test runs while batting at the venue, with two fifties and one double century.
Also Read: Border-Gavaskar Trophy: India change hotel in Delhi due to this big reason; Virat Kohli not staying with team