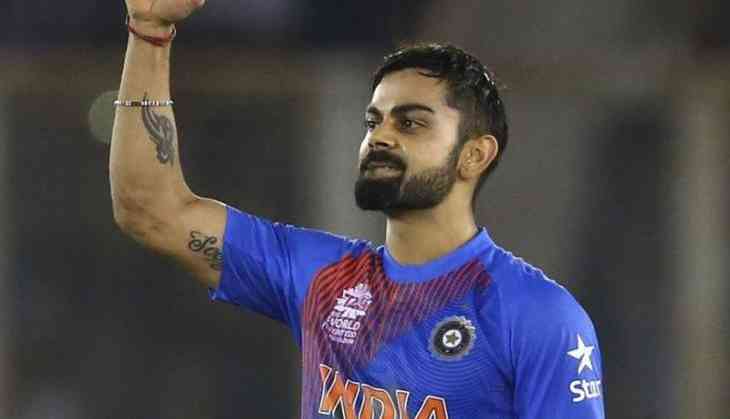 Virat Kohli on Friday smashed his 41st century in One-Day International cricket, but despite his great performance it wasn't enough to get India over the lines as Australia won the match by 32 runs to keep the five-match ODI series alive. This was Indian captain's second consecutive ODI century after he reached the three figure mark in the second ODI in Nagpur.
Following his second straight century, social media was buzzing with appreciation. Former England captain Michael Vaughan, who in past has been a vocal supporter of Virat Kohli took to his official Twitter account to announce that Kohli is the 'GOAT' (greatest of all time). Vaughan wrote, "The GOAT is at it again."
The 🐐 is at it again ... #Virat

— Michael Vaughan (@MichaelVaughan) March 8, 2019
In One day cricket ... YES ... https://t.co/vwjmKJYlgT

— Michael Vaughan (@MichaelVaughan) March 8, 2019
Virat Kohli has 41 century in 225 ODI matches and the next best is South Africa's Hashim Amla, who has 27 ODI centuries from 174 matches. AB de Villiers had 25 centuries after playing 225 ODIs. While current holder for most centuries in ODIs, Sachin Tendulkar had 23 in 225 matches. Virat Kohli is just eight centuries away to break Sachin's record.
In the match, Virat Kohli also scored 4,000 ODI runs as a captain and became the fourth Indian to do so. MS Dhoni, Mohammed Azharuddin and Sourav Ganguly are other skipper-batsman to achieve this feat before.
India is currently 2-1 up in the series and will look to win the fourth ODI in Mohali on March 10. Virat Kohli scored 123 off 95 balls in the match while chasing 314 runs. Usman Khawaja also scored his first ODI century in the match to help his team register a win. Khawaja was awarded the man of the match trophy for his 113-ball 104.
Also read: Ind vs Aus: Virat Kohli makes our jawans proud, scores his 41st century wearing Army cap