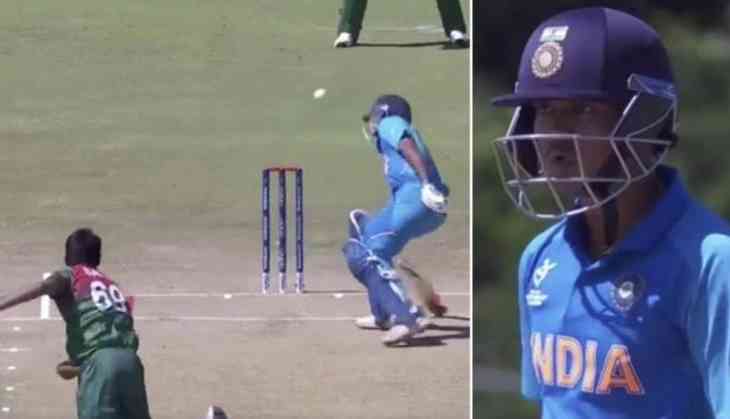 Boys in Blue are currently playing Bangladesh in the ingoing U-19 World Cup final in Potchefstroom. After winning the toss, Bangladesh skipper Akbar Ali put India to bat in the title clash on Sunday.
While Indian team are looking to clinch their fifth U-19 World Cup, Bangladesh are eyeing their first ever major ICC trophy. The intensity of the game increased very rapidly in the second over of the match as Tanzim Hasan Sakib almost hit Divyansh Saxena on his head.
The Indian batsman had played a defensive shot right back to the bowler and Sakib chucked the ball towards the wickets but it almost hit Divyansh on his head. The duo later engaged in a furious exchange on the field.
Also Read: Sachin Tendulkar comes out of retirement to bat an over in charity match [Video]
The on-field umpire had to step in to quell the situation in the middle.
In the game, Bangladesh managed to snap the opening stand early as they dismissed Divyansh Saxena for just two runs, reducing India to 9/1 after seven overs.
Yashasvi Jaiswal carried on his exploits and knocked his fourth 50 plus score in the tournament.
After Jaiswal's wicket, India went through a batting collapse as the defending champions lost six wickets for 16 runs.
Team India were finally bundled out for 177 runs in the title clash.
Also Read: U-19 World Cup Final: Virat Kohli, KL Rahul's special message for team India ahead of Bangladesh clash