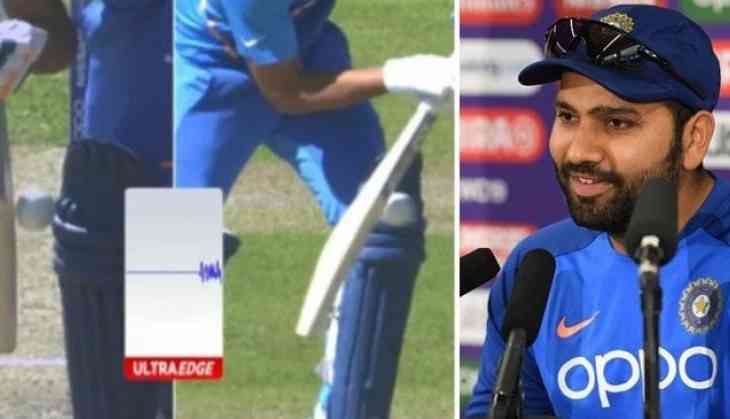 India beat West Indies by 125 runs on Thursday at Old Trafford cricket ground, Rohit Sharma was very unfortunate with the bat as he was dismissed in a very contentious manner. Rohit Sharma has already added two centuries to his ranks in the ongoing World Cup campaign.
Unable to score huge against the Windies, the Indian vice captain was dismissed for 18 runs.
It all started in Kemar Roach's over, where Rohit hit him for a four and a six, however in the same over Rohit Sharma had to walk back to the pavilion after an unsure decision by the third umpire adjudged him caught behind. Roach's delivery passed through a small gap between bad and pad while making a slight sound. The on-field umpire gave the decision in Rohit's favour before the Windies reviewed the decision.
🤦‍♂️👀 pic.twitter.com/0RH6VeU6YB

— Rohit Sharma (@ImRo45) June 28, 2019
Even though there was a spike on the UltraEdge when the ball past the bat, the replays shown were indecisive. But different angles gave different upshots before the third umpire suggested the on-field umpire to change his decision.
But that dismissal did not hamper team India's performance, as they went on to beat West Indies by 125 runs. Notwithstanding that Rohit Sharma went on to express his vexation after the match on Twitter and posted some pictures of that moment when the ball went past the bat and it showed the gap between the two.