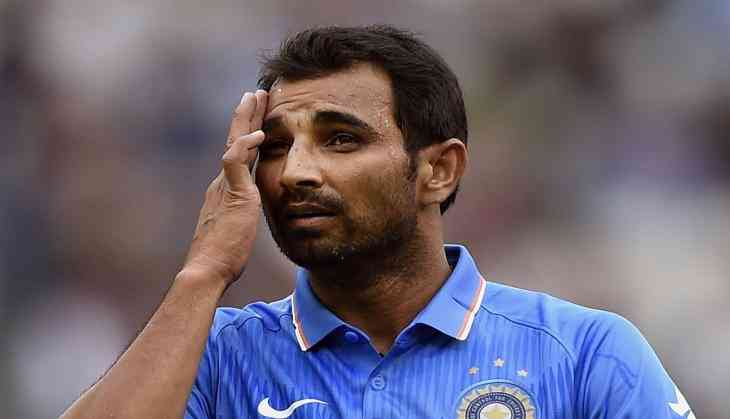 Indian pacer Mohammed Shami has developed into a central component of Indian bowling unit across all three formats of the game. However, just a couple of years ago, things were going downhill for the pacer. In an Instagram Live chat with teammate Rohit Sharma, Shami spoke about the darkest days of his life.
Talking to Rohit Sharma, Shami looked back on the injury he suffered in the 2015 World Cup, that sidelined him for 18 months. "When I got injured in the 2015 World cup, after that it took me 18 months to fully recover, that was the most painful moment in my life, it was a very stressful period," Shami said.
Furthermore, Shami stated that he went through some personal issues after he returned to cricket. "When I started playing again, I had to go through some personal issues, I think if my family did not support me I would not have made it, I also thought of committing suicide three times," he said.
The 29-year-old's suicide thought disclosure yet again puts to light the significance of mental health in a sportsmen career. Earlier, Praveen Kumar had also revealed his thoughts of committing suicide when things were not right for him.
Shami's life had been messed up when his wife accused him of adultery, domestic violence and match fixing in 2018. The seamers central contract was put on hold by BCCI till the probes were not completed. Shami, however was cleared by the cricket board from match fixing allegations and turned up for Delhi Capitals in the IPL 2019. On a personal front, it was the begining of a long legal battle with his wife.
"Someone used to stay with me 24*7, I was not well mentally, my family was there for me, if your family is there then you can get through any situation," Shami added. "If my family was not there then I might have taken a bad step, but I thank my family for being with me throughout," he further said.
Mohammad Shami was last seen in action during the two-match Test series against New Zealand.
Also Read: Gautam Gambhir credit MS Dhoni for Rohit Sharma's successful cricket career