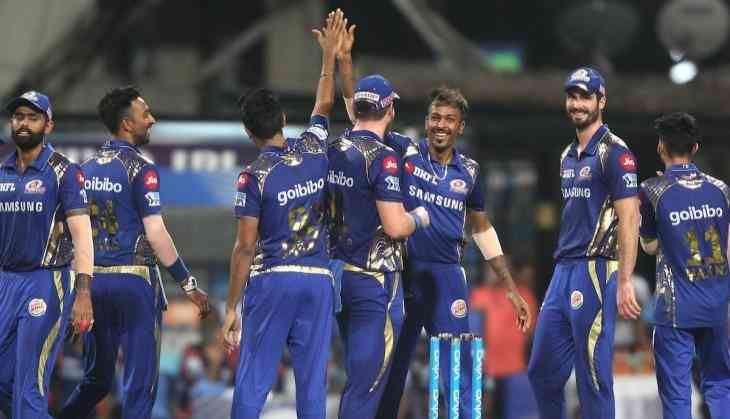 The 41st match of the Indian Premier League of the 11 season between Dinesh Karthik led Kolkata Knight Riders and Rohit Sharma led Mumbai Indians held at Eden Gardens, Kolkata was one of the best match of the season. Kolkata won the toss and chose to bowl first against Mumbai Indian. Rohit Sharma's men came to bat first and set a target of 211 runs in front of Dinesh Karthik's KKR. Well, KKR's batsmen bent their knee in front of MI's bowler and lost the match by 102 runs against them. Mumbai Indians Ishan Kishan became the Man of the Match.
MI's star-opener SuryaKumar scored 36 runs while Evin Lewis chased just 18 runs. Ishan Kishan gave a marvellous performance and scored 62 runs in just 21 bowls by hitting 6 sixes in 6 balls. The team skipper Sharma scored 36 runs. KKR's Piyush Chawla took 3 wickets by giving just 43 runs in 4 over.
"As a team, we tend to pick up in the month of May. I can only wish and hope we come together as a team at the start. It's never easy to come out right all the time, we'd like to start on a high. I'm glad we came together as a team and performed well. Without doubt Ishan Kishan's knock, his fearless knock was the turning point. Hitting wasn't easy, the ball was sticking in. He just came in and changed momentum. Credit to him, he was waiting for this knock, wanted to come out. Also for Ben Cutting to come out and finish on a high, he hasn't got a lot of opportunities, but he backed himself to do that," said MI's skipper Rohit Sharma after the match.
Well, today KKR's batsmen played their worst match of the season as no batsmen managed to score above twenty other than Chris Lynn and Nitish Rana. While, MI's Krunal Pandya, Hardik Pandya took 2 wickets each and rest took single.
Here's the complete scoreboard:
Mumbai Indians Innings (Run Rate: 10.50)
Batsmen
Runs
Balls
SR
4s
6s
Suryakumar Yadav
c Rinku Singh b Piyush Chawla
36
32
112.50
5
1
Evin Lewis
c Chris Lynn b Piyush Chawla
18
13
138.46
3
0
Rohit Sharma
c Robin Uthappa b Prasidh Krishna
36
31
116.12
2
1
Ishan Kishan
c Robin Uthappa b Sunil Narine
62
21
295.23
5
6
Hardik Pandya
c Rinku Singh b Tom Curran
19
13
146.15
0
2
Ben Cutting
c Andre Russell b Piyush Chawla
24
9
266.66
1
3
Krunal Pandya
NOT OUT
8
2
400.00
0
1
JP Duminy
NOT OUT
0
0
0.00
0
0
Extras
(nb 1, w 4, b 2, lb 0, pen 0)
7
Total
(6 wickets; 20 overs)
210
Bowler
O
R
W
Econ
Dots
Andre Russell
2
16
0
8.00
4
Prasidh Krishna
4
41
1
10.25
8
Tom Curran
3
33
1
11.00
5
Sunil Narine
4
27
1
6.75
11
Piyush Chawla
4
48
3
12.00
10
Kuldeep Yadav
3
43
0
14.33
5
Kolkata Knight Riders Innings (Run Rate: 5.94)
Batsmen
Runs
Balls
SR
4s
6s
Sunil Narine
c Krunal Pandya b Mitchell McClenaghan
4
2
200.00
1
0
Chris Lynn
run out (Suryakumar Yadav/Krunal Pandya)
21
15
140.00
3
1
Robin Uthappa
c Suryakumar Yadav b Mayank Markande
14
13
107.69
0
2
Nitish Rana
c Ben Cutting b Hardik Pandya
21
19
110.52
2
1
Andre Russell
c Mayank Markande b Hardik Pandya
2
4
50.00
0
0
Dinesh Karthik
run out (JP Duminy)
5
3
166.66
1
0
Rinku Singh
c Ishan Kishan b Jasprit Bumrah
5
3
166.66
1
0
Tom Curran
c JP Duminy b Krunal Pandya
18
17
105.88
3
0
Piyush Chawla
c Suryakumar Yadav b Ben Cutting
11
13
84.61
1
0
Kuldeep Yadav
lbw Krunal Pandya
5
15
33.33
0
0
Prasidh Krishna
NOT OUT
1
5
20.00
0
0
Extras
(nb 0, w 0, b 0, lb 1, pen 0)
1
Total
(All out; 18.1 overs)
108
Bowler
O
R
W
Econ
Dots
Mitchell McClenaghan
3
24
1
8.00
11
Krunal Pandya
3.1
12
2
3.78
12
Jasprit Bumrah
3
17
1
5.66
10
Hardik Pandya
3
16
2
5.33
11
Mayank Markande
4
26
1
6.50
10
Ben Cutting
2
12
1
6.00
6