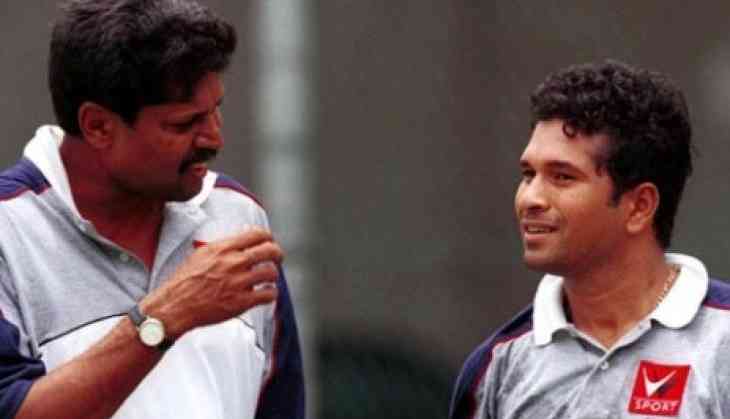 Former Indian skipper and 1983 World Cup winner Kapil Dev is of the opinion that Sachin Tendulkar could never master the art of scoring double hundreds and triple hundreds regardless of knowing how to score centuries.
India's 1983 World Cup winner stated that he had never witnessed someone as talented as Sachin Tendulkar but the master blaster never turned ruthless.
Sachin Tendulkar ended his illustrious career as the leading run scorer in international cricket. With 34,357 runs across formats – 15,921 in 200 Tests, 18,426 in 463 ODIs and 10 in 1 T20I. Sachin was the first batsman to knock a double century in limited overs cricket when he smashed 200 not-out off 147 deliveries against South Africa in 2010. having said that, Sachin Tendulkar only managed six Test double tons and was in the 12th spot in the list of batsmen with most number of double centuries.
"Sachin had so much talent that I hadn't seen it in anyone. He knew how to score hundreds but he never became a ruthless batsman. Sachin had everything in cricket. He knew how to score hundreds but didn't know how to convert those hundreds into 200s and 300s," Kapil Dev.
Furthermore, Kapil Dev also stated that a player of Sachin's stature should've knocked more double centuries and triple tons in his career.
"Sachin should have made five triple centuries and another 10 double tons because he could hit fast bowlers and spinners for a boundary every over," Kapil added.
"Since he was from Mumbai they had a mindset of when you score a hundred make a line and start from zero again. And that's where I said no, you are such a ruthless cricketer, bowlers should fear you. Sachin's talent was par excellence. But after a scoring a hundred he used to take singles and didn't become ruthless," Kapil added.
Also Read: Suresh Raina names 'next MS Dhoni of India cricket team