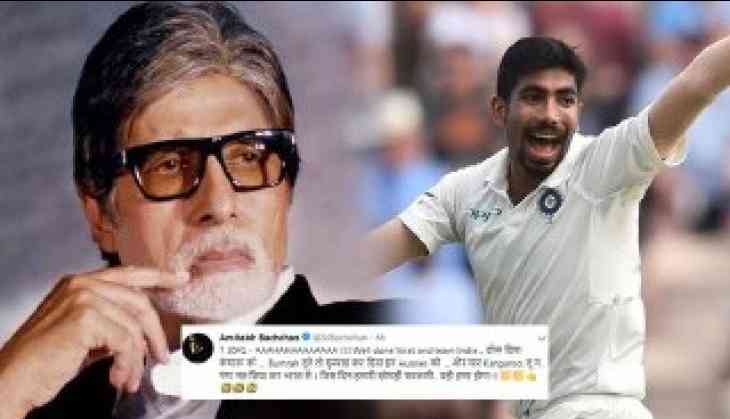 Bollywood legend Amitabh Bachchan is known for expressing his feelings when a cricket match is on, especially when India is playing. In one such incident senior Bachchan tweeted after the second innings of Australia ended in the ongoing Boxing Day Test. Bachchan wrote, "Well done Virat Kohli and team India...Thok diya Kangaroo ko, Bumrah tune toh gumrah kar diya in Aussies ko...Aur yaar Kangaroo, tu na panga mat liya kar Bharat se, jis din khopdi satakli, yahi hashar hoga."
T 3041 - AAAHAHAAAAAAAA !!!! Well done Virat and team India .. ठोक दिया कंगारू को .. Bumrah तूने तो गुमराह कर दिया इन Aussies को .. और यार Kangaroo, तू न , पंगा मत लिया कर भारत से । जिस दिन हमारी खोपड़ी सटकली , यही हषर होगा !! 👏👏👍🤣🤣🤣

— Amitabh Bachchan (@SrBachchan) December 28, 2018
In Australia's first innings of the Third Test in Melbourne, Jasprit Bumrah registered a six-wicket haul. With his six wicket Jasprit became the first Asian to claim a 5-fer in Australia. Bumrah also became the highest wicket-taker for India on his debut and with this he broke a 39-year-old record to surpass Dileep Joshi, Venkatesh Prasad, Narendra Hirwani and Sreesanth.
Jasprit in his six-wicket haul had two lbws, two bowled and two catch-outs. Jasprit delivered an amazing piece of bowling in Australia.
Australian bowler Pat Cummins also took 4 wickets Today in India's second innings while Josh Hazlewood's 1 wicket helped Australia take 5 wickets in just 27 overs. But this could help India win the Test as India are already 346 runs ahead of the Kangaroos and if they are bowled out by Aussies Tomorrow till lunch, India will have enough time to take 10 wickets to win. And if India couldn't take all 10 wickets of the Australian the match will end in a draw.
At stumps on Day 3 in Melbourne India took a lead by 346 runs losing 5 wickets in just 27 overs. India are at 54 for 5. Josh Hazlewood of Australia took one wicket while Pat Cummins took 4 wickets under his name. Cummins bowled just 6 overs to claim 4 wickets giving away just 10 runs.
India and Australia are currently playing a four-match Test series in Australia and the series is leveled at 1-1. The third Test is still on in Melbourne where India are looking on top.
Earlier in the day Australia were bowled out for 151-10 with Marcus Harris and Tim Paine both making 22 runs each. India declared their first innings at 443-7 after losing Ravindra Jadeja off Hazlewood's delivery. Rohit Sharma was not out at 63 runs while Rishabh Pant made 39 before he was sent off by Mitchell Starc.
India are currently playing their second innings and leading by 346 runs. India lost five early wickets with Cheteshwar Pujara and Virat Kohli going for duck and Ajinkya Rahane soon followed the suit and went for just 1 run.