Rohan Raj
| Updated on: 13 February 2017, 6:10 IST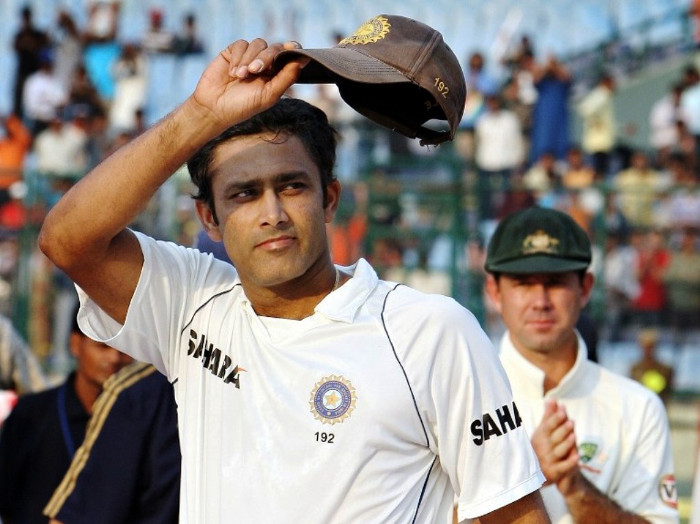 Ever since the retirement of Anil Kumble, India has struggled to find a match-winning spinner who can turn the game for his side single-handedly. Ravichandran Ashwin, slowly but gradually, is becoming Team India's safest bet but if you've ever seen Kumble bowl you'll know that no one can possibly fill his big shoes, let alone Ashwin.
No bowler in the history of Indian cricket has won more Test matches than Kumble whose spin prowess was just too hot to handle for the opposition batsmen. His ability to hack the ball through the air and high rate of spin with a huge pace troubled some of the best batsmen in the world of cricket.
South Africa's prolific batsman Hashim Amla had once revealed that he had faced many bowlers but Kumble has been the most dangerous he has ever faced. Kumble might have lacked the turn of Shane Warne and Muttiah Muralitharan, but with the variety in his bowling, he has shown that apart from turn and flight, changes in length and pace can also deceive the batsman.
As the 'Jumbo' turns 45 today, here's a look at 35 interesting facts you need to know about India's greatest-ever leg-spinner:
He was born in Bengaluru, Karnataka, on 17 October 1970 to Krishna Swamy and Saroja. He is married to Chethana Kumble, and has two children - son Mayas Kumble and daughter Svasti Kumble. His wife Chetna also has a daughter Aaruni Kumble from her first marriage.
02
Educational qualification
He completed his pre-university college education from National College, Basavanagudi. Kumble secured a degree in Mechanical Engineering from Rashtreeya Vidyalaya College of Engineering (RVCE), in 1991-92.
He is nicknamed 'Jumbo' not only because his deliveries, for a spinner, are 'as fast as a jumbo jet', but also because his feet are quite big as observed by his team-mates.
He made his ODI debut on 25 April 1990, during India's clash against Sri Lanka in Sharjah. On 9 August 1990, he made his Test debut while representing India against England at Manchester.
In 1995, Anil Kumble was honored with the prestigious Arjuna Award from the Government of India for his heroics on the cricket field.
06
Match-winning partnership
In October 1996, Anil Kumble along with Javagal Srinath, helped India win a scintillating ODI match against Australia in Bengaluru in Titan Cup. The duo added 52 runs for 9th wicket partnership, after Sachin Tendulkar got out at 88 when India was 164/8, chasing a target of 216 runs.
07
Ten wickets in an innings
Kumble is one of only two bowlers ever (the only other being Jim Laker of England in 1956) to have taken all ten wickets in a Test innings, taking 10 for 74. Kumble achieved this against Pakistan in the second Test played in Delhi in February 1999.
His achievement was commemorated by naming a traffic circle in Bengaluru after him, and gifting him a car with the customised license plate: KA-10-N-10.
In 1999, he was the third highest wicket-taker with 88 wickets at the average of 30.03 behind Glenn Mcgrath and Shane Warne.
10
Helping hand in ten-wicket feat
His ten-wicket feat at Feroz Shah Kotla was also made possible by his teammate and dear friend Javagal Srinath who was trying to bowl way outside the off stump to avoid taking the final wicket to make it possible for Kumble to get to the record. Indian opener Sadagoppan Ramesh had also revealed that Srinath had cautioned him not to try and take any catch off his own bowling so that Kumble could record his feat.
On 6 October 2004, Kumble became only the third spinner in the history of Test cricket after Shane Warne and Muttiah Muralitharan and the second Indian bowler after Kapil Dev to capture 400 Test wickets. Reaching the mark took him 30 fewer Test matches than it took Kapil Dev, and seven fewer than Warne.
12
India's leading wicket-taker
On 10 December 2004, Kumble became India's highest wicket-taker when he trapped Mohammad Rafique of Bangladesh to surpass Kapil Dev's haul of 434 wickets. Kumble also holds the world record for trapping most batsmen leg before wicket (LBW).
13
Honoured with Padma Shri
In 2005, Anil Kumble was honoured with the Padma Shri by the Government of India for his impeccable performances in the sport.
During the final Test of the 2006 India vs West Indies series in Jamaica, Kumble scored 45 runs in the first innings and took 78/6 in the second innings to guide his side to a historic series win. Following his performance, Kumble also became the second player in the history of the game after Shane Warne to score 2,000 runs and take over 500 Test wickets.
On 11 June 2006, Kumble surpassed West Indies bowling legend Courtney Walsh on 520 Test wickets to take the fourth place in the list of all-time leading wicket-takers in the longest version of the game.
On 10 August 2007, Kumble scored his maiden century, with an innings of 110 not out against England to help them finish with 664. He took 118 Test matches to reach his maiden Test hundred, which is a record for taking the most number of matches to score a century, beating Chaminda Vaas who had held this record previously with 96 Tests.
17
Ten wickets & a ton in Tests
Anil Kumble is the only Test cricketer to have taken all ten wickets in an innings and score a Test hundred in his career.
On 11 August 2007, Kumble dismissed Vaughan for his 900th international wicket and 563rd Test wicket, putting him on level with McGrath. Later, he trapped Monty Panesar for an LBW to finish the innings and overtake McGrath in the list of all time wicket takers, only Muttiah Muralitharan and Shane Warne have more wickets.
Kumble has bowled 40,850 balls in his entire Test career, which is second highest after Muttiah Muralitharan's 44,039 balls.
On 8 November 2007, Anil Kumble was appointed as the captain of the Indian cricket team in Tests. He is the only leg-spinner to have become the captain of the Indian team.
21
First win as Indian skipper
In his first series as Indian captain, Anil Kumble led his team to a 1-0 victory against arch-rivals Pakistan.
On 17 January 2008, in the third Test against Australia at WACA, Perth, Anil Kumble became the first Indian bowler and the third in the world to reach the milestone of 600 Test wickets, only behind Muttiah Muralitharan and Shane Warne.
23
Retirement from International cricket
On 2 November 2008, Anil Kumble announced his retirement from International cricket. Australia's Mitchell Johnson turned out to be the last victim of Kumble while his last delivery was a low full toss that was smacked for a blazing boundary by Matthew Hayden.
He is one of the only four bowlers, alongside Richard Hadlee, Shane Warne and Muttiah Muralitharan, and the only Indian bowler ever, to have taken 5 wickets in a Test innings more than 30 times.
25
Most caught-and-bowled dismissals
Anil Kumble also holds the world record for the most number of caught-and-bowled dismissals in Tests, 35 - which forms 5.65 per cent of his total wickets.
26
Conceding over 250 runs in a Test
He is also one of the only four Indian bowlers to have conceded over 250 runs in a Test match, although he took 12 wickets in that match. He is known for bowling tirelessly, having bowled 72 overs in a Test innings once.
27
Bowling with broken jaw
He is also remembered for his tenacity in bowling even when injured, especially after an incident in a match against West Indies where, despite having his broken jaw being heavily taped, he came back and took the wicket of Brian Lara.
On 18 April 2009 while playing for Royal Challengers Bangalore in the IPL, Anil Kumble took a five-wicket haul conceding just five runs against the defending champions Rajasthan Royals, which helped his side register a 75-run victory. At the end of the season, Kumble emerged as the most successful spin bowler and the second highest wicket-taker with 21 wickets at an economy rate of 5.86 runs an over.
On 1 January 2009, Anil Kumble was appointed to the athlete's commission of the World Anti-Doping Agency (WADA).
30
Appointment as KSCA president
On 21 November 2010, Kumble was elected as the president of the Karnataka State Cricket Association (KSCA), with his former India teammate Venkatesh Prasad elected as vice-president while Javagal Srinath got elected as association's secretary.
On 4 January 2012, Anil Kumble announced his retirement from the Indian Premier League (IPL) and later took up the role of a chief mentor.
32
ICC Cricket Committee chairman
On 12 October 2012, Anil Kumble was appointed as the new chairman of the ICC Cricket Committee.
In his 18-year-long illustrious career, Anil Kumble was adjudged Man of the Series (Tests) on four occasions and Man of the Match (Tests) 10 times. In One-Day Internationals (ODIs), Kumble won the Man of the Match award on six occasions while he was named Man of the Series only once.
34
Most ODI wickets at Sharjah
By taking 56 wickets at the Sharjah Cricket stadium during his ODI career, Anil Kumble holds the record of taking most wickets in the 50-over format in a particular ground.
35
Most ODI wickets in 1996
Anil Kumble also holds the record for most wickets in a calendar year by an Indian in ODIs, after he took 61 wickets in 1996. It is also the third-highest total by a bowler of any nationality.